Hi,
As I type this newsletter, I am in the middle of watching the live stream of a unique festival called "A Disorder for Everyone".
A thousand people from across the world have got together to bond over songs, poems, and deeply personal stories on how the mental healthcare system so often fails us, and to dream up a better way. It is a resistance cry against society's tendency to swat people away as "mentally ill" when they are merely different. A rejection of the statistics that blast that the world is drowning in "mental illness", while concealing the oppression and injustice at the root of it all.
Pro tip: If you have to and can afford to pay for a mental health event, pay for the high you get from sharing space with fellow survivors. I consider the five pounds I paid for the event well spent. Our stories have to be the fulcrum around which we build a new, more humane model of mental health care, and conversations like this help speed up that shift.
Especially if the conversation includes people like Sanah Ahsan, Indigo Daya, and Ruth E Dixon – three incredible women who are recasting the experience of "mental illness" into the most profoundly moving art that transcends boundaries. I discovered all three of them at the event today, and through this newsletter, I urge you to join me in celebrating them and their important, riveting work.
Sanah Ahsan: 'Decolonising Distress'
Sanah Ahsan is a queer Pakistani Muslim woman, a trainee clinical psychologist, a journalist, and a spoken word artist. In her poem Decolonising Distress, she writes:
They call it 'depression', while you call it survival from oppression.
They will feed you pills to cure social ills. Medicate injustice.
Remember they once labelled runaway slaves as mentally ill for desiring freedom.
Those lines should be enough for you to want to read more. Find Sanah Ahsan on her website,
and watch a brilliantly designed video of her reciting Decolonising Distress on Instagram.
Indigo Daya: transforming 'the beast' into 'the injured lover'
"A survivor of child abuse, madness and forced psychiatry," Melbourne-based Indigo Daya describes herself as a "mad activist". A key component of her diagnosed "disorder" was hearing voices: she calls them "the beast" and "the judge". She painted their faces while hospitalised – I found them fearsome but beautiful in their haunting detail – but her doctors ordered her to put away the paintbrush and focus on getting fixed. They only managed to re-traumatise her.
"After years of life as a revolving door psychiatric patient, heavily medicated, unemployed and without hope, I finally found a way out," she writes on her website.
"It began with a therapist and a keyworker who saw my potential rather than my limitations, and helped me to find both hope and coping skills. But the real recovery work came down the track, from my peers and counsellors, when I began to address the real issue: not a mental 'illness', but the impacts of child abuse."
Today, Indigo has transformed her imagination of the beast into a friendly, benign, vulnerable creature she calls "the injured lover". This new face has tender, life-affirming elements – it branches off a tree sprouting fresh, lush green leaves, the eyes oozing a delicate longing and not anger or judgment. Holding the portrait together is a serene blue sky.
Breathtaking.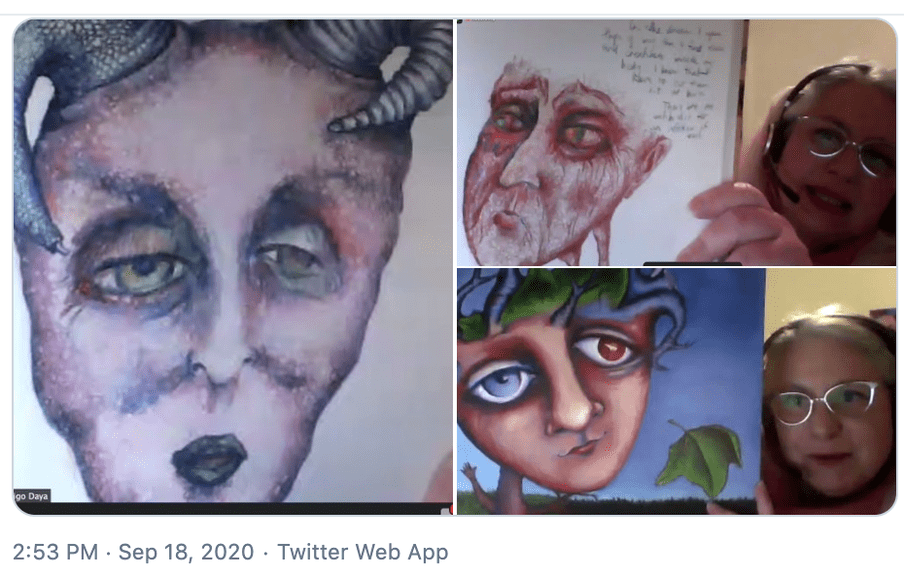 Ruth E Dixon: 'Micronor, senokot, calogen, flurazepam ... '
Performance artist and person-centred therapist Ruth E Dixon memorialises what happened to her mother Andrea through poetry and song. Andrea struggled with severe mental health problems and was diagnosed with several "psychiatric disorders". "After her death in 2014, I came across hundreds of her letters," says Ruth on her website.
"I also acquired Andrea's medical notes which attested to an 'unfortunate woman' whose best chance of survival was 'lifelong sedation'."
I was transfixed listening to Ruth's rap on the chemicals pumped into her mother's body:
Chlorpromazine
Quetiapine Fumarate
Mirtazapine
Haloperidol
Sodium Valproate
Hydrochloride
Droperidol ...
<Add your prescription here>
I am not anti-diagnosis or medication – I have personally benefitted from both. But it is time for psychiatry to move beyond its fixation with medicalising every emotion into a disorder, and accepting that lived experience will always – always – be more authentic than force-fitted diagnoses. I am not saying anything new here. The call to reform psychiatry is decades-old. Voices like Sanah, Indigo and Ruth give that call renewed strength of conviction.
In a previous newsletter, I'd asked you who your favourite artistes connected to the mental health movement were.
Several names surfaced, from Trent Reznor of Nine Inch Nails to suicidologist Dese'Rae L. Stage. That list is a lot richer now with the addition of these three creators.
More power to you. More power to us.
Psst, tried our new audio app yet?
The Correspondent is a year old! Thank you if you are a member and have already renewed your membership :) If you haven't, you can check your membership status and renew here.
Among other goodies, members get access to our brand-new, beautifully designed audio app.
If you're not a member, do consider joining us now by paying any amount you like, so that we can keep bringing you more noise-cancelling journalism.
Until next week.
PPS: If you have been affected by any of the issues in this article, this website provides contact details of free helplines around the world.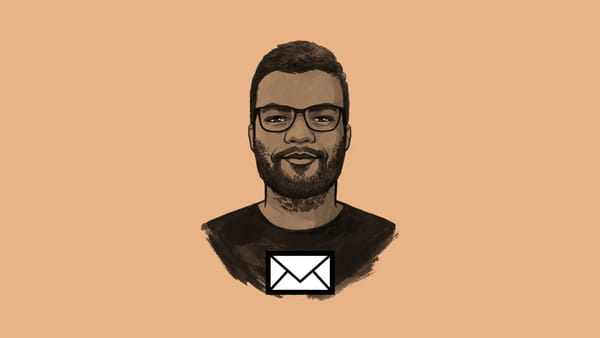 Would you like this newsletter sent straight to your inbox?
Subscribe to my weekly newsletter where I dismantle myths around Sanity, discuss the best ideas from our members, and share updates on my journalism.