In December 2017, two editors at the South Sudanese radio station Radio Tamazuj resigned. Accompanying their resignations was a press release in which they accused the station's Dutch parent organization, Free Press Unlimited – whose mission is to achieve global freedom of the press – of censorship.
That's quite an accusation.
And it's one with a wide fallout: it affects the people of South Sudan, who need independent news coverage. It affects Free Press Unlimited (FPU), which founded the radio station and continues to support it financially. It affects international organizations that work with FPU. And it affects people the world over who support the NGO's work – through their taxes or personal contributions – to keep such radio stations running.
Nor is it an isolated incident. In May 2017, the station's managing editor left, laying the exact same accusations at Free Press Unlimited's feet. A few months earlier, in December 2016, the editor in chief at that time did the same.
There is, in short, a pattern. Certainly when you consider that Radio Tamazuj – which broadcasts daily from a neighboring country for roughly half a million listeners in South Sudan and Sudan – is tiny: at present, only 13 people work there.
The recent resignations and accompanying press release come in the wake of an article
​I published on September 13, 2017. My article described how Free Press Unlimited tried to silence Radio Tamazuj's journalists after they published news items that criticized one of FPU's donors. FPU responded at the time by denying that it had engaged in censorship, a stance they are now repeating in their response to the recent press release.
Shortly after my first article was published, new sources contacted me: two of the radio station's editors who say they were pressured by FPU to distance themselves from my article. Free Press Unlimited denies that claim. FPU says these two editors have now resigned over a labor dispute.
The editors say they resigned over intimidation and censorship.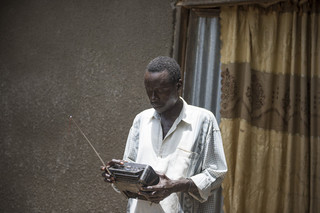 Radio Tamazuj responds
First let's jump back to last September. A few days after my article is published, I receive a statement from Radio Tamazuj, signed by the station's editorial staff, which at that time comprises five journalists.
The statement does not deny that there was censorship related to donor funding and does not explicitly refute the events described in my article. The editors do call the article "unbalanced" and say that no one at Radio Tamazuj was asked to comment.
"Am not hiding truth. Can we talk?
The editors also list some points they say are incorrect. Because their view of those points conflicts with my sources and the five editors don't provide any evidence to support their claims, I email the station a set of follow-up questions.
I receive a single sentence in response: "We do not have answers to your questions because we sent you our statement and it [sic] our position as Radio Tamazuj."
A short while later, I receive a text message from an unknown caller: "Am not hiding truth. Can we talk?"
Abdelhamid Haroun tells his story
The message turns out to be from Abdelhamid Haroun, Radio Tamazuj's news editor. Haroun has worked for the station since its founding in 2011.
He was there when the station's staff had to flee to a neighboring country because the South Sudanese government had launched a witch hunt against journalists. He was also there when Free Press Unlimited interfered with Tamazuj's reporting
in the summer of 2016 because the station had been critical of a donor to FPU.
My article on that interference is "one hundred percent true," he tells me. Over the phone he describes the events that followed the article's publication. The statement the editors sent me, he says, "comes from Free Press Unlimited, not from us."
"I fled Sudan, fled South Sudan. I've paid for Tamazuj in blood
"After De Correspondent published your article," Haroun says, "we were called together for an emergency meeting. Free Press [Unlimited] had written a statement – very hostile and aggressive, denying the entire article. And they wanted us to sign it. I refused. Everyone refused. I said: I'm not going to defend FPU."
He can't show me a copy of that statement. "They showed us a printout during the meeting. They took it back when the meeting was over."
Tamazuj's director – who runs the project on behalf of Free Press Unlimited – says he's the one who wrote the statement, not FPU's headquarters. A response from him and the station's staff reveals that this statement was "an email from the acting radio director to the editorial staff to add his comments to the conversation, since he was not in the country at the time of drafting the statement and could therefore not attend the meeting."
The statement I ultimately received from the five editors, Haroun says, was the result of protracted conversation and argument. What made it so hard, he thinks, is that most of the journalists present were not yet senior editors at Tamazuj when the events in question took place.
"They were new, so they didn't know what we were talking about. How can you issue a statement if you weren't even involved?" Yet Haroun also signs the new, milder statement. "First and foremost because this statement didn't deny that censorship had happened."
But also "because we were pressured. They said to us: Free Press Unlimited is in trouble, and that means Radio Tamazuj is in trouble, too. If you want us to stay alive, you'd better sign. We wanted to save Radio Tamazuj."
The station couldn't answer my follow-up questions, Haroun says, "because we knew that you were right. But we couldn't say so, because we wanted to save Tamazuj."
Radio Tamazuj's director denies that the station's editorial staff was pressured into signing the statement. He goes on to say that the situation was discussed in detail during a July workshop, so the editors understood exactly what they were saying in the statement.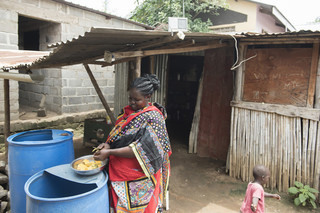 Assad Al-Tahir confirms Haroun's claims
There's a second editor who was working at the station during the conflict I describe in my original article.
Can his story confirm Haroun's? I call him a few days after I first speak with Haroun in September.
Assad Al-Tahir turns out to be just as angry as Haroun. "Free Press Unlimited has used us! We're just a cow to them: milk, milk, milk."
His story matches Haroun's. Al-Tahir also tells me about a first statement written by Free Press Unlimited, which the staff rejected. About the pressure the organization put on them to make them sign a statement anyway.
"We're just a cow to them: milk, milk, milk!
"They accused us of leaking information to De Correspondent," he says.
He also says that aside from Haroun and himself, none of the editors had any understanding of the issue involved in the statement they ultimately signed, because they either weren't in senior positions or hadn't yet joined the station back when the conflict took place.
Though they speak with me in September, Haroun and Al-Tahir ask me not to publish their statements. They don't want to lose their jobs.
In other words: they don't want to lose Tamazuj. They're the last two editors who have been with the station since its birth.
As Haroun puts it: "I fled Sudan, fled South Sudan. I've paid for Tamazuj in blood."
Haroun and Al-Tahir resign
In August 2017 a new editor in chief joins Radio Tamazuj. Neither Haroun nor Al-Tahir is happy with him. According to them, he is "not a journalist" and "doesn't know how to write a news article."
That fall, two internal recruitment processes begin.
The first is for a new deputy editor in chief. Haroun is now the station's most senior editor, but he isn't immediately pegged for the job. He believes that's because he was too critical of Free Press Unlimited.
After a staff vote, the position ultimately goes to a junior editor, nominated by Al-Tahir. Haroun votes for him as well. "We ended up voting for him because we didn't want any more trouble with FPU," Al-Tahir says.
The second recruitment process is to fill head-of-department positions (there were none previously). Haroun applies for Head of News, but doesn't get the job. A five-member panel selects another candidate.
"It is noteworthy that both individuals verbally resigned on the same day after hearing the news that Hamid was not selected for the position of Head of News," the station's director and editorial staff say in a response to this article.
Free Press Unlimited says it had nothing to do with the selection process. The organization remarks that "apparently there were better candidates." What's more, FPU says, it "always strives to help every partner we work with become independent, which includes Radio Tamazuj."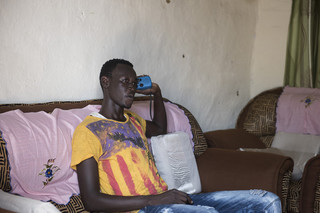 Haroun and Al-Tahir release a statement
On December 7, 2017 I receive a one-line email from Haroun: "Dear Maite, I would like to inform you that me and Assad [Al-Tahir] quit from this prison (FPU) yesterday."
That means the two editors have lost their jobs – and with them, their residence permits. They knew this would be part of the fallout.
Both men fled Sudan and then South Sudan years ago in service of their work for Radio Tamazuj: journalists were being persecuted. In South Sudan, the authorities had arrested Al-Tahir and threatened to kill him. 
Since 2014, the station's staff have worked in exile in a neighboring country. Now that Haroun and Al-Tahir have resigned, the two men have lost the legal right to live there – but neither can safely return to their native land.
"Dear Maite, I would like to inform you that me and Assad quit from this prison yesterday
When they resign in December, Haroun and Al-Tahir issue a press release titled "Free Press gets rid of last two founders of Radio Tamazuj." According to the release, FPU began "intimidating" the station's staff and "accusing" them of providing information for my earlier article. The press release contains the phrases "censorship" and "editorial interventions of FPU."
Haroun en Al-Tahir further write: "FPU also intensified its campaign in recent months by [...] reorganizing the newsroom in such a way as to impose censorship on the radio, in order to control the radio for its own interest, forgetting that we have escaped from government censorship in our homeland in order to provide our people with credible information."
To their listeners, they write: "Free Press Unlimited has killed our dream and your dream of building an independent media institution."
Earlier resignations at Tamazuj
Haroun and Al-Tahir have no documentation that confirms their story. But they aren't the first to leave Tamazuj this way.
In May 2017 the station's managing editor, Aziz Alnour, announced his resignation in a press release. He wrote that he was leaving "in protest of censorship of the radio [station] by its parent organization, Free Press Unlimited. After successfully resisting censorship from all quarters, including by repressive governments, and risking our lives and well-being for the editorial independence and editorial integrity of this radio [station], we have finally faced intimidation and threats from the very organization that is meant to help us."
Alnour continues: "Recent decisions taken by Free Press Unlimited have inflicted huge damage on the radio [station] and undermined our operations and the quality of our journalism. For these reasons I take the occasion of my resignation as an opportunity to call for help to save Radio Tamazuj and preserve the key role it has played in journalism in Sudan and South Sudan."
Prior to Alnour's departure, FPU declined to renew the contract for Tamazuj's editor in chief, the American Daniel van Oudenaren. According to Van Oudenaren, his opposition to FPU's editorial interference in the summer of 2016 is the reason he was not allowed to stay on at Radio Tamazuj.
During that period Joop Daalmeijer, chair of the FPU board, wrote to him, "Try not to bite the hand of the person that is feeding you." Free Press Unlimited says it was simply time for new leadership.
Free Press Unlimited and Radio Tamazuj respond
Back to the recent accusations. In a written response, FPU says it has "no idea" why Haroun and Al-Tahir are making them. The organization says that it "played almost no role at all, despite the claims of the departing journalists."
"We have no idea how pressure was exerted on anyone at all and/or how employees were intimidated," FPU states. "Our impression is that the press release was written out of disappointment, after both journalists were passed over for leadership positions at Tamazuj by the station's own staff."
Indeed, the two men did resign after Haroun heard he had not been selected as the station's Head of News. Al-Tahrir did not apply for either leadership position (deputy editor in chief or department head).
But this interpretation doesn't explain why Haroun and Al-Tahrir contacted me in September, before the internal recruitment process began, to talk at length about pressure and intimidation.
Free Press Unlimited further denies that it exerted pressure on station staff to sign a statement. "Of course we're not going to force people to sign anything; that would be truly absurd. They signed it of their own free will."
"Our impression is that the press release was written out of disappointment
We also asked Radio Tamazuj's editorial staff for comment. In a general statement they say they are not aware of any "alleged 'intimidation'."
Tamazuj further denies "the allegations of censorship and control." This conflicts with the earlier statement the station's staff issued after my article last September. According to Radio Tamazuj,
Haroun and Al-Tahrir are "disgruntled" with the outcome of a "very transparent and clear internal recruitment process."
When I present this response to Haroun, he bursts into laughter. "These are lies, pure and simple, but the re's no one left on staff who's willing to confront them. They're afraid for their jobs."
Al-Tahrir responds with a scornful "That's just not true." And later: "I feel like Free Press has stolen our radio station."
Last week Haroun received a cease and desist letter, in which he was ordered to stop telling his side of the story. The letter is signed by Tamazuj's acting director.
In the letter, the director threatens to take legal steps against Haroun for spreading "false, destructive, and defamatory statements against Radio Tamazuj/Free Press Unlimited." The letter says Haroun is violating his contract's nondisclosure agreement.
The letter also says: "Legal action will be taken against anyone who by words or conduct harms or intends to harm the operations of the organisation or its relationship with its stakeholders."
In closing, the station's director notes that "Radio Tamazuj/Free Press Unlimited [...] has nothing to hide and is open to criticism, but correct procedures should be followed to raise genuine grievances."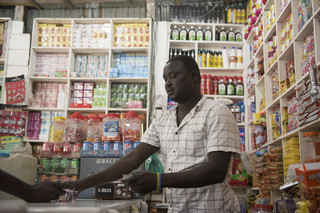 FPU's donors respond
In their press release, Haroun and Al-Tahir appeal to Free Press Unlimited's donors: "We urge you to review your policies in funding projects of Free Press Unlimited."
Back in November 2017, the Dutch minister of foreign trade and development cooperation, Sigrid Kraag, responded to a parliamentary inquiry based on my earlier article.
She wrote, "During the period in question, my impression is that the professional relationship between FPU and Radio Tamazuj was impaired. Third-party mediation has since led to improved relationships among their respective staff."
"We see no cause to review our donations to Free Press Unlimited
After I send this article to the minister, her spokesperson informs me that the ministry cannot "interfere with the newsroom's internal policy" and cannot play a role in "mediating impaired relationships between the newsroom and its current or former employees."
The Dutch embassy in Juba will, however, keep an eye on the situation, "to assess whether developments negatively affect the realization of the objectives for which we provide funding, namely independent news reporting in South Sudan and moving Radio Tamazuj toward independence."
The Dutch National Postcode Lottery (NPL), a major donor to charitable causes including Free Press Unlimited, calls the issue "a distressing situation [...] for all involved" but sees "no cause to review our donations to Free Press Unlimited."
Regarding Haroun and Al-Tahrir's offer to present their story directly to donors, the NPL's head of charities, Margriet Schreuders, says, "Of course it's a good idea to listen to all those involved. However, our experience is that in a complex context, it's incredibly hard to fully understand the situation. We also firmly believe that Free Press Unlimited should assume that role itself. We have no reason to assume that FPU's intentions are sinister. Leaving this task to them is also a better fit for our role as an institutional donor."
What should we make of all this?
The difficulty here is that there's no way to find out exactly what's true in Haroun and Al-Tahrir's accounts. Two things are certain:
In the summer of 2016, Free Press Unlimited interfered in Radio Tamazuj's editorial process, to protect its

own funding.

In the eighteen months that followed, four editors who had been with the station from the start left Tamazuj, all of them accusing Free Press Unlimited of censorship and intimidation.
If major donors don't think it's their job to call FPU to account, then whose job is it?
Free Press Unlimited says that none of these journalists' accusations are true. You might be able to say that about one journalist, and maybe even about two. But it's too simplistic to wave aside four experienced journalists, who spent years risking their lives to do their jobs, as simply disgruntled former employees. And it doesn't serve the radio station's interests.
That means there are several questions facing Free Press Unlimited and its donors, which deserve open and honest answers:
Why did these four journalists sound the alarm?
Are there enough checks in place to keep Free Press Unlimited's financial interests from interfering with editorial integrity?
If Free Press Unlimited's major donors – the Dutch Ministry of Foreign Trade and Development Cooperation and the Dutch National Postcode Lottery – don't think it's their job to call the organizations they support to account, then whose job is it?
And perhaps most important of all: how can Radio Tamazuj – despite these internal conflicts – remain an important, independent source of news for the people of South Sudan?
—Translated from Dutch by Grayson Morris
Note: Given the importance of accuracy in a story like this one, we haven't corrected any language errors in cited written material – not even typos. Please remember that many of the people being quoted speak English as a second language, and even significant errors do not reflect a lack of integrity, intelligence, or education.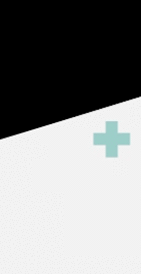 If you like your journalism in-depth and ad-free... Sign up for our newsletter and get new stories every week from De Correspondent. Yes, send me more stories!
More from De Correspondent: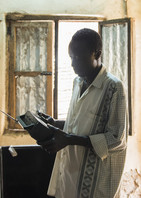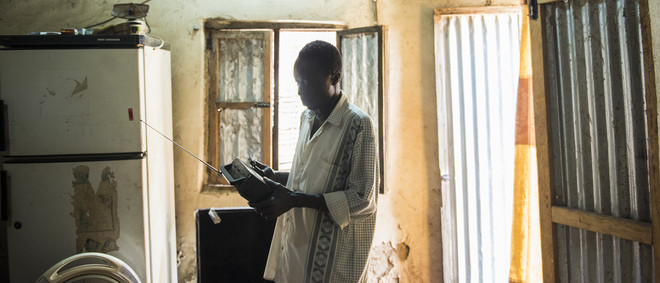 How Free Press Unlimited silenced its own journalists The Dutch aid organization Free Press Unlimited supports independent media outlets worldwide. But when its radio station in South Sudan sounded a critical note about donors, Free Press Unlimited intervened: "Don't bite the hand that feeds you." Read Part 1 of Maite's story on Free Press here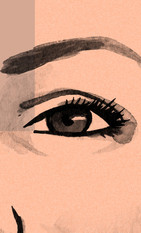 A free press is critical. That's why I took a critical look at Free Press Unlimited Maite Vermeulen has seen firsthand the good work Free Press Unlimited does around the globe. "I haven't exactly been FPU's enemy." But when she got word that the NGO wasn't everything it was cracked up to be, this reporter had to follow that lead. Read Maite's behind-the-scenes story here.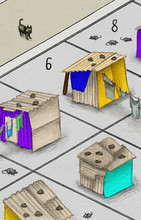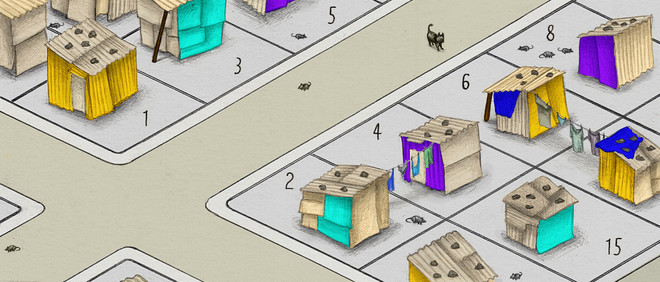 What's deadly dull and can save the world? (Hint: We can't stand it) What do poor people need most? Food? Healthcare? Education? The answer is as surprising as it is simple. And it can be found under fluorescent lights and modular ceilings. Read Maite's story here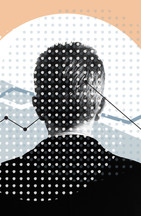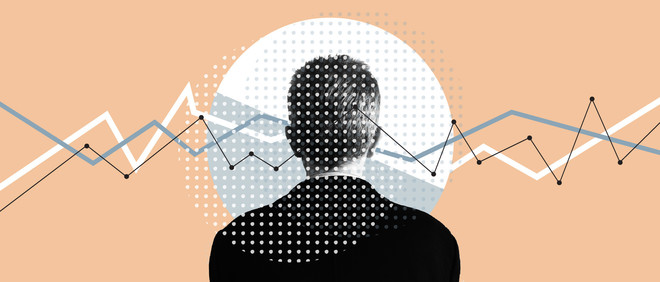 Meet the greatest anti-poverty crusader you've never heard of Every news item you read about poverty owes its existence to the work of one unknown but revolutionary economist. Oddly enough, he's never gotten the media attention he deserves. Who is this Martin Ravallion, the man who put poverty on the map worldwide? Read Maite and Sanne's story here