It's early in the morning on December 2, 2016. Somewhere in East Africa the staff of Radio Tamazuj turn on their computers. One of the journalists types in his password on automatic pilot, ready to put the day's first news items up on the website. "Sorry, unrecognized username or password. Have you forgotten your password?"
He tries it again, keystroke by keystroke. His password is right, but the system still doesn't accept it.
"I can't log in," he hears a colleague beside him say.
None of Radio Tamazuj's staff can log in on that December morning. Turns out the Dutch aid organization Free Press Unlimited, which founded Radio Tamazuj and provides its funding, has revoked the journalists' access.
Free Press Unlimited – an organization fighting to achieve global freedom of the press – is censoring its own radio station. The reason? Money. Radio Tamazuj had published items that criticized Internews, one of Free Press Unlimited's donors.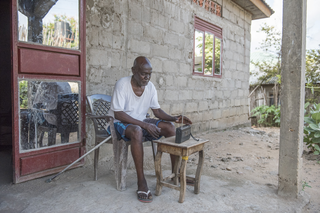 A reconstruction based on interviews with those involved and internal documents and email exchanges that are in De Correspondent's possession reveals a shocking picture of the actions taken by Free Press Unlimited's management. Donations took precedence over journalistic integrity. "Try not to bite the hand of the person that is feeding you," writes Joop Daalmeijer, chair of the FPU board, to Radio Tamazuj's editor in chief.
This is the story of a development aid organization whose focus on money made it lose sight of its own objectives. It is also the story of millions of donated dollars that are spent in South Sudan on "independent media" that are independent in name only.
But let's start at the beginning: What is Radio Tamazuj?
Tamazuj literally means melange, mix, or across the border. Founded to serve the people living in the Nuba mountains of Sudan
– an area plagued by decades of ethnic and religious oppression – the radio station had to cross borders both literal and figurative. The station in neighboring South Sudan would provide reliable, independent news to people from a variety of backgrounds and religions.
It was a humble start: in the early years, around 2010, the station ran on a radio signal generated by wires strung between the trees.
With help from the Dutch development aid organization Free Voice – which merged with Press Now in 2011 to become Free Press Unlimited – the project evolved into a news broadcaster whose signal can be received on shortwave radio across the entire border region between Sudan and South Sudan.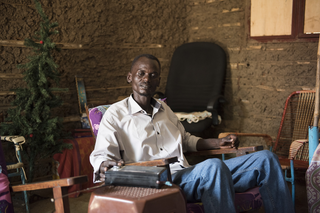 The relationship between Free Press Unlimited and Radio Tamazuj is simple: FPU is responsible for funding, Tamazuj's editor in chief and his staff for content. As laid down in the project's editorial charter, Radio Tamazuj performs its editorial activities freely and independently.
Free Press Unlimited supports independent outlets throughout the world. The Amsterdam-based organization has projects in 46 countries. Its budget, which was roughly $18 million in 2016, is largely funded by the Dutch government. FPU also raises roughly $1 million in donations each year.
In 2014 Free Press Unlimited describes Radio Tamazuj's "overall objective" as to "[i]ncrease freedom of expression and access to relevant information for South Sudanese people." Starting in January 2012, Tamazuj broadcasts daily
and has an estimated listenership of half a million people per day.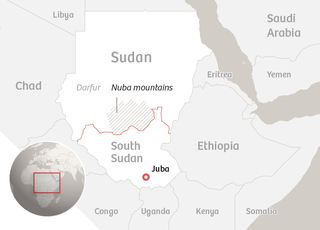 Crackdown on the media in South Sudan
In South Sudan (and many other poor countries), it's not unusual for the media to be funded by development organizations. Of course there are also state-run media outlets, but they present a one-sided picture in times of conflict. Aid organizations nurture independent stations because they believe that in situations like these, independent media further a country's development, and are thus a good use of development funds. The South Sudanese capital of Juba is also home to Eye Radio, supported by the American NGO Internews, and Radio Miraya, supported by the United Nations.
Then comes the night of December 15, 2013.
Fighting breaks out in Juba between the followers of the president, Salva Kiir, and those of the vice president, Riek Machar. Thousands of citizens are killed because of their ethnicity: Kiir is a Dinka, Machar a Nuer.
On the radio in Juba things are quiet. Too quiet. People are being slaughtered in the streets, but not a single radio station is reporting it.
Radio Tamazuj decides – since no one else is doing it – to start broadcasting in Juba itself. It's precisely in times of conflict that the dissemination of independent information is vital, believes Free Press Unlimited – just as you'd expect from an organization whose tagline is "people deserve to know."
And so Tamazuj expands again, into a radio station that reports on all of South Sudan and the southern states of Sudan. Its English-language website becomes one of the most reputable sources of reliable news from the war-torn region.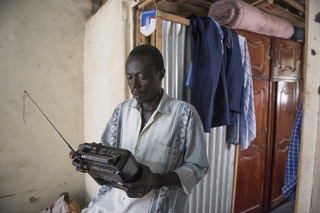 In the months that follow that bloody December night, the South Sudanese government – since torn asunder by the fighting – launches a witch hunt
against the free press. Reporting that's critical of the government is ruthlessly silenced. Radio stations are shut down, entire newspaper runs are confiscated, journalists are arrested. The Catholic station Bakhita FM is closed by the government for three months, and warned not to report on politics again. A journalist at the Miraya radio station, founded and funded by the United Nations, is imprisoned for two years.
Most of the country's media outlets buckle. They stop reporting on civilian deaths and human rights violations, adopt the government's rhetoric, or focus on "humanitarian reporting" – things like how you can prevent cholera, or what to do if you find a land mine. In truth, the South Sudanese people no longer have access to a domestic independent press.
Tamazuj in exile
The editors at Radio Tamazuj take a handful of journalists and go into exile, to escape the government's censorship. They set up shop in a neighboring country, where they continue to report on the conflict through a network of underground South Sudanese journalists. Because they broadcast over shortwave, the government can't jam their transmissions.
Other media projects supported by development aid organizations, such as Internews's Eye Radio, do keep operating in South Sudan. Though these development organizations still claim to be supporting an independent press, in reality that independence is all but gone. This worries Free Press Unlimited enough that the organization reports the situation to the Dutch embassy.
Speaking specifically about Eye Radio in mid-2014, FPU writes: "The Juba-based FM station Eye Radio, supported by Internews, was on 7 March 2014 officially warned that the station would be suspended if any opposition voice was allowed on air. Based on monitoring Eye Radio, it can be concluded that it has chosen to follow the government narrative on the situation in South Sudan: ministers are provided large timeslots for government propaganda rhetoric, while independent and opposition sources are neglected."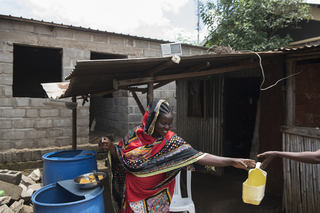 Against this backdrop, the journalists at Radio Tamazuj begin to keep a close and critical eye on the South Sudanese media, including Eye Radio. "There's no real difference between government radio and Eye Radio," one staff member explains. "They shouldn't deceive people."
In June 2016 Radio Tamazuj's English website publishes some reports critical of Eye Radio and its funding organization, Internews. One of those articles calls into question an article Eye Radio had published. (Eye Radio subsequently retracted that piece.) Another criticizes an Internews-funded survey of radio listeners.
The articles are the starting point for Free Press Unlimited's interference in Radio Tamazuj's editorial decisions – an interference that will steadily grow.
What's happening behind the scenes at Internews
To understand why, we have to take a brief trip back to early 2013 – and the US. There, the American NGO Internews receives some $75 million from USAID for a five-year project that comes to be known as i-STREAM:
Strengthening Free and Independent Media in South Sudan. Internews is in charge of dividing USAID's funding over various organizations that develop media projects in South Sudan – and it can make these subgrants, as they're called, entirely at its own discretion.
Free Press Unlimited is one of the organizations that receives a subgrant, to the tune of roughly $1.5 million.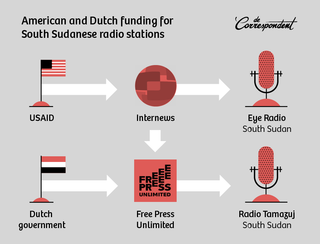 That makes Internews one of Free Press Unlimited's financial backers. But when FPU turns in its first i-STREAM audit report in September 2015, in which it accounts for the money it's received, the relationship becomes strained. Email exchanges between Internews and Free Press Unlimited reveal that FPU's books for this project didn't comply with American accounting standards. 
Internews turns off FPU's funding in June 2016. FPU, working to salvage what it can, negotiates with Internews to keep paying the subgrant through the end of July.
Right in the middle of these negotiations, Radio Tamazuj publishes its articles criticizing Eye Radio and Internews.
On June 23 Radio Tamazuj's editor in chief, the American Daniel van Oudenaren, receives an email from Free Press Unlimited's team leader for Sudan and South Sudan, with the subject line "Strategising under duress – let's talk!"
FPU's team leader gets right to the point:
"I would like to see if we can find a moment to talk [...] about the forced termination of the iStream project and about our concerted efforts in saving our budget as much as possible through negotiations with Internews and other US channels that are ongoing…
"I am sure you understand this multi-targeted approach requires careful and strategic manoeuvring by all of us on the management side, both in convincing and arguing but also in communication on all levels within ourselves and with our partners and other donors.
"Whatever nice strategy we deploy at our end, however, can be easily and rapidly undone by Tamazuj content or framing of content on Tamazuj. I do not want to intrude in Tamazuj's editorial policy, and will of course fiercely defend the editorial freedoms of Tamazuj towards any outside party as a core freedom that we are exactly here to protect and defend. However, I do believe there is also place for a strategic approach towards the presentation and timing of media productions without compromising on journalistic principles and editorial policies.
"In the case of the rather abrupt ending of the iStream funding I am afraid that the seeming Tamazuj approach is presently counterproductive to the ongoing efforts to mitigate the damage as much as possible, and even find new opportunity in this setback.
"Today evening I received an e-mail from a concerned donor who felt that Tamazuj is bashing Internews, warning me this can lead to a tarnished reputation for us all also in the eyes of other donors. If their observation is right, this is potentially a big threat to our existence.
[...]
"I would be devastated if content published in Tamazuj that seems to target Internews, at least according to that concerned donor and quite possibly also in the eyes of Internews and USAID, would stand in the way of us being able to care for the people and achieving our dreams for Tamazuj."
Never before has Free Press Unlimited interfered in editorial decisions. Editor in chief Van Oudenaren decides not to respond to the email. "There was nothing in it about editorial content, only concerns about institutional interests," he explains. As an independent journalist, Van Oudenaren doesn't want to be drawn into those.
A few days later, on June 29, two representatives from FPU fly to East Africa to speak with Van Oudenaren. The notes taken during that conversation by one of the FPU delegates again emphasize FPU's real concern:
"[FPU's team leader and grant manager] explain they have had constructive talks with the Internews team dealing with the implementation of the termination and have been able to get as much as possible lenience out of them, covering costs incurred after the end date of 17 June. [...] They had agreed that for any issues coming up, they could connect with Internews to see how to solve these. However, this leniency is now most likely out the window as a result of the badmouthing of Internews on the RT website."
And: "Meanwhile, Leon [Willems, FPU's director of policy and programs] has been having talks in Juba with USAID, aiming to get them to cover the damage to RT caused by the termination. This process is ongoing and [the team leader and grant manager] fear that it may be negatively impacted by the timing and framing of the mentioned publications."
So Free Press Unlimited isn't accusing Radio Tamazuj of factual, journalism-related errors, but of bad timing.
And also of unprofessional conduct. You see, Free Press Unlimited thinks that Tamazuj's staff wrote the articles about Internews to take revenge for the discontinued funding. Van Oudenaren admits that his staff felt attacked, and they were angry. But that wasn't the motivation for the articles, he says. The news that so much donor money was going to media that weren't independent, such as Eye Radio – that news had to be shared.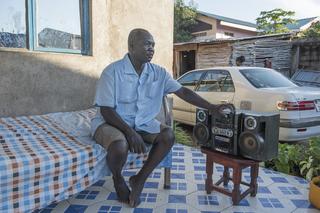 "The point is: we had something to say, we tried to say it, and that discussion was shut down," he explains. "We were free to have a discussion about human rights, about the war, about basically anything – as long as it didn't touch on something Free Press Unlimited actually disagreed with or had institutional concerns about."
When you read the articles under discussion, you really have to do your best to see what the argument is actually about. These are fairly dry articles, not meant for a broad international audience, but for the South Sudanese people and others knowledgeable about the country and its current situation. They're not stirring essays
lamenting the state of the media in South Sudan, but factual news reports about very specific issues. "That goes to show it wasn't a huge thing to us," Van Oudenaren says. "We didn't invest all our editorial resources in some vendetta against another media house. We had other things going on: we had human rights to cover, war to cover, politics to cover, economy to cover. And we were doing all that."
How the argument unfolds
A week later, on July 2, Radio Tamazuj publishes an article on its website about a new project to measure viewership and listenership in South Sudan, in which Internews is once again named with a critical note.
On July 5 Leon Willems, one of Free Press Unlimited's two directors, sends a pair of letters Radio Tamazuj's way: one to its staff, and one to its editor in chief.
To the staff he writes, "We have discovered a pattern emerging on the English website that we find self destructive, and which in our opinion has to stop and requires immediate action."
Willems lists six articles, including four items about Internews. "We received complaints about these publications from those that were addressed and we (FPU) were questioned by donors about this. […] The complaints cover a range of issues. Accuracy is challenged, timeliness, relevance, the practice of giving people or organisations addressed the right to rebuttal…"
Willems asks Tamazuj's staff to set up a complaints mechanism "to increase editorial transparency." He also asks them to hold what's called an editorial review, in which they put their own reporting under a critical microscope to see whether mistakes have been made.
"In the meantime," he adds, "we urge you to stop publishing additional stories along the same line which are disputed. That includes new stories that harm persons and organizations who have been the subject of these already published stories."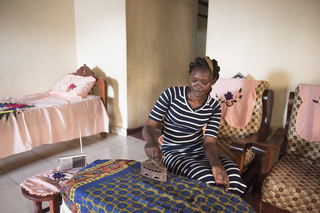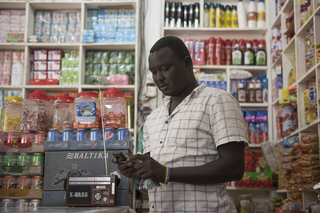 Where these warnings are perhaps a little cryptic, Joop Daalmeijer, chair of Free Press Unlimited's supervisory board, leaves no doubt in an email to Van Oudenaren that the issue is money:
"As a journalist, and as a former chairperson of the Journalists Union in the Netherlands, I totally support freedom of speech and press freedom. But, on the other hand, [...] Freedom is also restricted by financial means, especially is this important for media, supported by donors. Try not to bite the hand of the person who is feeding you. Try not to offend a donor, so you can no longer fulfil the more important task of a paper or radio/tv-station."
The editor in chief, Daniel van Oudenaren, receives an official warning for misconduct.
Willems writes, "Well, this is not about press freedom but about your unacceptable behavior and insubordination as well as your lack of professionalism regarding complaints. [...] The recent string of stories, the complaints as a result and/or the comments received which are not addressed by you, clearly indicate to us that you intend to persist in this unprofessional behavior [...] We will not accept further violation of the code of conduct and such violation will lead to your (immediate) dismissal."
"It needs to be clear," Van Oudenaren responds, "that your demands – and your threat to fire me – would result in the suppression of reporting that is legitimate and newsworthy. [...] Complaints in themselves are not evidence of any kind of wrongdoing, and none of the emails that you shared constitute any evidence of misreporting."
On July 20, 2016 a conversation takes place in Amsterdam between Daniel van Oudenaren, Joop Daalmeijer, and Leon Willems. They agree that Tamazuj's staff will hold an internal editorial review to explore whether mistakes were made in their reporting on Internews. A panel of independent specialists will then evaluate this review and advise Tamazuj and FPU on how to proceed.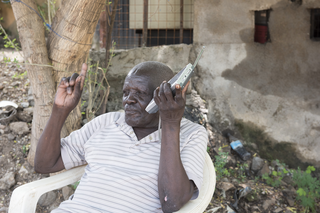 Three months later, the station's staff sends a 130-page report to Free Press Unlimited's management, which explains in minute detail how the six articles came to be and how they led to the disagreement with FPU. The main conclusion? "There is no evidence to substantiate allegations that there were serious ethical breaches on the part of any journalist or journalists at Radio Tamazuj, nor any serious inaccuracies."
In the accompanying email Van Oudenaren writes, "We seek endorsement of our findings and recommendations by the review panel, or, if they feel that they are unable to do so for whatever reasons, we invite any or all of them to a workshop or conference call so that we hear from them their different conclusions and learn from the experience overall."
Director Leon Willems responds with a single sentence: "Thanks Daniel, We will look into it and i will get back to you."
The censorship is complete
Van Oudenaren won't be there to hear the director's feedback: At the end of November, Willems travels to East Africa to meet with Tamazuj's entire editorial staff. Prior to the meeting, he tells Van Oudenaren that his contract won't be renewed in January. That has nothing to do with the editorial review, Willems says – it's just time for new leadership.
The station's staff is furious, and shocked. "It was sickening," says one employee who asked to remain anonymous. Van Oudenaren has been the driving force behind the radio station for years. "Since we started broadcasting, we've never been off the air for any reason. Security concerns, exile, whatever. We never, ever, in five and a half years failed to broadcast. Except that one day. Everybody went home." Radio Tamazuj aired an old show that day.
Two days later, Tamazuj's staff publish parts of their editorial review on Twitter.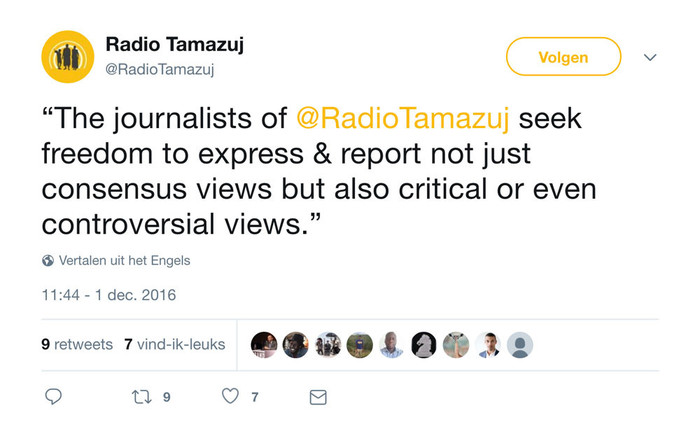 They also publish Joop Daalmeijer's response.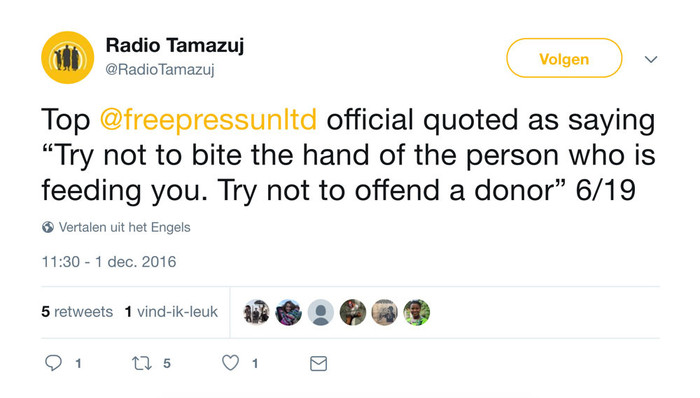 When they arrive at work the next morning, no one can log in.
Free Press Unlimited has changed the website's passwords, they learn, and transferred the new passwords to the radio station's recently hired director – who, just days into his new role, finds himself squarely in the middle of an argument between Tamazuj's staff and FPU that's spiraled out of control.
In an email exchange between editor in chief Van Oudenaren and the station's new director, the latter expresses his bewilderment: "It is, at the very least, an anomalous situation." He promises to look into it, and says, "I reiterate my complete commitment to protecting the editorial integrity of Radio Tamazuj, from those who threaten to undermine it, whoever they may be."
It takes seven days before full website access is returned to all the station's editors. Meanwhile, the editor in chief has been asked to transfer control of the station's Twitter account to Free Press Unlimited.
In its response to this article, Free Press Unlimited confirms that it "took possession of and changed the passwords and additional security measures" and "immediately returned them to the station's director at that time." The organization explains why as follows: editor in chief Van Oudenaren supposedly used Tamazuj's social media accounts to vent his personal displeasure, and FPU was afraid "he would do the same with the website."
Van Oudenaren denies this. His version of events is confirmed by another editor who worked there at the time.
The aftermath
What came next was a chaotic period for Tamazuj's staff. "We only did the routine news that could be done by any other media house," says one of the editors, who asked to remain anonymous to protect his job, about the period directly after Van Oudenaren's departure. "But the investigative stories, the conflict reporting: they killed it."
In May, the station's director resigned. The managing editor also left.
In its response to this article, Free Press Unlimited noted that it worked with Tamazuj's staff to appoint a new editor in chief, who is now on board. And in July of this year, external journalist Michael Alexander led FPU and the station's staff in a discussion of the editorial review. According to FPU, he came "to the conclusion that the articles in question were lacking in journalistic rigor. The station's staff agreed with him."
Notably, Michael Alexander – whom Free Press Unlimited calls an "independent expert" in its response – also worked for Internews for years.
Last July Tamazuj's staff also devoted a workshop to the station's future: by January 2020, they hope, Radio Tamazuj will be fully independent of Free Press Unlimited.


—Translated from Dutch by Grayson Morris and Erica Moore
Free Press Unlimited was given 24 hours to respond to this article. Its response has been incorporated above. The organization also says it does not agree that it committed censorship. "We did not engage in censorship and we never will."

We also directly contacted Joop Daalmeijer for comment. FPU's spokesperson responded, also on Daalmeijer's behalf. Internews did not respond to our request for comment.
Note: Given the importance of accuracy in a story like this one, we haven't corrected any language errors in the cited material – not even typos. Please remember that many of the people being quoted speak English as a second language, and even significant errors do not reflect a lack of integrity, intelligence, or education.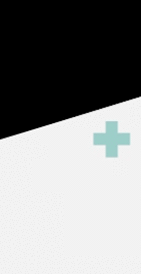 If you like your journalism in-depth and ad-free... Sign up for our newsletter and get new stories every week from De Correspondent. Yes, send me more stories!
Update – September 19, 2017
Three days after we sent this article to Free Press Unlimited – and two days after we published it – FPU sent us a list containing 31 points they take issue with in the article. We were very happy to receive that list. It's enabled us to clarify a few points and add extra context to others. We've also made three key changes to the article.
These changes concern 1) the administrative details of the relationship between Free Press Unlimited and Radio Tamazuj (point 9), 2) our original statement that the new editor in chief had resigned, when he was in fact an interim editor in chief (point 30), and 3) our original claim that Tamazuj's staff was forbidden to report on its personnel changes (point 31).
We're publishing Free Press Unlimited's full list here, with our response to each point as well as the changes we've made to this article. FPU's list confirms that our article's conclusions remain fully intact.
More from De Correspondent: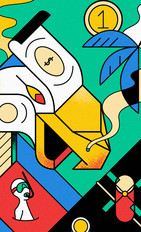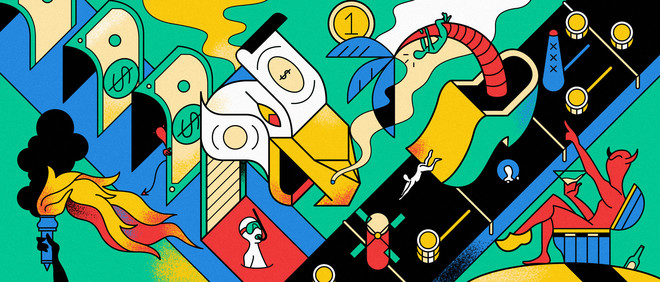 Bermuda? Guess again. Turns out Holland is the tax haven of choice for US companies Nearly half a trillion dollars in US company profits are safely stored in the Netherlands by companies such as Nike, General Electric, Heinz, Caterpillar, Time Warner, Foot Locker – the list goes on and on. If Trump makes good on his promise to repatriate corporate profits at greatly reduced tax rates, the public will never see its fair share. Since when is this little country in Europe the new Bermuda? Read Jesse's story here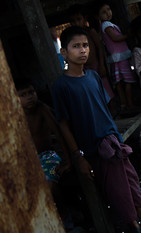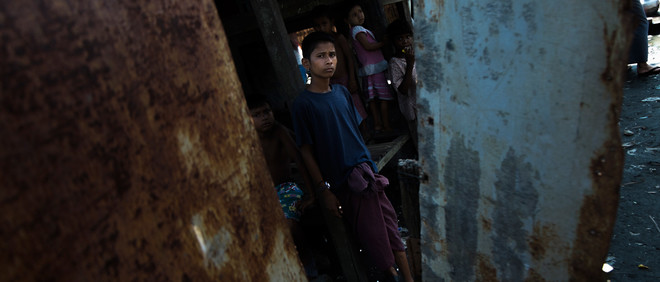 Meet the most persecuted people in the world They survived ghettos, pogroms, slave ships, and torture camps. There's a reason the UN calls them the most persecuted group in the world. And no, those causing the misery aren't radical Muslims, but nationalist Buddhists. Photographer Andreas Stahl and I traveled to three countries to record the Rohingyas' story – a story that can only be described as the chronicle of a genocide foretold. Read Lennart's story here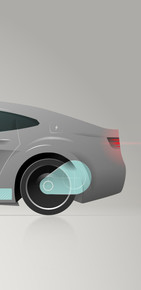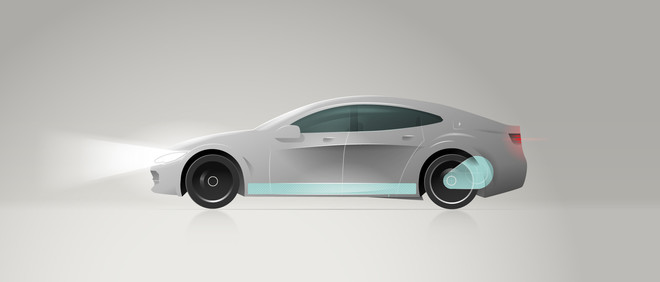 Why electric cars are always green (and how they could get greener) Driving an electric car emits no CO2. Zero. Nada. Zip. But let's be honest: first you have to manufacture the battery it uses, then generate the power it consumes. So what does an electric car's carbon footprint really look like? I decided to crunch the numbers. Read Thalia's story here