Hi,
The truth of today's newsletter is that I was writing about someone dear to me who died last month. But then I stopped because life got in the way. 
First, the Beirut blast.  
For a month now, my family and I have been living in Evia, Greece's second-largest island, with a dear friend, her partner and their nine-month-old baby. My friend's partner works in Beirut, and he commutes back and forth. Last week, when the blast took place, he had gone to the mall, thankfully, because he got out unscathed. Their apartment was shattered by the explosion – like thousands of others.
Then on Saturday night there was the scariest thunderstorm I've ever experienced. It had been announced as a summer storm known as Thalia, but nobody expected it to be so bad. 
Overnight, the rain just wouldn't stop. I was trying to count the number of seconds between the flash of lightning and the sound of thunder, to figure out how close the storm was, but it was hard because there were so many flashes and thunders on repeat; I couldn't keep track. Storms frighten me. My mother says they unsettled me even when I was in her belly. No matter how sheltered I am, I always feel unsafe. But eventually I fell asleep.
On Sunday morning all was eerily quiet. The internet was down, and there was no phone connectivity. When we drove to the next big town, Eretria, there were hardly any cars on the road.
Eventually I got online: an unexpectedly high amount of rain had caused some streams and rivers to flood, killing several people – some just 10 kilometres north of us, including an eight-month-old baby.
What's the point of writing about early childhood and the first 1,000 days if tragic things happen all the time, if we don't really have any control over anything?
I don't have any answers, but I know that this newsletter is a safe space for me, a place that gives me a sense of direction. And this is why I'm sharing this experience here.
On getting lost
In her book, A field guide to getting lost, Rebecca Solnit explores how we find ourselves despite loss, or maybe because of it.
"Lost really has two disparate meanings," she writes. "Losing things is about the familiar falling away, getting lost is about the unfamiliar appearing. There are objects and people that disappear from your sight or knowledge or possession; you lose a bracelet, a friend, the key. You still know where you are. Everything is familiar except that there is one item less, one missing element. Or you get lost, in which case the world has become larger than your knowledge of it."
I disagree with her in this matter. Sometimes when you lose a person, you get lost too. That person carried so much meaning for you that you have to work to find your path again.
This just clicked with me when I read my colleague OluTimehin's tribute to her mother,
who died eight years ago, when OluTimehin was pregnant. In her beautiful writing, OluTimehin manages to convey the utmost absurdity of how you can feel very lost and somewhat dead inside while at the same time producing a new life.
Any connections in Greece?
So far, when I asked, you've delivered great tips for books, contacts and ideas. So let me try my luck one more time.
I'll be in Greece for the coming months, and I would love to connect to people who are thinking about childhood, and the first 1,000 days, here: play practitioners, interesting educators and neuroscientists, people working on reproductive rights, parenting experts. Are you one of these people, or do you have any contacts? I would love to hear from you! You can either email me at irene@thecorrespondent.com, or leave a message below this newsletter.
Also, if you happen to live in Athens or come through here, maybe we can meet up – respecting social distance, of course. Get in touch!
Thanks for reading,
Irene
P.S. I'm taking some time off so I'll take a short break from this newsletter too. See you soon!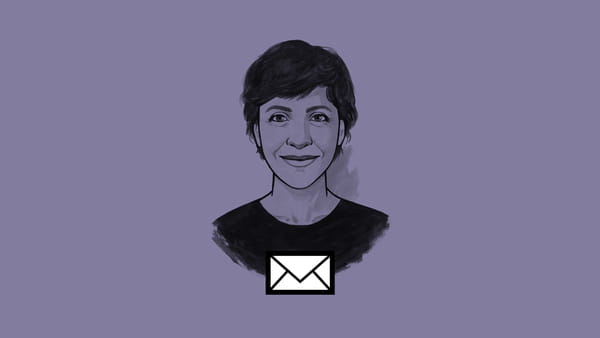 Do you want this newsletter straight in your inbox?
If you're interested in reading more about early childhood, as well as reproductive rights, sexuality and the challenges and joys of parenting, you can subscribe to my weekly newsletter about the First 1,000 Days of life.