Hi,
I've been in lockdown in Naples, Italy, for three weeks now. The rules are strict here; we can only go out with a self-certification showing that we're doing groceries or going to the pharmacy. Since I'm staying with my parents, I'm being extra careful for their sake and I've only left the house to throw out the rubbish.
But when night comes, I go out on the wildest walks (in my dreams, of course!). Last night, I was in Madrid, figuring out where to leave my luggage before heading to the airport. The night before, I was in a beautiful villa with a huge garden and three (!!) swimming pools. If I had to guess from the bougainvillea around the property and the view from the top, it was probably on the island of Capri. I was in the water, swimming, and so was Lorenzo, my son. The sun was out but it was not too hot. 
At this time of forced confinement, I look back on the days when I was too lazy to go out for a walk in the fresh air, and on the moments when meeting up physically with people was so straightforward. It's unclear how long Italy will keep its lockdown, but I'm sure this period will make me cherish my previous ease of movement even more. For now, I can't wait to see where my dreams will take me tonight!
Let the Ratón Pérez out
In the Spanish-language world, the Tooth Fairy is actually a mouse called Ratón Pérez. Like the Fairy, the Ratón leaves children money overnight when their teeth fall out.
When Argentina went into lockdown earlier this month, the mother of seven-year-old Joaquín took to Twitter to ask President Alberto Fernández whether Ratón Peréz was allowed to go out. And the president made an announcement:
the Ratón was exempt from the quarantine.
What followed is an adorable exchange of audio messages
between the president and the child. 
And yes, some of you may be sceptical and even cynical about this. But I like to think highly of a head of state who makes time and considers children to be proper citizens. Just like Erna Solberg and Jacinda Ardern
did in Norway and New Zealand by holding special Covid-19 press conferences for children. (I just want to highlight these two are women. Just sayin'.)
This is what taking children's views and worries into account looks like. Not predatory photo ops, or tweets like the one by Mexico's president Andrés Manuel López Obrador who referred to a girl saying "I wanted to smother her with kisses…"
Do you know of other politicians addressing children at this point in time? I am curious to hear.
Coronavirus resources
A few of you have reached out over the past couple of weeks to ask about my views on the coronavirus and the first 1,000 days. I found many useful resources to stay informed.
For example, I attended this webinar
organised by the International Center for Journalists with Dr Karen Kotloff, head of the Division of Infectious Disease and Tropical Pediatrics at the University of Maryland. The main takeaways: we still don't know why children fare well with this disease, but they do; so far there is no evidence that pregnant women can pass the disease to the foetus; breastfeeding is OK and possible even if the mother has contracted Covid-19 – as long as she practices good hygiene. (If you watch the whole video you can spot a question I asked!)
You can also read the World Health Organization's Covid-19 guidelines
on pregnancy, childbirth and breastfeeding. And if you are feeling anxious, here is an interesting read by my colleague Tanmoy on how anxiety is not necessarily a bad thing.
If you come across other useful sources regarding the first 1,000 days, do let me know under this piece or by hitting reply. Also, remember that we are handpicking the best pieces of journalism and other sources regarding the coronavirus: you can find them in our coronavirus guide
– you can also tip us your best articles, on the link in the article. One colleague, Mayke Blok, compared this guide to noise-cancelling headphones in this time of loud, distracting news.
Quarantine and language development in toddlers
If you have a child between eight and 36 months of age, some spare time, and want to contribute to our general understanding of language, UK researchers have launched a study to look at how social distancing affects language development in toddlers. And they're looking for volunteers!
I reached out to Dr Nayeli Gonzalez-Gomez, who coordinates the study, and here's what she had to say:
"We want to reach as many people as possible. This project is being done in collaboration with a few studies around the world. Each country will have its specific version of the vocabulary questionnaire. We would like people in the UK, but if there are people in any other country who would like to take part, they can contact us and we can point them in the right direction if there are studies being conducted in their own country. So far, this study is available in the following countries: Norway, USA, Turkey, Israel, Hungary, Poland, the Netherlands and UK."
If you want to participate, you can find out more here
(Dr Gonzalez-Gomez's email is in there too). 
Until next week, stay safe, enjoy your dreams, and let the Ratón in,
Irene
PS: Thanks for your tips on play. That story is coming soon!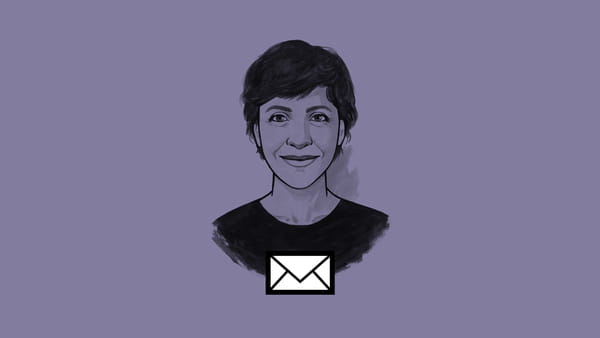 Would you like this newsletter straight in your inbox?
Subscribe to my weekly newsletter where I talk about sexuality, reproductive rights and early childhood, discuss the best ideas from members and share updates on my journalism.