Today, a dream has come true. Thanks to the support of over 50,000 members (and counting!) from more than 130 countries, we're proud to officially launch The Correspondent!
Our mission: to become a transnational antidote to the daily news grind for – and together with – our members.
On behalf of the whole team: welcome to your brand new unbreaking news platform!
What can you expect?
As our name suggests, our journalists – or correspondents – are essential to our mission. Together with members, they'll dig deep into some of the developments that underpin and connect all our lives. 
Each correspondent is responsible for covering a specific beat – a clearly defined topic that guides and informs their research. These beats differ from the categories you may be used to seeing in traditional news media. Instead of covering 'international news' or 'business', our correspondents choose subjects that allow them to share fresh perspectives on transnational issues. 
That's why we use even the term 'correspondent' a bit differently. Rather than referring to a journalist who reports from a specific location, we use it to mean someone who leads the conversation on issues that extend beyond national borders.
We recently announced our first five correspondents and their beats. They are: 
OluTimehin Adegbeye: Othering
Eric Holthaus: Climate
Tanmoy Goswami: Sanity
Irene Caselli: The First 1,000 Days  
Nesrine Malik: Better Politics


You can read more about them on the 'Correspondents' tab on the website. Clicking on an author's name will take you to their profile, where you'll find a short bio, their mission statement, and links to all their stories. 
In the coming months, we'll also be introducing a number of freelance correspondents, and we'll continue to add more topics and authors as we grow. The more members we have, the more correspondents we can present!
Meet our team
Of course, our correspondents couldn't do their jobs without the support of our fantastic editorial team. Leading the team is managing editor Eliza Anyangwe,
who ensures that our journalism meets our strict quality standards and embodies our founding principles. Eliza is joined by editorial assistant Sabrina Argoub, who coordinates our editorial meetings and manages our publication schedule.
Conversation editor Nabeelah Shabbir also plays a vital role, helping our correspondents to engage as effectively as possible with you, our members. She's in charge of facilitating knowledge exchange and ensuring our correspondents and members make the most of one another's expertise. Look out for her mission statement in the coming days.

If you'd like to know more about what a particular correspondent is working on, you can subscribe to their personal newsletter, where they'll share updates and insights into the journalistic process. To subscribe, click on your name, at the top right of the navigation bar, to open your member profile.
The fruits of collaboration between correspondents and members can take a wide variety of forms, from in-depth articles, reports, and interviews to short notes and updates.
Unlike a traditional newspaper, we won't be churning out dozens of new stories every day. You can expect at least one new insight in your inbox each day. This daily newsletter will be written and curated by engagement editor Imogen Champagne, who is also responsible for nurturing communities on Twitter,
Facebook and Instagram.

As well as highlighting new stories, The Correspondent's daily newsletter will often also include callouts for input from you, our readers. 
Your collective expertise is a key ingredient in our journalistic process. And because we believe that knowledge exchange is the most important tool we have for driving progress
in the world today, our newsletters will also regularly feature insights from our members. 
We strongly encourage our members to share their knowledge and experience with our journalists in the contribution section below the articles. When you write a contribution, you can list your relevant expertise as well. For example: 'primary school teacher', or 'economics student', or 'father of three children'. 

This way, both correspondents and members can see how your unique background informs your contribution. This 'expertise title' will be displayed next to your name and can be changed at any time. 

Our copy editors Kate Kingsford and Shaun Lavelle review each piece thoroughly before publication to ensure that our journalists' work is factually accurate, grammatically correct, and tells a compelling story. Stories may go through as many as four or five rounds of corrections before ever appearing on the site.
Our image editors Lise Straatsma and Yara van der Velden – together with photographers and illustrators from all over the world – enrich our stories visually. Editorial designer Afonso Gonsalves makes sure these stories are told in different ways too – through infographics or Instagram stories for example.
Rounding out our team here at The Correspondent is member support manager and Carmen Schaack, who works tirelessly to answer all your questions, whether submitted by email at hello@thecorrespondent.com or posted on our website. You can contact her with any questions you may have, for example about your membership, or how to use our platform.

Change your settings in your profile
One more thing!
As a member of The Correspondent you have a unique member profile on the platform. Here, you can easily manage your settings, update your email address or payment information, or switch to night mode, which makes the site easier to read in low light.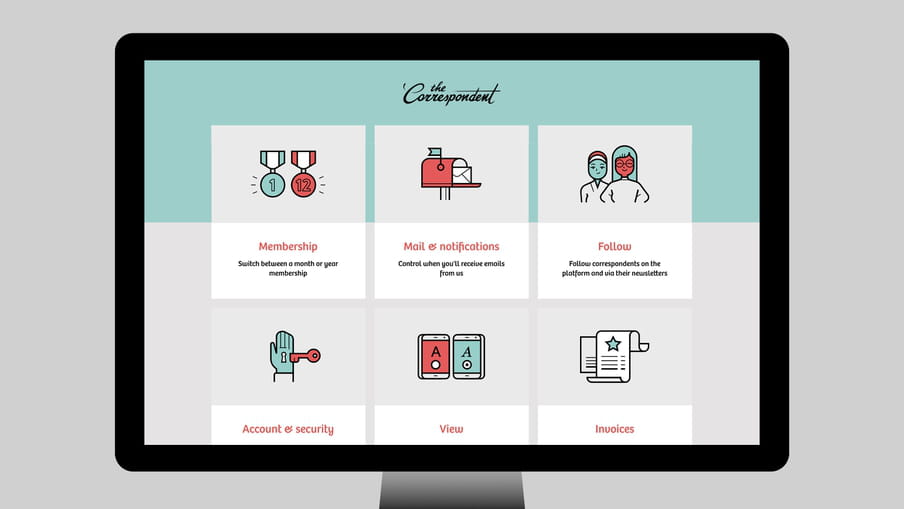 To access your profile, click on your name at the top right of the screen. There, you can also subscribe or unsubscribe to our daily and weekly newsletters, and to correspondents' personal newsletters. We have a weekly newsletter for non-members called the Sneak Peek
. Do share it with anyone who might be interested in getting a first glimpse of our journalism.
Let's unbreak the news together! 
Translated from Dutch by Megan Hershey