We're delighted to have launched The Correspondent! A movement for unbreaking the news through thoughtful, collaborative, constructive, transnational journalism (it's good to get all the jargon out of the way!), made possible by the support of our members in over 130 countries.
As CEO and managing editor (with me overseeing finances and Eliza managing a large chunk of the budget) we are writing jointly because many members have asked to know exactly how we're spending your contributions. We describe spending in the pre- and post-launch phases below.
Here we provide both actual and projected figures; pie charts showing in percentage terms how the total sum is being spent, or is projected to be spent; and some qualitative descriptions of each of our cost categories. From 30 September 2020 we will send you an update on actual spending over the previous 12 months, as has been tradition at De Correspondent, our Dutch sister site, for the last five years.
Please forgive us if anything sounds too elementary — and for the length of this explanation. As news audiences ourselves, we recognise that few media organisations are transparent about how they're run. As a result, few of us have a good understanding of what it takes to make good journalism, so we've explained our figures in some depth.
So what are the figures?
All the following figures are in US Dollars. Our running costs between the end of our crowdfunding campaigning and September 2020 are $3.2million. That sum is made up of the $2.6million 45,888 of you contributed during our 2018 membership campaign; contributions to the sum of $100,000 from an additional 3,600 members who have joined since that campaign ended in December 2018, and a projected income of $555,000 from new members between now and September 2020.
As you look through the charts below, please note the following:
The post-launch budget includes projected income, and as such, it is subject to change. If we anticipate that any changes will substantially alter what we set out here, we'll be in touch before any decisions are made.
Our baseline growth projection of $45,000/month in member revenue is drawn from the experience of De Correspondent, and is a conservative estimate.
We will not judge the success of our journalism simply by membership growth. Though key to our sustainability, we are working on more holistic measures of success, such as member collaboration.
Pre-launch spending
In this phase, that extends from the end of the membership campaign (14 December 2018) to 30 September 2019, we budgeted to spend 33% of $3.2m. This represents an investment in the people, technology, and legal structures that will give The Correspondent the best chance of success. Here is how our spending in this period breaks down:
So as to avoid repetition, details of each category can be found in the next section of this letter, but here are a few points worth noting about the pre-launch figures:
The managing editor began in June, and we worked in the following months to fill all editorial roles –both correspondents and editorial support roles, as detailed below.
Technology costs in this phase have predominantly been for building the site and setting up the server architecture. The tech load could not be carried by the staff at De Correspondent so we hired an additional two full-time and one freelance developer, as well as two contracted designers.
The Correspondent exists as a separate legal entity to De Correspondent and so this phase also required the services of legal and human resource experts to inform the creation of new company structures, processes, and protections. These include but are not limited to a benefits plan for employees, drafting a legal policy to ensure the protection of our journalists, and creating fiscal tools to handle sales tax in over 130 countries.
Post-launch spending
And we're off! Our launch stories are live, our correspondents are updating you on their progress and seeking your input. Over the 12 months from 30 September, we will begin to define together what transnational, collaborative journalism can look like.
67% of our $3.2million budget will be spent in this phase, but remember: as this includes projected income from new memberships, actual spending figures may vary from these projections. (Actual spending will be shared with you in the 2020 end-of-year budget.) Below is a chart showing how we expect our spending will break down once we have launched the platform, and a description of each category: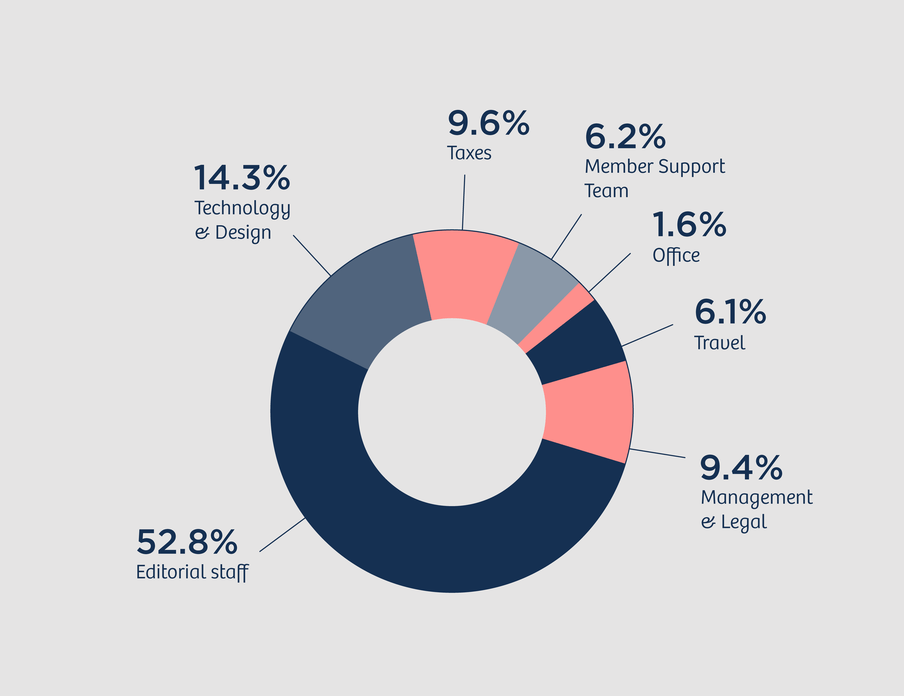 Editorial staff (52.8%) — This represents five full-time correspondents working in different parts of the world, as well as at least five freelancers each month. At The Correspondent – because we place value on our members' questions, knowledge, and experience – we want even our freelancers to engage with you, in much the same way we expect our staff correspondents to. This means many guest storytellers will work on time-bound projects, receiving a monthly wage during that period, rather than submitting one-off pieces in response to news events. The editorial team will be led by managing editor

Eliza Anyangwe,

and will work closely with an engagement editor, Imogen Champagne (responsible for bringing our journalism to as many people as possible), conversation editor, Nabeelah Shabbir (who will invite members to join the conversation), copy editor Kate Kingsford, and editorial designer, Afonso Gonsalves. This category also includes a full-time Dutch-to-English translator, so that De Correspondent's exceptional journalism in the Dutch language, relevant to global audiences, is available to The Correspondent members. And it includes commissioned photography and illustrations, freelance copy editors, fact checkers, translators based in different timezones.
Technology & design (14.3%) — Once the new site is built, design elements produced, and servers set up, our technology costs come down from pre-launch levels. The Correspondent and De Correspondent both run on the same technology so further costs are shared between both organisations. However, we have also hired two additional developers to build new features for The Correspondent and to make it ready for our 49,000 members. Recurring server and security costs are also included in this category.
Legal, management & finance (9.4%) — We are working with legal, fiscal, and media law advisors to make sure we run our international journalism organisation in an efficient way. This category includes fees for accountants who handle our financial administration, lawyers who help us set up free press protection for our correspondents, and recruitment fees. The CEO's and managing director, Sebastian Kersten's, salaries are also included here.
Taxes (9.6%) — This is a conservative estimate of the sales tax we expect to pay in over 130 countries, based on insight from fiscal advisors.
Member support team (6.2%) — Our member support team works full-time to understand the needs and expectations of members and advocate on their behalf in the newsroom. They also endeavour to answer your questions and other inquiries as soon as possible. The team consists of a membership director and a membership analyst, whose salary costs are split evenly between ourselves and De Correspondent. But we also have a dedicated member support manager for The Correspondent, Carmen Schaack, whom many of you will already have had email exchanges with.
Travel (6.1%) — Transnational beats can only be pursued if journalists can travel for their stories. In addition, this category also covers the costs of bringing our distributed team together. As a company policy, The Correspondent offsets carbon emissions tenfold.
Office (1.8%) — With our headquarters in Amsterdam, we share inventory costs with the Dutch organisation. This keeps our overheads at less than 2%, leaving us more resources to produce actual journalism.
What about profits?
You may be wondering about profits. The Correspondent is a for-profit company where shareholders can never draw dividends of more than 5% of revenue. However, our ninth founding principle states that we will always put journalism before financial gain. It is not anticipated that dividends will be drawn from The Correspondent in year one. In the Netherlands, we have always reinvested profits into the journalism.
If you're interested in learning more about our dividends cap and governance structure, we recommend reading this blog post by New York University professor Jay Rosen.
This article was first published as a newsletter to members, on Medium.com. It has been modified from its original version.