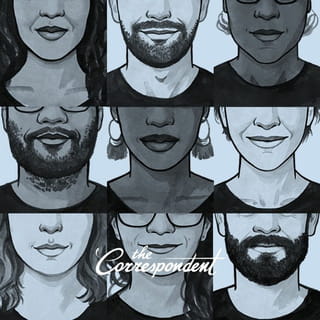 If you visited Buenos Aires recently, you would notice two things. The first is how empty the streets are. As the temperature has hit 40C, many locals have escaped the oppressive, muggy January heat. Schools are closed for vacation, roads are empty, and vacant chairs and tables line the sidewalks outside the many cafes dotted around the city. 
The second thing is the colour green. 
Read this story in a minute
Like with the red-and-white stripes of the children's book Where's Wally?, you don't notice the green details until you're looking for them. Then you can't stop seeing them: green bits of fabric rolled around the straps of backpacks and handbags, green bands on women's wrists, green ribbons and triangles graffitied on walls. 
They're remnants of a mass protest from 2018. As the Argentine congress debated a bill to legalise abortion, hundreds of thousands of women took to the streets. Clad in green, they shouted: "Sexual education to decide, contraceptives to prevent abortion, legal abortion to prevent death."
So just like many sport the jersey of their favourite football team, Argentines now wear the colour to identify themselves as pro-choice and in favour of women's rights.
But being pro-choice in Argentina is not always easy. In Latin America, more than 97% of women of reproductive age live with restrictive abortion laws. This is partly due to the strong influence of Catholicism, as well as the more recent growth of conservative evangelical churches.
Just like many sport the jersey of their favourite football team, Argentines now wear the colour green to identify themselves as pro-choice and in favour of women's rights
In Argentina itself, the country's criminal code, approved in 1921 and still in force, allows for pregnancies to be ended legally only in the case of rape or if the mother's health is at risk. Even then, doctors still routinely refuse to grant abortions. In any other case, those practising abortions and the women themselves will be persecuted.
Despite the laws, abortions are part of everyday life here. In Latin American and the Caribbean, there are 44 abortions per 1,000 women –  the highest number per region worldwide. In Argentina, up to half a million abortions take place every year, according to official estimates.
Over the decades, women who could afford to pay have had access to relatively safe but expensive clandestine abortions in private clinics. But the rest have risked their lives. Women who have little access to information, especially outside of big cities, have resorted to often dangerous methods of abortion. These include using parsley and other herbs, coat hangers, or knitting needles, which cause women to perforate their uterus or lead to infection and sepsis – and, in many cases, death.
As Argentina's congress prepares to return from its summer recess and the abortion bill is expected to make its way to the floor for the ninth time, I spoke to three women whose lives have been touched and affected by the "green tide". I wanted to find out what the movement has meant for the country – and how activists forced the government to act.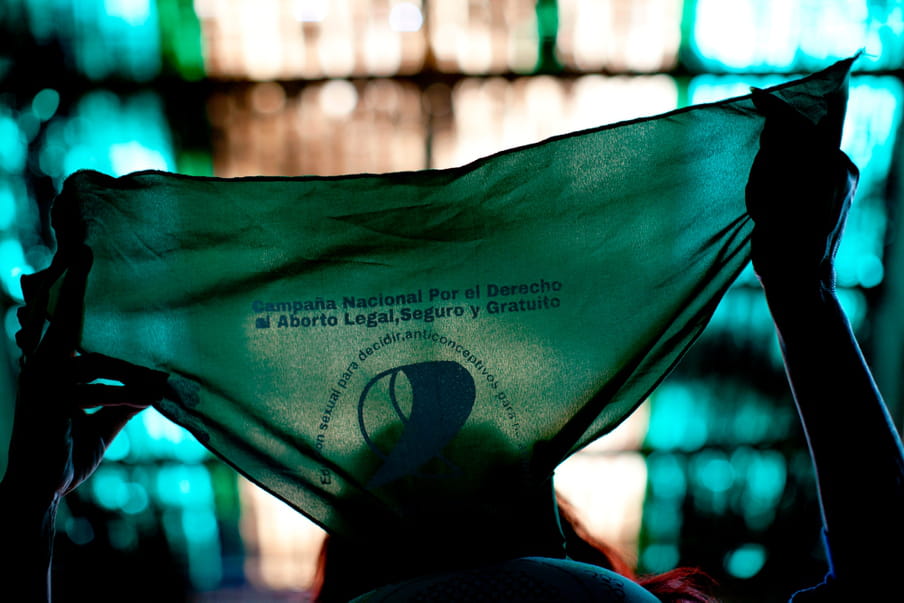 Nina: the birth of a movement
Nina Brugo enters a traditional cafe just off the busy Plaza Italia in Buenos Aires wearing a green silk scarf around her neck and light-green eyeshadow. If you didn't know her, you might think that Brugo, who's in her 70s, had picked her outfit to match the colour of her eyes. But if you look closely, you see a green wristband. It reads: "free and safe abortion". 
It's Sunday morning, and the cafe's air conditioning is not enough to stop the heat invading through the large windows. Brugo picks a booth in the back for some privacy and orders a coffee with a dash of milk and a croissant.
I got in touch with Brugo because she was one of the pioneers of the movement to legalise abortion. As a lawyer, she's well-versed with the legal ins-and-outs of the bills that have gone through parliament. Despite this, she seems surprised by my interest in talking to her and downplays her role.
'The possibility of terminating a pregnancy means our sexual autonomy, our freedom as women – which conservatives are so afraid of'
Raised in a conservative, religious family in the province of Entre Ríos, north of Buenos Aires, on the border with neighbouring Uruguay, Brugo moved to the Argentine capital city to study law when she was 18.
When she became a labour lawyer, she started fighting for the rights of working women and eventually became involved with the work of the Movement of Priests for the Third World. She eventually got married and had two children with a priest who had been excommunicated from the church for his activism. But after a military coup in Argentina in 1976, the young family became a target and sought asylum in Brazil, then Mexico. Brugo's brother was disappeared after helping Brugo and her family escape Argentina.
When democracy was restored in 1983, Brugo and her family settled back in Buenos Aires, where she was eager to continue fighting for women's rights.
Despite her activism, abortion was a taboo. Brugo says she was in shock when she first heard of the demand to legalise it. It was 1990, and Dora Coledesky, an Argentine lawyer who had been in exile in France during the Argentine dictatorship, was collecting signatures for a petition to legalise abortion at the Latin American and Caribbean Feminist Encuentro.  
"When she approached me, I was horrified and I said no, no way," recalls Brugo.
As a feminist and activist, Brugo had helped other women abort, but she thought abortion had to be kept within the personal sphere: "I thought it was a private secret of women's lives, that it was not a right that could be made public."
But the 1990 encuentro changed her mind. Some 3,000 women from around the region gathered in the small town of San Bernardo, on Argentina's Atlantic coast, to redefine the idea of feminism.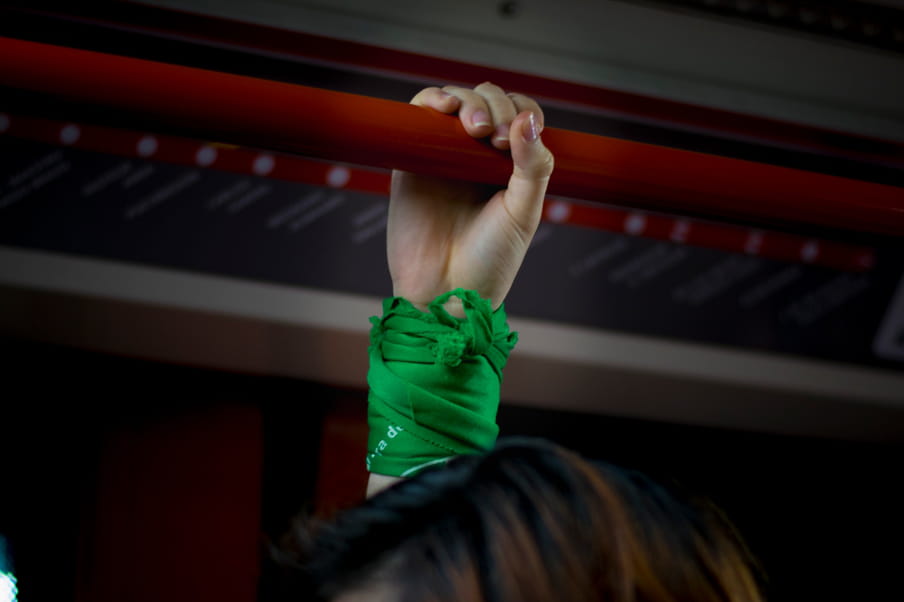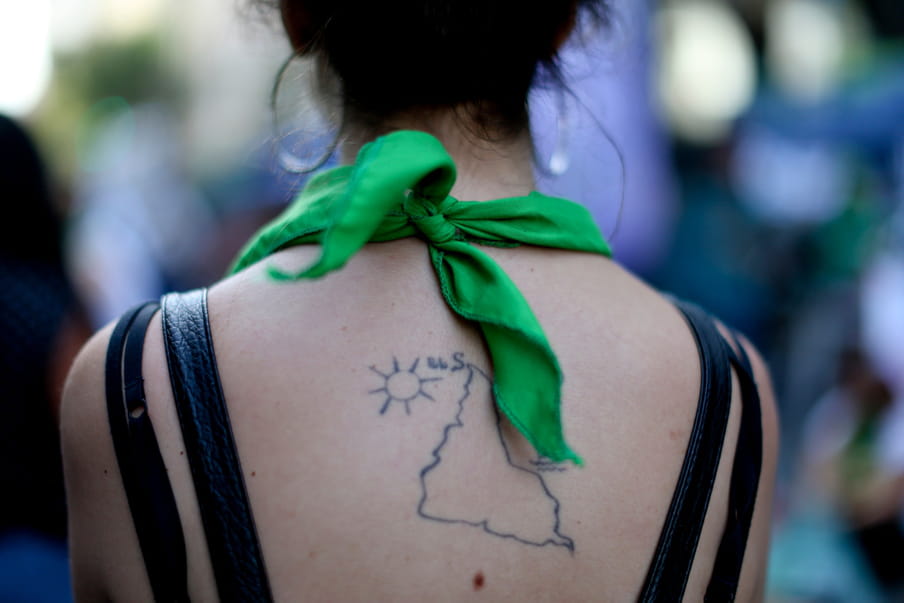 Brugo had heard feminists talk before, but nothing like this. Women spoke publicly about abortion, highlighting the deadly consequences of keeping it hidden in the shadows. What swayed her was the idea that a woman needs to have the option to abort to fully exert independence over her body.
"I started seeing abortion as a human right for a woman," says Brugo, who still chooses her words with a lawyer's precision.
When the meeting ended, Brugo looked for Coledesky and signed the petition.
"I had been wrong. The possibility of terminating a pregnancy means our sexual autonomy, our freedom as women – which conservative sectors are so afraid of."
Brugo became a staunch campaigner for the legalisation of abortion. In 2005, she was one of the founders of the National Campaign for the Right to Legal, Safe and Free Abortion, which operates as a kind of umbrella organisation for Argentinian feminist groups that work towards the legalisation of abortion. 
Every two years, the campaign introduces a bill to congress – often in vain. Many times, it hasn't even reached the floor for a proper debate. But in 2018, when the campaign introduced the bill for the seventh time, it was approved by a tiny margin on 28 June.
It was only the first step, as the senate – traditionally more conservative – had to approve it too. But as the debate took place in June, protesters – up to one million of them, according to organisers – held a vigil well into the night outside congress. It was cold, and many young women huddled together under green blankets for warmth.
Carola: the daughters' revolution
The Diana Sacayán community centre is on a quiet side-street just off a main throughway in La Matanza, a densely populated area on the western outskirts of Buenos Aires. When there are no meetings, the aluminium shutter is down. But when it's up, the sign for the abortion consejería is clearly visible on the window.
Inside, it's large and dark, almost like a garage, with a bar to the right, white plastic chairs piled up on the left, and graffiti on the walls. A huge old metal ventilator whirs loudly.
With her partly shaven hair and baggy clothes, Carola Ruggiero seems perfectly at home here among the murals of leftist revolutionaries Ernesto Che Guevara and Simón Bolívar.
'You could look at complete strangers and feel that they felt the same as you. The streets were ours, and we didn't feel the fear we usually feel in the street at night'
Now 18, Ruggiero first got involved in feminist meetings as a high school student in 2016. "I used to think that feminists hate men and walk around topless. I went to the first meeting because I was intrigued. When I saw there were so many women, I thought to myself: they can't be all wrong!"
Ruggiero began exploring feminism at a critical moment: the Ni Una Menos (Not One Less) movement had been born in 2015, demanding better legislation against violence against women. Bolstered by the presence of young women like Ruggiero, Ni Una Menos managed to give an extra push to the pro-choice work being done by the National Campaign for the Right to Legal, Safe and Free Abortion.
When congress approved the bill on 28 June 2018, Ruggiero was outside the building with thousands of her peers until late in the night. 
"You could look at complete strangers and feel that they felt the same as you. The streets were ours, and we didn't feel the fear we usually feel in the street at night."
The excitement grew. Every Tuesday, green protests were held outside congress. High schools were occupied in support. Younger members of the movement started using gender-neutral language. 
Journalist Luciana Peker called it "the daughters' revolution".
Although they are often too young to vote, the daughters discussed abortion over dinner tables at home and wore their green handkerchiefs on public transport and in schools, helping break the taboo around abortion.
In August 2018, it was the senate's turn to debate the bill. The mobilisation was even larger, the emotion more visible. When the bill failed to pass, many hugged and cried. 
Once again, Ruggiero was there. She was disappointed, but she knew the issue was not going to be forgotten: "It was a defeat, but it was also a push to keep fighting for our rights."
She decided that she wanted to dedicate more time to something practical until the law became a reality. So she started volunteering at consejería Mala Junta, which organises bi-monthly meetings in the Diana Sacayán centre, where women can get information about safe abortions, share their experiences, and receive support from their peers.
They can also learn how to carry out safe, clandestine abortions using a drug called misoprostol. A network known as the Socorristas en Red has made spaces like this one available throughout the country. They're making abortions safer for everyone, regardless of social status, and saving lives by making sure women don't have to resort to unsafe methods to terminate pregnancies.
Although they are often too young to vote, the daughters discussed abortion over dinner tables at home and wore their green handkerchiefs on public transport and in schools
The World Health Organization advises the use of misoprostol as one of the safe methods for a medical abortion in the first stages of pregnancy.
In Argentina, the drug is not cheap, but since 2018, it has been available in pharmacies with a prescription. Through consejerías or the Socorristas network, women can also access information about "friendly" pharmacies where prescriptions are not needed to get hold of the drug.
"We are not doing anything illegal," says Ruggiero. "We are not medical personnel, and we are just handing out information that is widely available online."
If effective, misoprostol contracts the uterus and expels the implanted embryo, resulting in vaginal bleeding – just like a natural miscarriage. So if there are complications and a woman has to go to hospital, medical staff won't be able to report the woman to the authorities.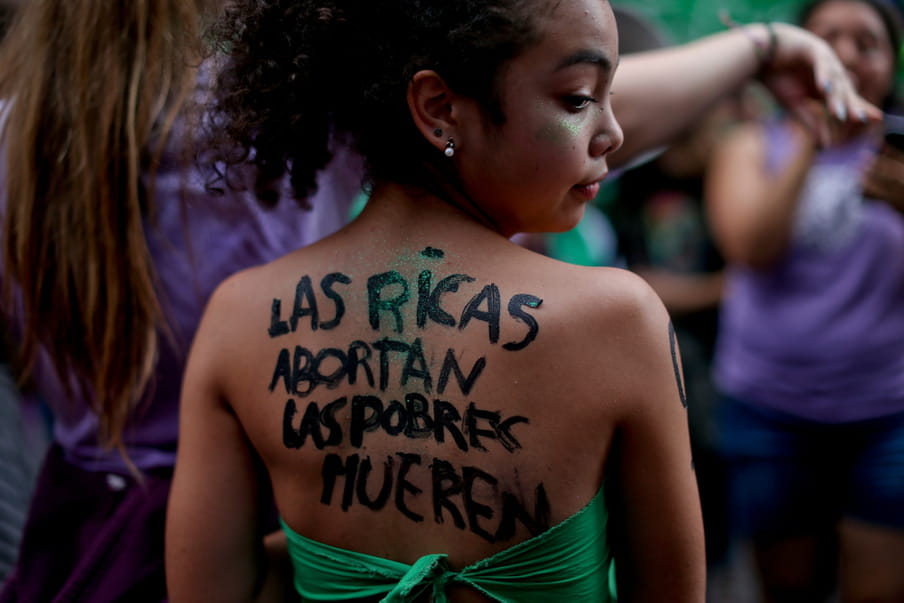 Samantha: the option to choose
Outside the centre, a woman is standing beside a mural of Diana Sacayán, the trans activist murdered in 2015 to whom the centre is dedicated. The late afternoon light makes her long, dyed blonde hair shine. She has arrived early for the meeting and smiles nervously.
She eventually walks in and introduces herself: her name is Samantha, she is 32, and she is five weeks pregnant. She has four children aged three, eight, 14 and 15. This is her fifth pregnancy, so she realised very quickly what was happening. The nausea and sore breasts gave it away. But this time, she is not ready to go through with it.
When I ask her why, she lists a series of events. She recently lost her job as restaurant manager, she is trying to finish her studies as a hair stylist while juggling caring for her four children and doing some part-time work. Plus, her partner, who is not the father of her oldest two children, is a staunch Catholic and won't hear a word about contraception. 
She is tired. "I don't want to bring any more children into this world," she tells me.
It's not the financial aspect that worries her. Her family owns a fleet of cars that gives them a good income. But Samantha experienced poverty when she was growing up, losing her mother and brother to drug addiction and HIV. She wants to make sure she has energy for her children. She says four is enough.
Aware of how dangerous an abortion can be, Samantha looked for information online on how to do it safely, which led her to the consejería Mala Junta, not far from where she lives. 
Samantha is tired. 'I don't want to bring any more children into this world,' she tells me
Other women come in and sit in the circle. One of the organisers asks whether anyone wants mate. "I am desperate for one, but I can't keep anything in," says Samantha to the crowd. "I want my body back!"
Samantha is one of four women at the meeting who want to have an abortion. One has shown up with her husband and her 10-month-old baby. Another is accompanied by a friend. The noise from the metal ventilator makes it hard to follow what some of the women say when they introduce themselves. 
Samantha's voice comes across loud and clear: she wants to get rid of the pregnancy as soon as possible. She has not told her partner, but she is absolutely sure and is anxious to solve the problem. "I really like children," she says. "But this time, I don't want it."
Ruggiero explains that misoprostol is a very safe way to abort. She gives details on how many pills to take, and how. She says it's normal to feel chills, cramps and nausea; that there are rarely side effects; and that in the case of a high fever or bleeding that is too heavy, it is best to go to the hospital. 
Those who abort in Argentina are at risk of being charged with a crime. Ruggiero says medical personnel may pressure women into admitting they took the drug, but they have no way of detecting it in the blood work in Argentina. She just warns them not to mention they have chills – that's a side-effect of misoprostol and not common for a natural miscarriage.
Despite the potential risk and the prospect of taking the pills without having anyone around to support her, Samantha is not worried.
She would have liked the option when she got pregnant for the first time aged 16, when she had to leave high school because she couldn't go while taking care of her baby. 
But abortion was a much bigger taboo then, and information was not as widely available. 
"Abortion was seen as the worst thing in the world," she tells me at the end of the meeting. "Now I have the option to choose."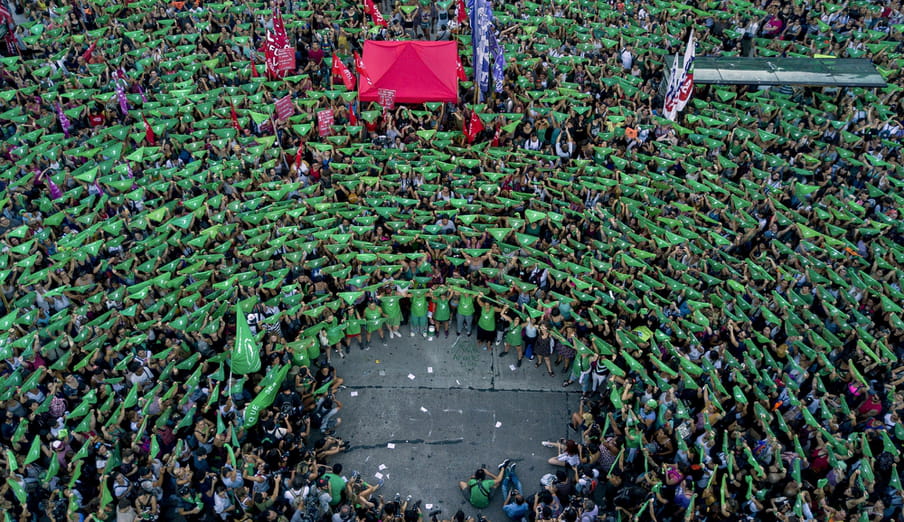 Abortion is now very much on the political agenda
Many things happened between Samantha's first pregnancy in 2005 and her latest this year that have helped her and many more women like her to have more choice over their future. 
And abortion is now very much on the political agenda.
Incoming president Alberto Fernández, whose term started on 10 December 2019, has declared that he will seek to decriminalise abortion in Argentina in 2020 and has created a ministry of women, gender and diversity, which includes several pro-choice activists.
The president's focus has been on public health, rather than the polarised demands of the green camp versus the anti-abortion movement.
"It is a public health problem that must be resolved with another logic – because the logic of Boca-River that was deployed does not work," he said in a radio interview. "We want to have a sensible debate: I don't want anyone else to die, and I don't want to be distracted."
Congress will resume on 1 March, and abortion is expected to be high on its agenda. So how did the pro-choice movement succeed in changing the political landscape?
The four key elements that made the movement successful
1. Youth
Influenced by easier access to information online and a freer attitude to sexuality, young people have played a fundamental role both in bringing the issue to the attention of mainstream media and into people's living rooms. Teenagers picked arguments with their parents by questioning their beliefs. Schoolchildren started wearing green and asking adults to use gender-free language. 
2. The internet 
The internet means women like Samantha can now easily access information from their phones. And social media helped mobilise the movement by giving it more visibility as green heart emojis became ubiquitous on social networks.
3. Symbols
Green emojis, green handkerchiefs, green glitter: the symbols of the movement are everywhere. 
Celeste MacDougall, a teacher who is part of the Campaign to Make Abortion Legal, says: "Showing the handkerchief has become a performative act, so that you can recognise and be recognised. Recognising each other is fundamental in this fight. You are literally taking the taboo out of your bag, and you are saying: the personal is political and collective."
4. Diversity
This was initially a fight carried out by white, educated, middle-class, urban women like Brugo. But the movement has tried to get more people involved outside of Buenos Aires and from different spheres. In 2018, regular meetings were held in other more conservative provinces, and the national network of Socorristas grew exponentially. The movement also managed to include Catholics who are in favour of the law from a public health perspective.
And by not having appointed leaders, the movement has the potential to reflect this diversity. Campaigners from different groups made sure the language was less divisive, changing the conversation to one about social rights for women in more disadvantaged areas without downplaying religious beliefs.
"Abortion is not the top priority in neighbourhoods where women have to think every day what they will feed their children. Being able to say abortion depends very much on every single person's way of life," says Sandra Hoyos, who is part of the Identidad Marrón (Brown Identity) collective that fights for the rights of descendents of Indigenous people living on the outskirts of Buenos Aires.
The cost of success
The movement's success has come at a high cost. As the pro-choice movement received visibility, a backlash ensued. Pope Francis, who is Argentinian, has been very vocal in speaking out against abortion. Conservatives, Catholics and evangelicals banded together using the symbol of light-blue handkerchiefs, organising marches and campaigns on social media.
With "Let's save two lives" as their slogan, organisers carry giant plastic babies and hand out 5cm plastic replicas of foetuses, arguing that life starts in the uterus at conception and abortion is a form of murder.
While abortion is no longer a taboo, it is now a polarising issue 
The pro-choice camp has ridiculed images of foetuses online in an effort to demystify the sacredness of putting the two lives at the same level.
So while abortion is no longer a taboo, it is now a polarising issue. 
This is especially true in neighbourhoods where the government is absent and churches step in to offer daily support to families. Hoyos says that women may be interested in learning about safe choices in case they want to terminate a pregnancy, but hearing their beliefs ridiculed makes them wary of the idea of abortion itself.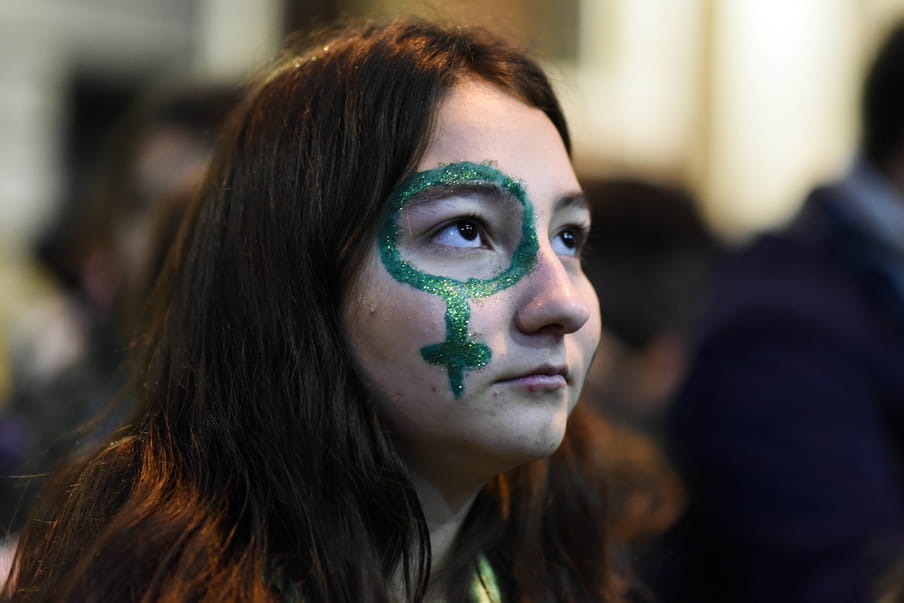 What next?
In focusing on public health, Fernández may just be able to pull a polarised society back together – or at least ensure that women won't die while he gets bogged down in the finer details of the debate.
"Fernández's language is going to give a push to the issue regionally, because his arguments on public health can be shared by other presidents too," says Silvia Buendía, a lawyer and human rights activist in Ecuador.
Brugo believes that abortion should be legalised to give women the freedom to decide over their bodies, but she thinks Fernández's language is weak. She admits his approach may well be what is needed in the region right now, but is worried his lack of strong leadership will mean that even if the law is approved, there will be issues with implementation because of conscientious objection.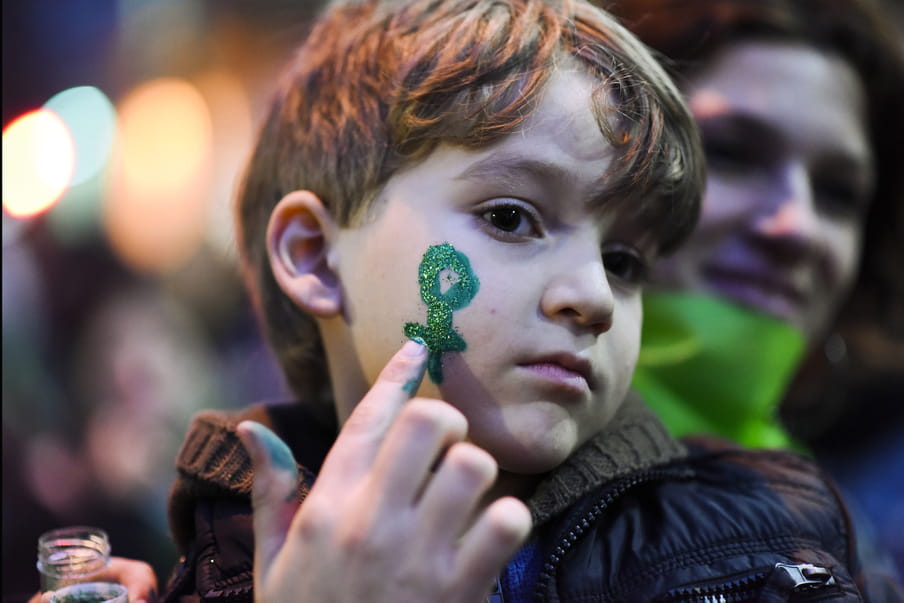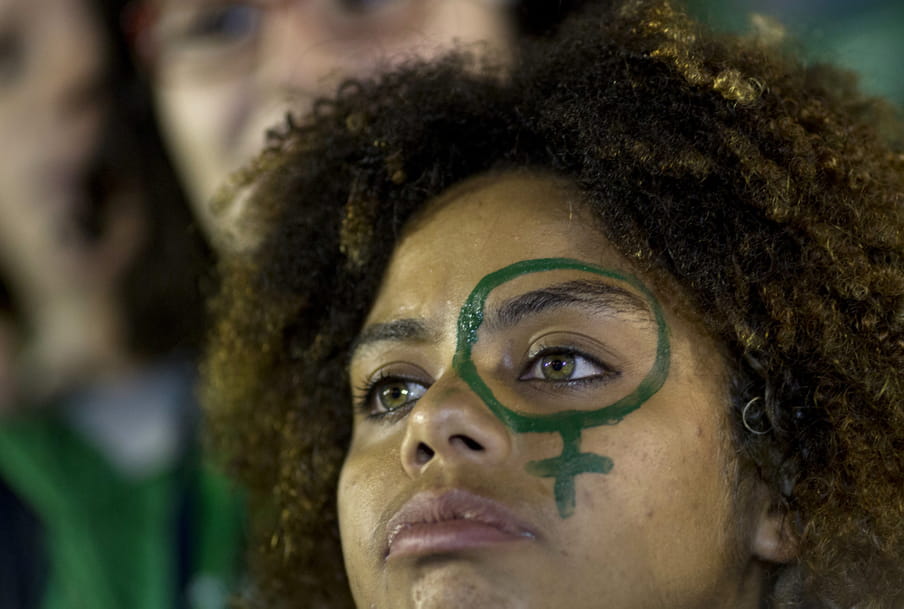 In other Catholic countries, such as neighbouring Uruguay, conscientious objection limits women's access to abortion. In Italy, for example, seven out of 10 doctors refuse to practise abortion, with the number even higher in the south of the country. 
While the president's focus on public health may sway some, the biggest victory so far has been among the youngest Argentinians. "Young people have already decided," says a piece of green graffiti in Buenos Aires.
As Brugo puts it: "Abortion has already been decriminalised in the streets."
Samantha can see it with her 15-year-old daughter, who wears a green handkerchief and goes to pro-abortion marches. Samantha is only 17 years older than her daughter, but she says it seems as though a lifetime has passed.
"She is sure about a lot of things. She knows that she can choose if she wants to be with boys or girls, and she knows that she can choose if she wants to be a mother or not. This freedom has marked her, and that makes me happy."
A few days after meeting Samantha at the community centre, I receive a WhatsApp message from her.
It is a picture of a box of misoprostol, followed by the message: "The day has come." She is planning on doing it on a Friday night while her children sleep and her husband is out so that she can have enough privacy.
Two days later, she messages that the drug made her feel unwell, with chills, vomiting and diarrhoea.
She writes: "I bled for five hours but then no more."
Then: "It left me wondering if I got rid of it or not." 
While Samantha waits, the country enters a new period. Will abortion become legal, potentially saving hundreds of lives and making it possible for women like Samantha not to be left alone with her doubts? And will the country be able to move away from its polarised views on abortion and agree on the public health benefits of the legislation?
As for Samantha, she is going to make an appointment for an ultrasound in the next few days to find out whether the abortion was successful or if she has to try all over again.
Dig deeper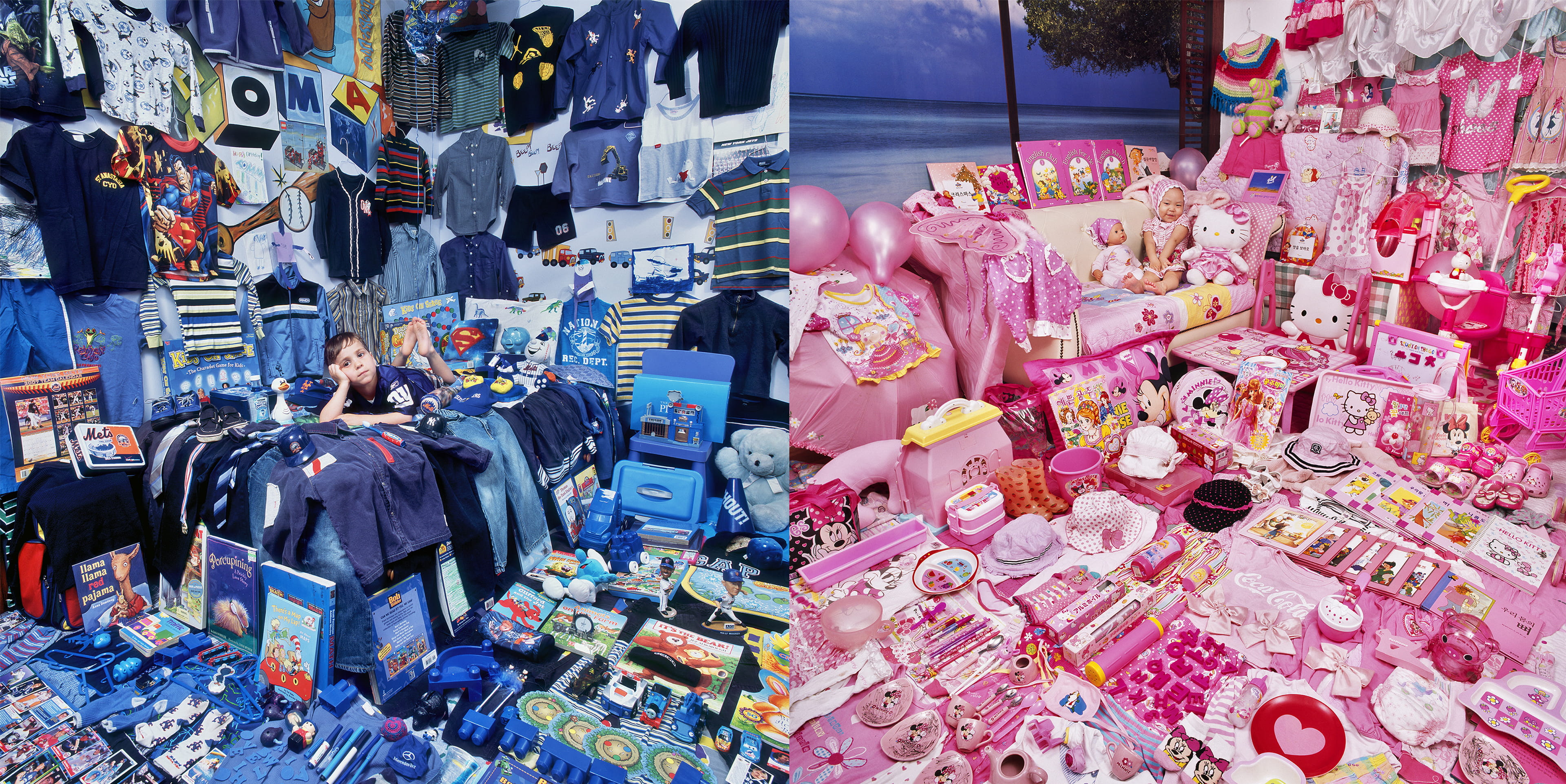 From boys to feminists: raising a gender-free child
Wanting to raise a feminist son has forced me to confront some of my own uncomfortable biases. But a world without gender benefits boys just as much as girls.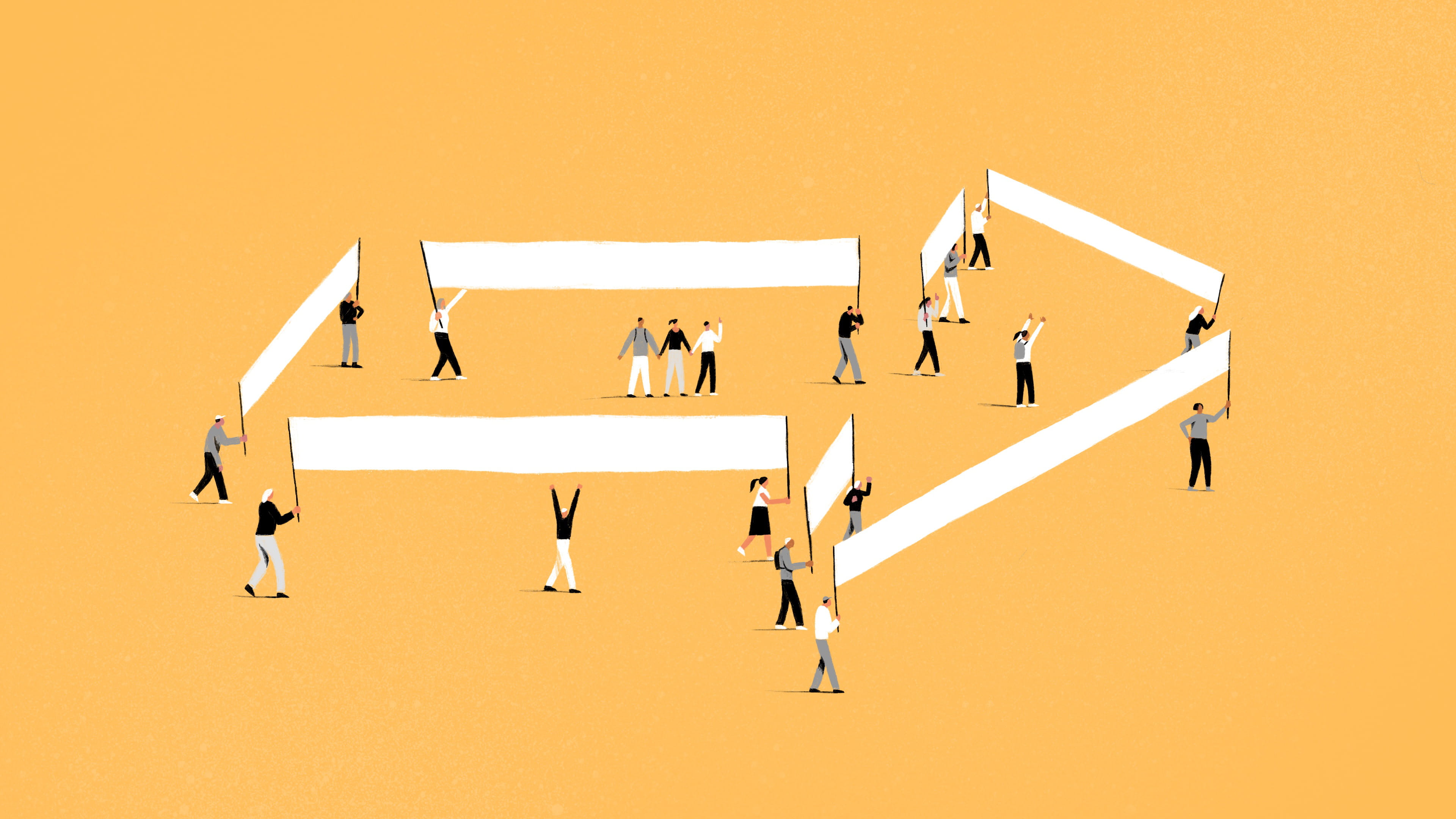 Wisdom of the crowd: four lessons from 10 years of documenting social movements
From Bahrain I launched CrowdVoice, a pioneering platform to crowdsource eyewitness accounts from protests around the world, in 2009. After 10 years, here's what we've learned about social movements.