By now you have seen the headlines: the annual United Nations (UN) climate conference (COP25), held in Madrid from 2 to 13 December, has ended in failure.
As far as global climate meetings go, there were relatively low expectations for this one: finishing up the outstanding agenda items from last year's conference and finalising the rules that will govern the Paris Agreement. But even those meagre goals were spectacularly missed.
Ahead of the final plenary, climate justice activist Alexandra Villaseñor tweeted: "I'm hearing many small nations have left because they weren't being included. People have been here all night, some slept on the floor. Many COP veterans have said they've never seen it fall apart this badly. This is a failure."
Even the conference organisers were candid about the failure of the meeting. "The conference did not result in agreement," said UNFCCC executive secretary Patricia Espinosa in an unusually blunt official statement
days after the meeting concluded. "Not enough major economies have signalled that they are ready to shift the needle on climate ambition through improved plans."
That the UN itself is acknowledging a fracturing "spirit of inclusive multilateralism is deeply troubling. It's a thoroughly depressing end to a year of disaster, youth uprising, and increasing pressure to drastically cut emissions; a year end that Climate Home News characterised as
a "polarised world entering an era of climate impacts".
"Rich and large-emitting nations have no excuse but to deliver serious new commitments to action next year," said the Marshall Islands president, Hilda Heine, in a statement on behalf of the Climate Vulnerable Forum. "The death threat to the vulnerable nations has not been lifted."
As I wrote with Eliza Anyangwe in a COP25 explainer,
the annual UN climate summit matters because it is transnational. It is the only forum that brings every nation of the world together to solve the biggest collective problem we have: the climate emergency.
The US, as the world's largest historical emitter, was particularly egregious, allegedly circulating a draft proposal that would see it and other wealthy nations protected from compensation claims.
In Madrid, the US, UK, Canada, Russia, China, Brazil, Australia, Saudi Arabia – nearly every major emitting country except the European Union – actively sought a hard-line position on carbon markets
, attempting to add loopholes to the Paris Agreement favourable to the fossil fuel industry and trying to absolve themselves of responsibility to produce emission cuts with increased ambition. The US, as the world's largest historical emitter, was particularly egregious, allegedly circulating a draft proposal that would see it and other wealthy nations protected from compensation claims.
"I've been attending these climate negotiations since they first started in 1991, but never have I seen the almost total disconnection we've seen here […] in Madrid between what the science requires and the people of the world demand, and what the climate negotiators are delivering," said Alden Meyer of the Union of Concerned Scientists, in an interview.  
The core transgression in Madrid wasn't so much the continued belligerence of high-polluting countries. That part isn't new. The worst part was the seemingly intentional exclusion of dozens of countries from the process altogether, particularly small countries who are already bearing the brunt of the climate emergency. The final session featured a half-empty room
with entire delegations missing. It was a betrayal of the basic fact that makes the climate negotiations meaningful: every nation gets a voice.
Despite their inclusion in a process that ostensibly is trying to eliminate them, major fossil fuel companies are still actively planning for expanded production for decades into the future.
In ExxonMobil's 2019 Outlook for Energy report, they write: "Society faces a dual challenge: to provide reliable and affordable energy to a growing population, while reducing environmental impacts, including the risks of climate change … Meeting energy demand safely, reliably and affordably – while also minimising risks and potential environmental impacts – will require expanded trade and investment."
It is a logic that is being challenged by civil society, but even their ability to do so was forcibly curtailed in Madrid. In a statement
in the waning hours of the conference, the Global Campaign to Demand Climate Justice, a coalition of dozens of activist groups from around the world said that "allowing expansion of coal, oil and gas production at this moment of history is throwing gasoline on the fire".
So, as we head into 2020, the current situation is disastrously close to a fatal fracture of the Paris Agreement. As a response, some are even calling for participation to be curtailed even further.
That is unthinkable. Instead, here's what we need to do, in three parts:
Grieve
What happened in Madrid seems a naked attempt by rich countries and fossil fuel companies to sabotage the already-weak Paris Agreement. I can't imagine how disappointed people from climate vulnerable countries felt when they saw this happen and knew that there really is no one coming to help. The task now will be to feel that loss and move ahead on a different path.
If this COP gave us anything, it was the gift of clarity: our moment is shockingly serious, and almost no one in power is acting that way. What can be done about it in this case isn't something that feels comfortable or reassuring to many people. And so to prepare for that work ahead, we must grieve the loss of this business-as-usual process once and for all.
Those of us who care about the climate need to do a lot of work to let go of the kind of world we thought we were going to have.
As it is, the international climate negotiation process isn't broken, it's working exactly as intended: the requirement of universal consensus means that fossil-fuel backed petrostates can veto any action. That means any solution on climate change on the scale that the science requires must be revolutionary – driven by a continued escalation of non-violent protests worldwide – and will require the creation of an entirely new system on an emergency timescale.
I think those of us who care about the climate need to do a lot of work to let go of the kind of world we thought we were going to have, myself included. Part of that process might be letting go of the idea that we will ever have a functional global climate agreement that is strong enough to meet the goals set out in Paris. That is a painful but ultimately hopeful process because it can help us more quickly imagine the changes that must take place to ensure climate stability.
Refocus on the science
In the same UN climate statement, released 19 December 2019, Espinosa is categorical: "We need to follow what science is telling us, with the sense of urgency and seriousness that this requires."
A landmark study
published in the final days of the Madrid climate conference reinforced what we already know: "Only immediate transformation of global business-as-usual economies and operations will sustain nature as we know it, and us, into the future."
2019 will be
the second-hottest year in recorded history. The five hottest years have all happened in the past five years. An estimation , released on 22 December by NASA climate scientist Gavin Schmidt, found that 2020 will likely be even hotter.
It's time to finally realise this science is not going to go away. For me, the fact that the science clearly shows we are in a life-and-death moment brings a sense of grounding and makes me more open to change. The science, on its own, is revolutionary. We could add clarity by refocusing our collective climate goals on building a zero carbon society as quickly as possible,
not on temperature targets.
Get political
That doesn't mean just voting. It means increasing pressure on our governments by expressly tying the continued existence of humanity to the decisions people in power make, every day.
An advert
for a political candidate in Colorado in the US stopped me in my tracks last week. In it, a near-future family shelters in a bunker as wildfires and heatwaves have brought normal life to a halt. It then lays out a vision for transformative change that includes everyone. It's the clearest example I've ever seen of how to tell the story of our current climate emergency in just four minutes.
We will not bring about the transformative change this moment requires by being docile, or kind, or advocating for least-common-denominator approaches. Those "solutions" work to erase the people who are already feeling the brunt of this crisis.
Eyes are now on COP26 in Glasgow, Scotland. Until then, it's not constructive to continue to pretend that polite compromise and incremental changes will save us. This decade has brought an end
to climate change as an abstract, distant, future issue. It's deadly serious.
Dig deeper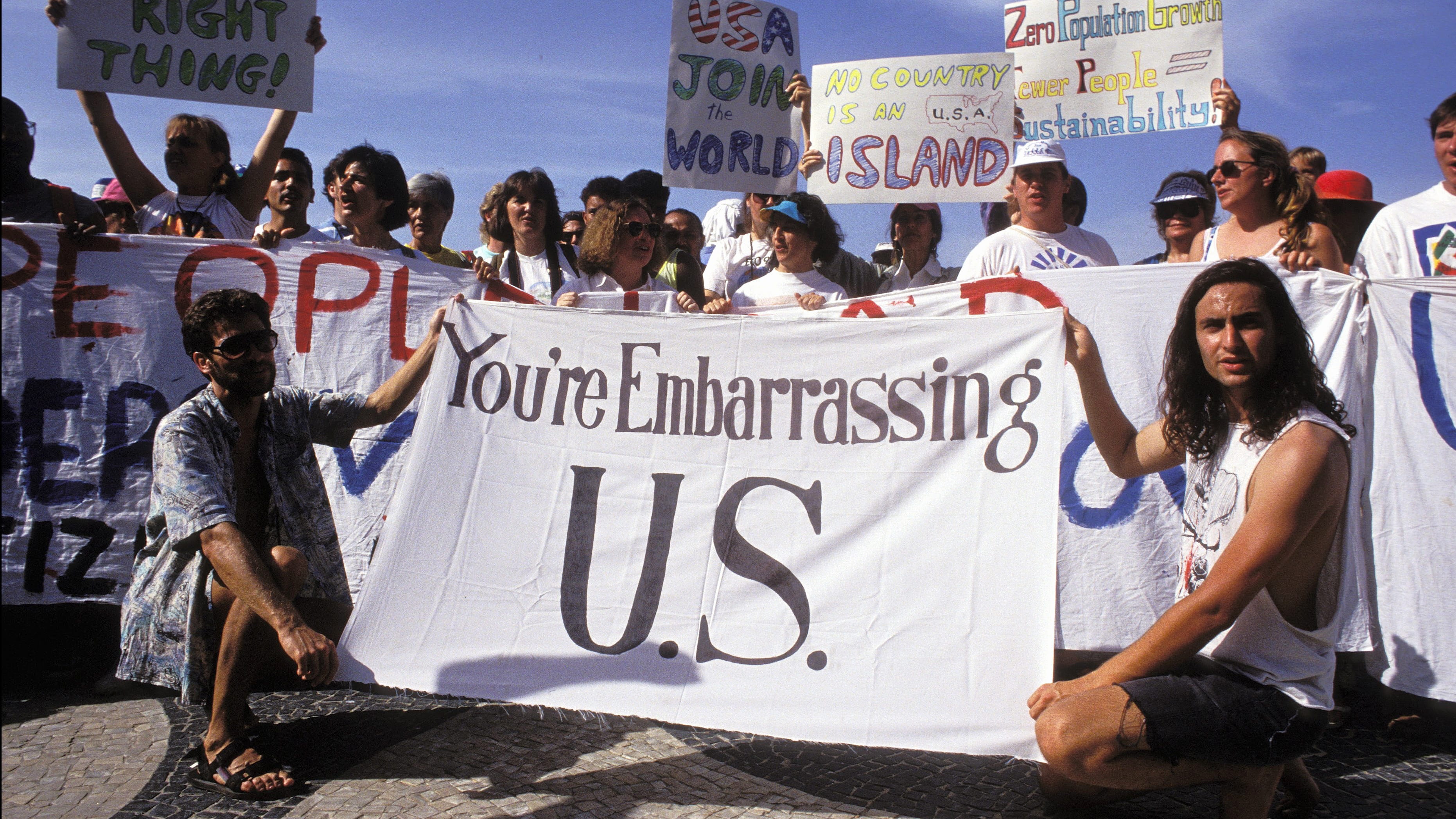 The great COP-out? Why the UN climate summit still matters
For many at COP25 in Madrid, the leading climate change conference is frustratingly bureaucratic. But let's not write it off just yet. It's still a rare occasion for the world to discuss the biggest challenge of our time.