Hi,
Content note: contains an image from Jason De Léon's book that shows the undisturbed body of a woman who died trying to reach the US.
It seems like every time I say The Other Shelf
finally feels real, something else happens to make it feel even more real. On Wednesday, Nabeelah and I were joined by Jason De Léon, author of our book of the month, The Land of Open Graves, for a chat about the book, its themes and his current work. It was very energising, and I am really grateful that we got to kick off our transnational book club with a powerful book written by a generous author.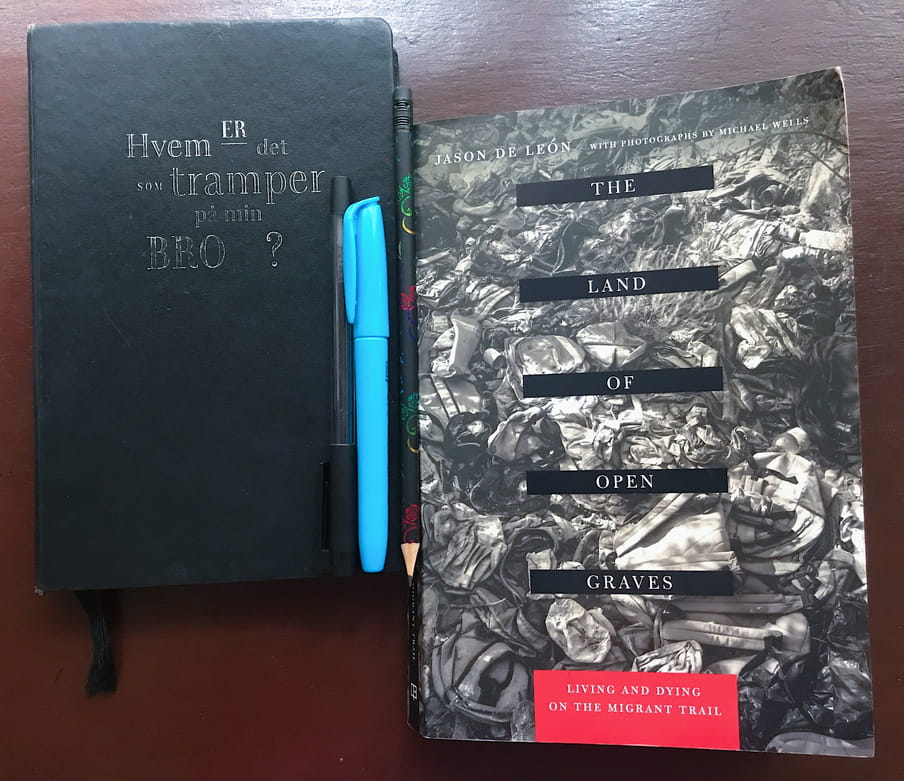 The Land of Open Graves
is ... evocative. The stories and facts in it are visceral, and they are presented very intimately. As I read it, I sometimes felt almost as though the author were holding my head in place, to prevent me from looking away from the difficult and heartbreaking realities presented in the book. 
I know that migration today is complicated by modern ideas of sovereignty, nationality, economics, globalisation, and many other factors. Yet, to me, there remains no concept, no idea or ideal, no political objective, that can justify the great suffering and horrible deaths that thousands of people experience just trying to get from one part of the Earth to another.
As I read the book, I thought a lot about the phrase "a fate worse than death". When people are faced with the very real possibility of violent death as they attempt to cross borders, yet attempt it anyway, it means that they consider whatever they are leaving behind a greater violence. 
Like Jason De Léon said in response to a question
about the agency of migrants who attempt crossings that are now more dangerous than ever due to anti-immigration policies and sentiments: "The rise in migrant deaths over the years suggests that people would rather die trying than not migrate. […] People need to ask themselves how desperate someone must be to risk their lives in the desert when they know that death [is a real] possibility."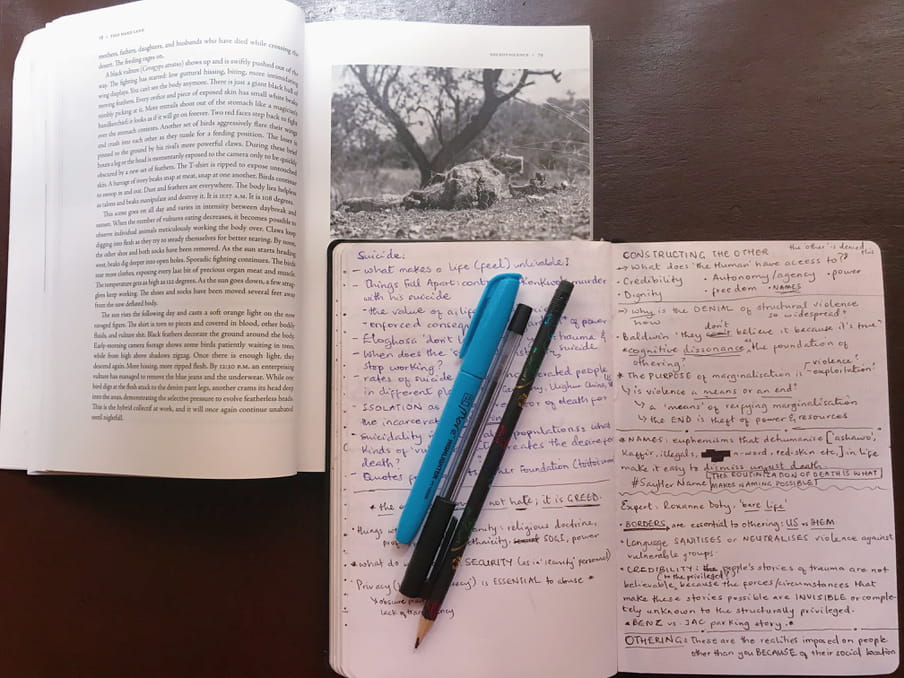 In my last newsletter to you, I shared a poem by Audre Lorde. Today, I would like to share another by Warsan Shire
, in which she explores the realities of clandestine migration and the motivations of those who attempt it. It is called Home. Some excerpts are below:
no one leaves home unless 
home is the mouth of a shark…
you only leave home when 
home won't let you stay 
no one would leave home unless home 
chased you, fire under feet, 
hot blood in your belly…
you have to understand, 
no one puts their children in a boat 
unless the water is safer than the land 
who would choose to spend days 
and nights in the stomach of a truck 
unless the miles travelled 
meant something more than journey…
I have completed De Léon's book, but some of the people in it remain with me. The mother in me struggles to let go of Maricela, whose body Jason randomly found on the trail during a hike with his students. The grief caused by her death echoes across the Americas, from her brother-in-law in New York to her family in Cuenca.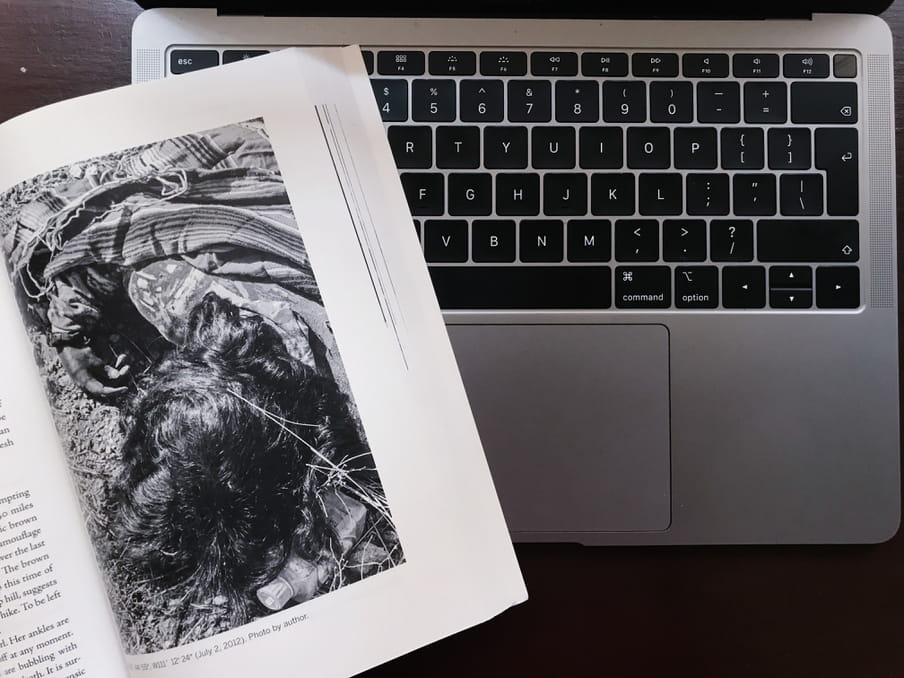 I think of the photo of her fallen body that is included in the book. She is lying face down, covered by a blanket, her lustrous hair gleaming in the sunlight. Her sister-in-law, Vanessa, had helped to dye it before the trip because Maricela wanted to look good for her arrival in Nueva York. Her youngest child, Edgar, is the only one who does not seem permanently altered by her death. The older two, Laura and Jaime, retreat into silence or rebel. Her husband rarely speaks of her. Her father and mother-in-law cry often. They are parenting young children again in their old age. 
Maricela left Ecuador because she wanted to move her family out of a shack where stray dogs and chickens invited themselves in at will. She owed an ever-increasing debt that had started as a $2,000 loan but had grown to $5,000, and she had no chance of ever repaying it if she stayed. Perhaps for Mari, home was not the mouth of a shark. Perhaps it was a sinking ship and she thought her undocumented labour in the US would be the raft that saved her children from drowning.
Neither she nor her family will ever know if she was right.
Like Jason de Léon writes: "If we can publicly grieve for Maricela…and the thousands of others who suffer and die as the result of a cruel border policy and a globalised economy that continuously pushes and pulls people to seek work in the United States, we might better understand how our worlds are intertwined and the ethical responsibility we have to one another as humans."
Till next time,
OluTimehin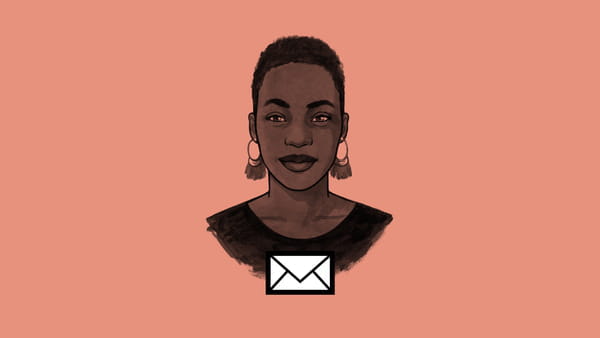 Want to receive my newsletter in your inbox?
Follow my weekly newsletter to receive notes, thoughts, and questions on the topic of Othering and our shared humanity.