It wasn't supposed to be a big deal. A colleague asked if I could write a short piece – just a few hundred words – explaining the EU's migration policy. I'd been writing about this topic for years, so she figured it would be a no-brainer for me.
You can imagine I felt pretty silly when I had to admit I didn't have a quick answer, even though I use the term "EU migration policy" in my writing all the time. 
And I'm not the only one. Newspapers will confidently describe a politician as "railing against EU migration policy".
Amnesty International says "EU migration policy" is exacerbating human rights abuses in Libya. And academics argue for a "smarter EU migration policy". 
"EU migration policy" has become a catch-all term for a series of policy measures, deals, funds, programmes, international agreements, and a lot of political rhetoric. It's an expression that most people are familiar with but no one fully understands. 
So what exactly is the EU's migration policy?
Ahead of a series of articles tracking how the EU spends billions to "tackle the root causes of migration",
I go behind the headlines and the rhetoric to lay out exactly what Europe's migration policy is. 
Here are ten questions and answers to understand it fully.
1. So what is the EU's migration policy? 
It's helpful to think of the EU migration policy in terms of three concentric circles. In the smallest circle, you have the Schengen area. The 26 countries within this zone have no border controls at their mutual borders and their residents are free to live, work and travel freely throughout the Schengen area. The migration policy in this circle deals with the allocation of asylum seekers and the control of the Schengen borders. 
The second circle, which is a bit bigger, stretches to the countries bordering the Schengen area, most of them in the Mediterranean region – Turkey, Morocco and Libya, for instance. Here, EU policy boils down to agreements with these countries about hosting, detaining or obstructing migrants trying to reach Europe. The EU pays the Libyan coastguard, for example, to intercept dinghies and also transfers large sums of money to the Turkish government for refugee camps.
The third circle consists of countries further away from the EU that are migrants' countries of origin. In this circle, the policy includes negotiations about return agreements to facilitate an easy return of migrants. It also includes funding development projects to give people less incentive to travel to Europe as well as strengthening border controls in these countries. 
2. So is there actually a single EU migration policy? 
Not really. EU migration policy is a mishmash of measures on border control, return, asylum procedures, and development projects. 
After the so-called "refugee crisis" of 2015, these measures changed a lot. The emphasis has shifted to the outer circles, with the EU effectively pushing its southern borders deeper into Africa. Yet ironically, the 2015 crisis had very little to do with African migrants. 
3. Why did the focus shift to the outer circles? 
Basically, because the European member states can't agree on how to handle migration in the innermost circle. 
To understand why, we need to digress briefly to the categories the EU came up with for migrants – because not all migrants are the same.
Whether you get to stay in the EU depends on what kind of migrant you are. Two distinctions are important to the EU here: 
The distinction between legal and illegal ("irregular") migration. In other words, does a migrant enter the EU with a valid visa? A migrant who arrives in Italy in a rubber boat is called an "irregular migrant". Someone who comes through immigration at Charles de Gaulle airport in Paris is a "regular migrant". 
The distinction between migrants who have a right to asylum in the EU and those who don't. All migrants have the right to a fair asylum procedure (although that can take years). Only those who can prove they are fleeing violence and persecution in their own countries qualify for

refugee status.

Someone who gets the "refugee" label can stay in the EU. Anyone who gets rejected cannot. 
In practice, a migrant can move in and out of these categories – from legal to illegal and back again. A migrant might enter legally, perhaps on a student visa, but overstay the visa period and end up "illegal". Or a migrant fleeing war might enter illegally on a rubber boat and end up with a legal residence permit after an asylum procedure.
The migrants crossing oceans in small boats – the ones whose ordeals are splayed across TV screens and newspaper covers – might enter the EU "illegally", but they do have the right to apply for asylum – and in some cases, the right to remain in the EU as recognised refugees. Although EU migration policy is associated first and foremost with combatting "irregular migration", it affects all categories of migrants. 
4. OK, but what is it that the EU countries can't agree on? 
Put simply, which countries should process all those asylum seekers. 
The EU has been working for years to ensure that an asylum seeker stands the same chance of obtaining refugee status everywhere within its borders. Because it doesn't make sense, of course, that it's easier to get asylum in Italy than in, say, Belgium. After all, once asylum seekers get refugee status, they can freely move around the Schengen area. 
The Common European Asylum System (CEAS) was hammered out in 2013, unifying asylum procedures across Europe. One part of the CEAS is the now notorious Dublin Regulation, which decrees that a migrant may only apply for asylum in the country where they entered the EU. As a result, southern European countries have to process far more asylum applications than northern European countries – after all, migrant boats land on the Mediterranean coast. 
Then came the summer of 2015.
Tens of thousands of people crossed the Mediterranean in rubber dinghies, most of them Syrians. 
The Dublin Regulation put tremendous pressure on the asylum systems in southern European countries, where tens of thousands of people had to go through the asylum procedure at the same time. Where were they to stay? Who was supposed to process all those applications? 
What followed became known as the refugee crisis: overcrowded Greek islands, Italian camps bursting at the seams, lines of people trekking on foot through eastern Europe. A photo of a toddler's corpse washed up on a beach. 
It was obvious that northern European countries had to do their bit too. Angela Merkel led the way with her determination to "manage" the crisis, opening the German border to many thousands of migrants. One migration summit after the other was convened. A few thousand Syrians were resettled.
The annual budget of the European Border and Coastguard Agency Frontex soared from €142m in 2015 to €320m in 2018. 
But a fair distribution of asylum seekers? That's something EU member states still can't agree on.
And in the absence of a solution to these problems in the innermost circle, the EU's focus shifted to policy measures that all member states could get behind: measures in the outer circles. So although the summer of 2015 was really an internal crisis for the EU, it set the ball rolling for a far-reaching external migration policy. 
5. So what does that external migration policy look like? 
Two important international summits were held in November 2015 and March 2016, which laid the foundations for today's external EU migration policy. 
The first took place in Valletta, the Maltese capital, attended by most heads of state of the EU and the African Union. 
This was when the Emergency Trust Fund for Africa was born: a fund of about €4bn aimed at "addressing the root causes of migration" in Africa. Shortly after the summit, the Partnership Framework on Migration was also launched, with Ethiopia, Mali, Nigeria and Senegal as the main partners – all countries in the "third circle" of migration policy. The EU made migration the top priority in its relations with these countries. 
Another major fund was launched at the second summit, in Brussels: the Facility for Refugees in Turkey, worth about €6bn and better known as "the EU-Turkey deal". The aim was to improve Turkey's hosting of Syrian refugees so that they would remain in the second circle. 
And so the EU more than doubled its migration budget within a few months and rushed to finance all kinds of programmes in its neighbouring countries. Both UN and international aid organisations suddenly saw heaps of money being released for migration projects. 
6. Where is that money going? 
Trying to get an overview of all the migration budgets in the EU is like trying to make a flow chart out of a plate of spaghetti. The European Parliament's website states
that €15bn is being spent on migration within the EU and €12.5bn outside the EU between 2014 and 2020. 
In reality, the figures are bound to be higher. Researchers speak of an "incoherent and fragmented funding landscape".
There are at least 18 different funds from which the EU pays for its migration policy. Some of the money is distributed per region, some per theme, some per country. And then there is the money the EU gives to member states for bilateral migration projects. 
To get at least some idea how the money is shared, it's useful to look at one single fund: the Emergency Trust Fund for Africa, worth about €4.2bn, which is intended "to improve living conditions and encourage people to stay in their countries of origin, rather than undertake the perilous journey to Europe and an uncertain future".
Through this fund, traditional development projects have now been reframed as "migration projects". So while aid organisations used to have to report on how many "disadvantaged youth" they had reached with their programmes, they must now report on how many "potential migrants" they have helped. 
In 2017, 63% of the fund went to development projects (for things such as giving young people starting capital to set up a business), 13.5% to security and peace-building (training the local police, for instance), and 1.5% to research (to obtain better data on migration flows, for example). And a large portion, 22%, went to what the EU calls "migration management". 
7. Wait, what? Migration management? 
"Migration management" is an important concept in EU lingo, and it's rather broad. 
It can be divided into five themes: 
Limiting and controlling migration.
Repatriating and reintegrating migrants.
Improving population registration in countries of origin.
Setting up awareness-raising campaigns about the dangers of irregular migration.
Creating more legal options for migrating. 
In practice, migration management can mean anything from improving border control by training African customs officers to poster campaigns about the dangers of crossing the Mediterranean, or from repatriating migrants stranded en route to Europe to sewing courses for rejected asylum-seekers who have been deported. 
The European border control agency Frontex
plays a key role in migration management, training border guards in Africa and repatriating asylum seekers whose applications are rejected.
The European Commission negotiates these forced returns intensively with the governments of the migrants' countries of origin. The Commission aims to reach what are known as readmission agreements: contracts between the EU and the countries of origin stipulating that rejected asylum seekers will be taken back without a fuss. In exchange for, say, a substantial sum of money. 
The creation of more possibilities for legal migration also falls under migration management. Think temporary work visas or student grants. Yet, in 2017, only 0.7% of the trust fund was spent on facilitating legal migration. 
8. Doesn't the EU think legal migration is that important? 
On paper it does. The EU drew up a document in 2005 – updated in 2011 – which forms the basis of their entire migration policy: the Global Approach to Migration and Mobility (GAMM).
The GAMM is a fairly nuanced document in which the positive sides of immigration and mobility are clearly highlighted. Three of the four pillars of the GAMM are actually about promoting migration – as long as it's legal and a win-win for all parties. The four pillars are (drumroll for some migration jargon): 
Better organisation of legal immigration and fostering well-managed mobility. 
Preventing and combatting illegal migration.
Maximising the development impact of migration.
Promoting international protection and enhancing the external dimension of asylum. 
In theory, these are equally important, but in practice pillar two – preventing and combatting irregular migration – gets way more priority than the others. 
That's because after the crisis of 2015, another overarching document was published: the European Agenda on Migration.
This new approach quietly and unofficially swept the GAMM aside. In the European Agenda on Migration there is much more emphasis on hard borders and security, with one pillar explicitly devoted to better border control. Better legal routes dropped from priority one to priority four. And the positive effects of migration are reduced to a single paragraph instead of an entire pillar.
In other words, in 2015, the EU put its migration policy into full crisis mode. And it has stayed that way ever since. 
9. Where is this all headed? 
At the moment, the EU is preoccupied with its new budget for 2021-2028. A huge amount of additional funding is being released for migration policy in that period. 
The budget for the innermost circle is set to go up from €13bn (2014-2020) to €34.9bn (2021-2028). The budget for border policing will be quadrupled. As far as the outer circles of the EU migration policy are concerned, the EU plans to pool all its development funds under one umbrella: the NDICI Fund, worth about €90bn. 
A subject of hot debate in the EU is whether at least 10% of this fund should consistently be allocated to migration objectives. And if so, what qualifies as a "migration objective"? Border policing? Military training in Sahel countries? Opening more detention centres in Libya? 
10. Finally, maybe the most important question: is the EU's migration policy working? 
That depends on how you measure success. 
The EU boasts that there are now 90% fewer migrants entering the EU than in 2015. so incredibly high. 
But a percentage like that only sounds impressive because the migration peak in 2015 was
So yes, since 2015 "irregular" arrivals in Europe have gone down. But keep in mind that we don't know whether the fall in arrivals has been a result of European policy. It may also be due to developments in the war in Syria or an escalating civil war in Libya.
And fewer arrivals does not necessarily mean that fewer people are setting off. Nobody knows how many people die en route in the Sahara. It is estimated that tens of thousands of Africans are stuck in Libya – sometimes because their dinghies were intercepted on their crossing to Europe by the EU-financed Libyan coastguard.
So based on the number of arrivals, the EU's migration policy is a success. But it certainly isn't when it's measured by the wellbeing of migrants.
This article was originally published on De Correspondent. It was translated from Dutch by Clare McGregor.
Dig deeper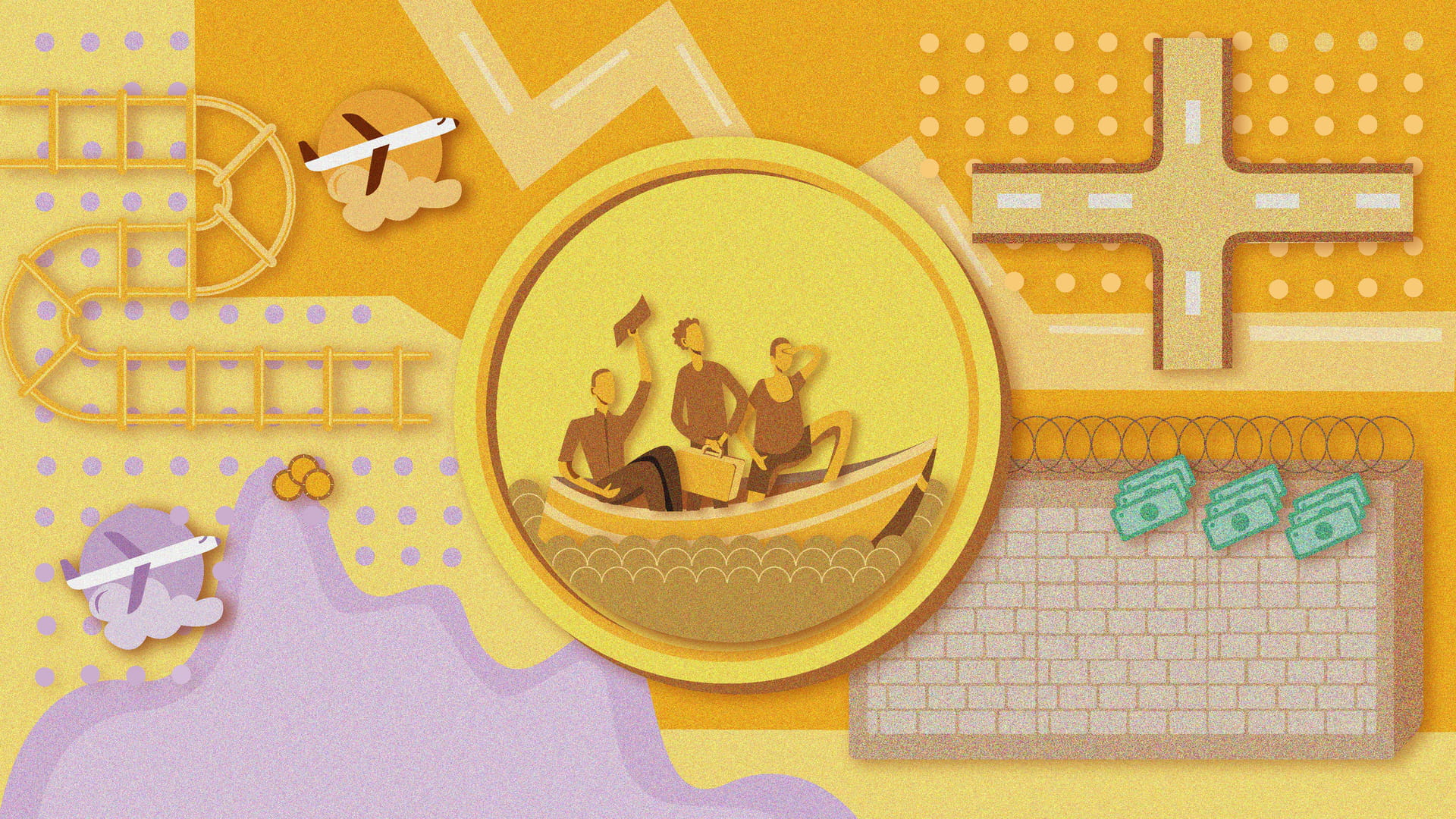 Tracking the European Union's migration millions
In partnership with Italian and Nigerian journalists, I'll attempt to make sense of financial flows between Europe and Africa's largest economy – and could use your help.