In a one-off live Zoom call, The Correspondent writers took questions from members on everything from fake news or the state of democracy in their countries, to how they got into journalism. (This video has English subtitles).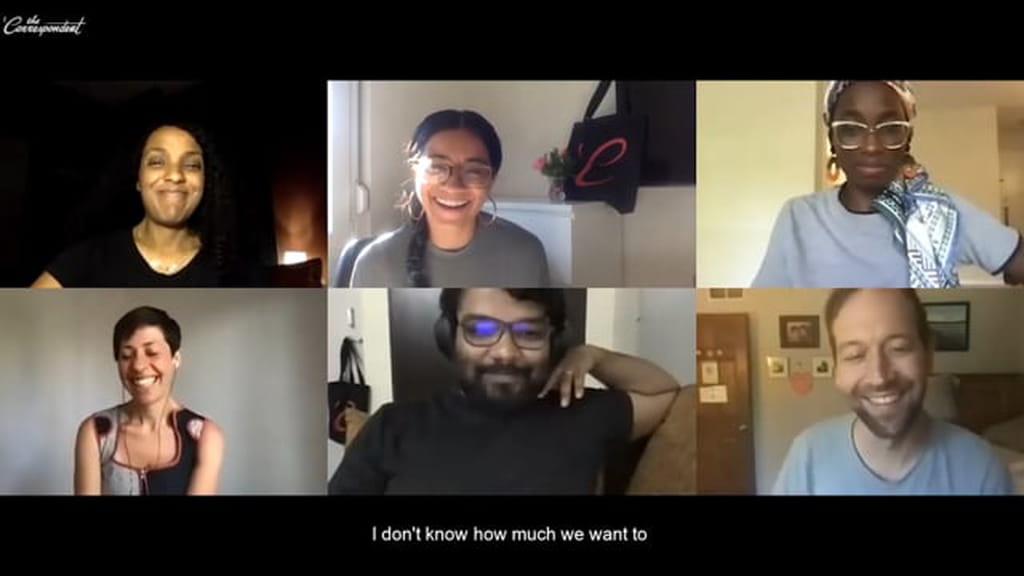 The world feels very divided. How do you see the role of The Correspondent and your own work in bridging those divides?
Mathieu (minute 04:43) – answered by Eric Holthaus and Nesrine Malik
How do you see your beats intersecting? What kind of ideas are you exploring together and will we see any of that work this year?
Shweta (minute 07:23) – answered by Irene Caselli, OluTimehin Adegebeye, Tanmoy Goswami
Who is the 'imagined human' you have in mind when you are writing? Is it Homo Economicus, or someone else?
Morgan, with thanks also to Bram and Mayke (minute: 11:27) – answered by OluTimehin Adegbeye
The Correspondent feels very comfortable engaging with people who are highly educated. How does The Correspondent engage with those who are not highly literate to engage in those conversations?
Ross (minute 14:45) – answered by Tanmoy Goswami, Eric Holthaus, Irene Caselli
I always get the sense that I consume media and journalism that aligns with my political views. I feel like that is also the reason I like The Correspondent so much. It shows me ideas and views in the directions I like to think in.I do often feel guilty for not educating myself on views and reasons from the other side of the spectrum, which is the political right in my case. If The Correspondent is trying to make journalism for everyone, how do you create or plan on creating journalism that covers a wide political spectrum? Currently I feel like The Correspondent is very much on the political left :)
Joran (minute 18:49) – answered by Nesrine Malik, OluTimehin Adegbeye
What do you see as our greatest challenge in the 2020 election? A fair election? The extreme partisanship? Other?
Constance (minute 24:15) – answered by Nesrine Malik, Eric Holthaus
Whatever damage is being done by the Indian media to its democracy, do you think it's because of the collective ignorance/illiteracy of Indians about the democracy they live in or plain bigotry of the majority that is allowing such propaganda in the name of news every these days? Secondly, do you think any journalists, would ever be held accountable for helping the world's largest democracy fall into the pits of authoritarianism?  
Aniruddha (minute 27:31) – answered by Tanmoy Goswami
What are your thoughts on the news and social media? On the one hand, Twitter and Facebook are an incredibly efficient way to find and spread good work. But, using them can lead to a sense of overwhelm and dread.
Rohit with thanks also to Donna, Johannes and Sam (minute: 29:18) – answered by Nesrine Malik
What was the biggest obstacle that you faced in your path becoming the journalist you are today?
Despoina (minute 30:51) – answered by all correspondents
As an aspiring young journalist whose mind has yet to be inoculated by a newsroom, what do you think should shape my minds of people like me? What should we fight for in our careers as journalists when we've been steeped in this crazy media landscape?
Alessandra (minute 33:26) – answered by Irene Caselli, Tanmoy Goswami and Eric Holthaus.
Finally, we asked Nesrine Malik and OluTimehin Adegbeye to explain why they thought membership to The Correspondent should be renewed. While we're now closing The Correspondent, we kept this in the video, simply because, it comes from a moment in time. It should give us all hope for the value in memberful reporting as others come across the model and try it out.