Hi,
"Can you imagine what it's like to experience a city when you're only 90 centimetres from the ground?"
I knew that I was doing something right when I saw how my new colleagues reacted to the question I asked during one of our first newsroom meetings in Amsterdam in September 2019. The Correspondent team had just come together for its first real-life meeting before our launch. 
I was asking that question to prove a point: we adults hardly take into account the perspectives of children when we make policies. Yet children make up a third of the world's population. The creatives in the room started thinking of how we could illustrate the story with photographs from around the world, while other colleagues kneeled down to imagine what they would see from that perspective.
Seeing the reaction of the newsroom that day, I knew that my journey into the First 1,000 Days of human life had found the right home.
A stormy ending
After days of strange nightmares, I woke up one morning to a sky that was orange – Apocalypse Now orange. A storm was brewing, I knew as much from early warnings by the Greek government on my phone.
As the sound of thunder grew closer, I realised the house was incredibly dark, even though it was 8am already. There was a power cut, and the sky faded from orange to dark grey, as the rain and the wind started blasting against the windows.
With no coffee in my body (we have an electrical stove), I went about getting a pomegranate ready for breakfast. But when I opened it, its inside was a bloody, squishy soup. With no electricity or internet, all I could do was sit down and calm my mind before an important work meeting with the founders of The Correspondent.
This is how I dialled in, sitting awkwardly on the floor, trying to catch some 3G in a random corner of my office, in almost pitch darkness. And this is how I heard that our much dreamed-of publication, my dream writing job, is coming to an end on 31 December 2020.
Tears came down abundantly. With sadness as well as anger, I felt many what ifs and could haves. Then came the very real worry about my financial stability, and my family's.
As the days have gone by and my emotions have gone in all directions, one thing has made it more bearable: your messages, pouring in one after the other, in our inboxes and social networks, thanking us for our work and our efforts. 
A member made me cry by telling me a very personal story of how touched she was by my efforts to establish that our bodies can keep score of childhood trauma.
(Yes, Liz, it was you!) Others have offered help, have said they didn't want refunds, have asked what they could do for us to keep going. Sadly, there is nothing that can be done.   
So, this is the final newsletter I will send from The Correspondent. But it's not a real end because you can keep following my writing. You'll find out more information at the end.
My best memories
Paradoxically, we have virtually no memory of what neuroscientists say is the most formative period of our lives: the first 1,000 days. Luckily, I have plenty of memories of my first 487 days as your correspondent.
Of all the writing that I did here, this newsletter was the space I loved most. It was so liberating, after 15 years of being a producer, fixer and foreign correspondent for mainstream media to be able to write honestly about my work, and my life too.
I told you about a story I was writing and decided not to publish,
I told you about my exhaustion and my mistakes. The newsletter was, of course, an extension of the exciting work I did. I explored the role of trauma, play, sex and politics in the first 1,000 days.
We brought together experts worldwide – lactation specialists, ventriloquists, play practitioners, psychologists, paediatricians. We met great thinkers, such as developmental psychologist Alison Gopnik,
whose writing has influenced my thinking a lot. And we invited children to discuss their politics and the politics of their peers on the platform.
I worked alongside an incredibly talented team who became my friends, and I looked for any possible excuse to collaborate with them. (You should hire them, by the way. You can find all their contact details in this Twitter thread I put together.
)
I was also proud to count on an international network of experts – you members – who could help me make better sense of this world. You taught me to think differently about breastfeeding,
our desire not to have children, and have suggested so many good story ideas and different angles that it would take me some 10,000 days to get to them all. 
(Talking about days, the irony is not lost on me that as your First 1,000 Days correspondent, my job is coming to an end not even halfway through …  😬 )
You were brave enough to share your first childhood memories
or early traumas. You came to meet me in person in Amsterdam and in Buenos Aires (when meeting in person could still easily be arranged). You followed along even if you weren't parents, or did not want children. We debated tough issues, like raising children in a gender-free environment, children's right to participate in politics and the right to abortion. We didn't always agree, but you were around and we took that journey together. 
Let's stay together
The good news is that we can *stay* on this journey together. The solution came, once again, from members of The Correspondent. Alberto Puliafito, who is also a co-founder of Slow News, an Italian unbreaking news platform, offered to host this newsletter on their site to continue sharing my weekly musings in English. 
So, I won't be alone! Together, we will share our knowledge and expertise and I'll continue building my beat. Like with The Correspondent, I will depend completely on the support of you members. This is a new adventure, and I hope we can make it happen together.
I will send a free newsletter once a week with curated content relevant to my beat. However, please consider picking a paid subscription and helping me out by telling your friends to follow me as well. It will help keep my coffee intake stable and make this project sustainable without having too much of an impact on my son's first 1,000 days. 😬
(I'm not sure what you see in this emoji, but it belongs to me in the newsroom. I use it when I make a silly joke or when there is an awkward exchange. It punctuates a lot of my conversations!)
Become a member
or, if you can pay more, become a founding member.
If you can't pay, but you want to stay in touch, sign up here.
I will continue to write about how we grow into adults and how important our first 1,000 days of life are. I will reflect on the challenges and joys of parenting, and the importance of listening to children (and their carers) to make our world more accessible, fair and liveable for everyone.
I hope to see you there!
And in the meantime, gracias ... totales.
Irene
PS I'm also on I'm on Twitter
, Instagram and LinkedIn . Stay in touch!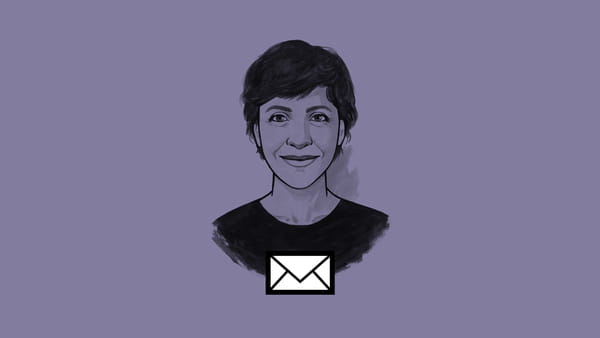 Do you want to follow me to my new home?
If you're interested in reading more about early childhood, as well as reproductive rights, sexuality and the challenges and joys of parenting, you can sign up for my newsletter on Slow News.