Hi,
Argentina's President Alberto Fernández wore a green tie
last week to announce he was sending a bill to legalise abortion to Congress.
This is the ninth time a bill makes its way into Congress in Argentina – but this time there are high hopes that the executive's support and the push by a grassroots movement will lead to real change.
Don't worry, I haven't changed my beat to Men's Fashion, but this green tie *is* significant because green is the colour Argentines wear to identify themselves as pro-choice, as I wrote about in this piece
about the movement.
And what's happening in Argentina is incredibly important because it shows the power of grassroots movements in creating change. Of course this battle is not won yet, but having a male president wear a green tie and talk about the importance of legalised abortion as a public health issue sets an important precedent for a region with the most restrictive abortion rules in the world.
Why talk about abortion?
The right to abortion is, to me, a fundamental reproductive right, as I explained in a previous newsletter.
Asking who has the right to decide when and how they get pregnant – and who doesn't – is a key question at the heart of my research into the first 1,000 days of human life. 
I've reported for years on the issue in South America, but my understanding is limited to a few geographies, while each different region has its own attitudes, its own barriers, and its own solutions.
This is why, a few weeks ago, I joined conversation editor Nabeelah Shabbir and journalist Patrick Chalmers, who reports on political literacy, in creating a transnational conversation about abortion.
We wanted to learn how to talk about this very divisive issue, and we invited 16 experts from 13 different countries to talk about it. It was a fascinating conversation that Nabeelah and I summarised for you here.
One of the main takeaways for me was this: we need to remember who we're talking about when we discuss abortion. "Everyone loves someone who had an abortion" is the slogan of US organisation We Testify – and it's true: in the United States, one in four cisgender women will have an abortion in their life time.
I want to stop and think about those numbers. To try and relate to them, I started to recall all the people I love that have told me they had an abortion. There are many, I can assure you, even in places where abortion is not legal.
There are probably many more that haven't even talked to me about it because abortion – like everything around sexuality – remains a taboo everywhere in the world.
Religion, politics, colonialism and patriarchy play into that taboo and until we can educate ourselves about our right to exercise autonomy over our own bodies, we won't be able to move forward.
Gender & football
Talking about exercising autonomy over our own bodies, for several years I reported on the challenges that women who wanted to play football faced worldwide. 
I recently read this article about the struggles of female players in Afghanistan,
where women are still expected to be invisible in public, and a new generation of fierce players is challenging the status quo. (It went as far as a Me Too moment against the president of the country's football federation, Keramuudin Karim, who was later suspended.)
It brought back many interviews I carried out with players around the world
about how much they had to fight to follow their football dreams – simply because they were interested in a sport that is often considered manly.
Even in Brazil, a football-crazy country, women were banned from playing until 1980, and the discrimination and stereotypes remain very present to the day.
This is why I cried (out of joy!) when I found out that Laura Pigatin, one of the young players I interviewed in Brazil,
made it to the U17 national team!
And if any of you has watched "The Queen's Gambit" on Netflix, and you also enjoyed seeing a young woman rocking a man's world, you will also share my celebration of Laurinha's hard work!
Until next week,
Irene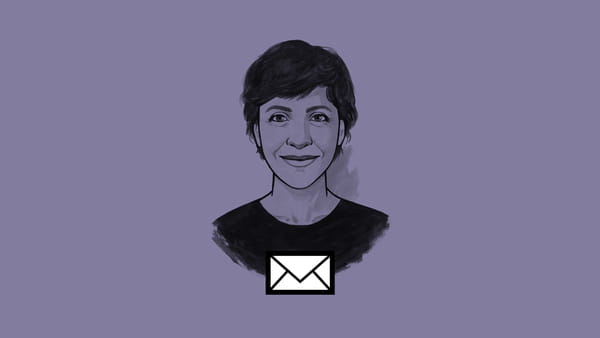 Do you want this newsletter straight in your inbox?
If you're interested in reading more about early childhood, as well as reproductive rights, sexuality and the challenges and joys of parenting, you can subscribe to my weekly newsletter about the First 1,000 Days of life.