In order to exercise public health controls, governments in 2020 have wielded unprecedented power. In many countries, that new authority has induced a crisis of political legitimacy. Despite the pandemic, protests around the world have re-energised city centres that had emptied of shoppers and tourists. Pro-democracy crowds have swarmed beneath the red and white flag in Belarus. Far-right German demonstrators tried to storm the parliament building in Berlin. America continues to convulse as Black Lives Matter protests inflame an already toxic election campaign. 
Crowds have chafed against different manifestations of power – election fixing, lockdown restrictions, police brutality. 
Data collection, too, can be an expression of state power. But protests against government technology are new – it's only recently that English students have protested against algorithms grading their exams and Russian activists have taken to the streets wearing anti-facial recognition face paint.
Resistance against the power expressed through Covid-19 tech is quieter, more niche. Instead, data-related discontent finds its voice through lawsuits and statements written by civil society groups. 
When New York's Natural History Museum asked employees to tell an app how they were feeling every day, their union filed a complaint – branding the technology as intrusive. And when the University of Amsterdam said it would monitor students' screen, webcam, audio and keystrokes to make sure they didn't cheat in online exams set during lockdown, the student council demanded the practice be banned – although they later lost that case in the Netherlands' supreme court.
In a bid to understand what makes activists able, or willing, to push back against excessive coronavirus tracking tech, The Correspondent asked three writers in France, Russia and South Korea to describe what informs the intensity of the resistance in their countries. 
In France, a country with an established data protection regulator not afraid to criticise government, resistance to tracking tech has been vocal and effective. But in Russia, most activists are focused on corruption issues – leaving only a niche minority to pursue data rights through the courts. 
And in South Korea, complaints by the LGBTQ+ community about data collection and the publication of intimate details is widely disregarded by a public still scarred from the 2015 Middle Eastern Respiratory Syndrome (Mers) crisis – keen to leverage personal information to end any local outbreaks.
Moscow's 'smart city' failures fuel ridicule, not resistance 
By Felix Light, a Moscow-based journalist covering the former Soviet Union for the New Statesman, Coda Story and the Moscow Times. He tweets at @felix_light.
Moscow, Russia – Sergey Sobyanin has always liked high-tech wizardry. Appointed mayor of Moscow a decade ago, this grey, forgettable bureaucrat from the Arctic north set about transforming the Russian capital – then known as a rough, tough unliveable city – into a modern European metropolis. At the heart of it all was the so-called Smart City programme: an ambitious, multimillion-dollar plan to convert Moscow into a city of super-fast internet, responsive public services, and universal surveillance.
Sobyanin was building his smart city on fertile ground. Russia's strong tradition of scientific and technical education made digitisation all the easier. Muscovites today can pay taxes, receive state benefits and vote in elections all on one handy site. International acclaim has been forthcoming: in 2018, the UN recognised Moscow as the world's best city for e-government.
Moscow's high-tech fight against the pandemic swiftly descended into a public health disaster
When the novel coronavirus struck, however, Sobyanin's new-look Moscow was faced with an unprecedented challenge. Publicly, the mayor was bullish. On his personal blog, he reassured Muscovites that the fancy new technologies in which the city had invested – from facial recognition cameras, to QR-code tracking – would control and isolate Covid-19 in the capital.
He had good reason to be optimistic. In recent years, even as Moscow has developed one of the world's largest facial recognition surveillance systems, public objection has been limited to a small minority of activists. Though a long-running lawsuit seeking to have facial recognition cameras declared illegal at public events in Moscow was recently referred to the European Court of Human Rights, its chances of meaningfully changing public opinion, let alone Russian law, are slender. No one seriously believes the Kremlin will allow a foreign court to derail a pet project. 
With bread-and-butter issues of corruption and inequality dominating even Russia's divided and marginal opposition movement, civil liberties remain a niche concern. In March, only 5% of Russians surveyed by the Levada Centre, an independent pollster, admitted to fretting about infringements of democratic rights. With public opinion by no means opposed to his surveillance programmes, Sobyanin was confident of drumming up support for killing the coronavirus with cameras.
That was the theory. In reality, Moscow's high-tech fight against the pandemic swiftly descended into a public health disaster. Though in the early days facial recognition cameras were able to keep track of a few recent arrivals from abroad placed under individual quarantine orders, things quickly got out of hand. Even in Moscow, where an unpopular two-month self-isolation regime was widely flouted, there were not remotely enough cameras to track and suppress mass lockdown-breaking in a city of 12 million. 
Occasionally, pure incompetence played a role. In April, a much-hyped scheme – whereby essential workers would be issued with scannable QR codes verifying their right to travel – was rolled out. However, for some reason, the police had not been issued with the required scanners, resulting in huge queues and much public ridicule of the mayor's high-tech pretensions.
The result has not been to supercharge opposition to Moscow's surveillance infrastructure, but to foster widespread derision of it. With Russia's Covid-19 case count now among the world's highest, public hopes have shifted onto Russia's recently approved Sputnik 5 vaccine. With autumn looming and a return to lockdown unpopular, Sobyanin's smart city now appears a rather dumb bet.
South Korea is fighting the pandemic with surveillance. The public is ok with that
By Jenny Lee, a freelance journalist based in Seoul who has worked with the Voice of America and WIRED Korea in Seoul. 
Seoul, South Korea – It was a scorching July day when I boarded a flight from Washington DC to Incheon, a port city west of Seoul. The plane was half full, with every passenger sprawled across three seats to keep their distance from others and flight attendants armed with protective gowns, masks and goggles. 
A series of health checkpoints awaited me and other travellers at Incheon Airport. Body temperatures were screened, health questions were asked and multiple forms were filled out. Only after we downloaded the government-mandated Self-Quarantine Safety Protection app were we led out of the airport and into designated buses or vans that would take us home or to government quarantine facilities. This app – which asks its users daily health questions and tracks their location using GPS – would place our personal information at the disposal of health authorities throughout the mandatory two-week quarantine period. Over the next 14 days, as well as having to verify my location through the app daily, I would also receive sporadic video calls and unannounced visits from the district office to check I had stayed home.
This high-tech technique of enforcing quarantine orders has helped South Korea contain what was once the largest coronavirus outbreak outside of mainland China, earning worldwide praise for its handling of the pandemic. It was the political willingness to aggressively collect private information that made this approach possible. 
Health authorities pour over surveillance footage, credit card and bank transactions, public transportation records and cellular geolocation data linked to both confirmed patients and those who crossed paths with them – a power endowed to the Korea Centers for Disease Control and Prevention by South Korean public health law, which was amended following the bitter experience of the 2015 Mers crisis.
Here, people recognise that giving up some privacy can prevent the need for widespread lockdowns
All of this information plays an important role in tracking down potential coronavirus carriers who are reluctant to come forward for testing. For example, when an outbreak was detected in May at LGBTQ+ nightclubs and bars in Itaewon, central Seoul, tens of thousands of people were immediately approached and tested (anonymously upon request) using information obtained from mobile carriers. As a result, infections subsided at 277.
Despite the system's efficiency, concerns have been raised that the government's sweeping tracking system could breach privacy and erode public trust. After the cluster of infections in Itaewon was followed by a homophobic backlash and forced outings, the local LGBTQ+ community has condemned the practice of publicising intimate details of people with Covid-19 – such as their age, gender, travel routes before testing positive and, in some cases, their occupation. A petition was also filed in July with the Constitutional Court by Minbyun-Lawyers for a Democratic Society, People's Solidarity for Participatory Democracy and other civic groups, to request a review on whether the massive collection of mobile phone data for contact tracing by authorities lacked reasonable legal grounds and therefore was a violation of constitutional rights. A judgement has yet to be made.
However, widespread resistance to the government's initiative was never ignited in South Korea. Here, people recognise that giving up some privacy can prevent the need for widespread lockdowns. Opinion polls show most South Koreans think the need for a rapid response to the virus outweighs the protection of individual rights during this time of public health emergency. Polls even show the majority support the government filing indemnity suits against those who cause the virus' spread, obstruct epidemiological investigations or violate quarantine measures. To date, close to 1,900 people have been investigated.
The lack of resistance may be in large part due to the country's collectivist culture, one that stems from traditional Confucian ideologies in which the common good is prioritised over individual rights. Koreans tend to avoid direct confrontation and criticism, if at all possible, and stay loyal to their group to maintain harmony. 
Or, it may be because they have come to understand the importance of having information (and therefore, being in control of their health) after the Mers outbreak when the government's sluggish response and lack of transparency led to public mistrust. 
Whatever the reason is, one thing is clear. The public's tolerance toward surveillance is facilitating the South Korean government to efficiently implement measures to curb the spread of Covid-19.
Distrust in French politics drives resistance to Covid-19 tracking tech 
By Francesca Musiani, Research professor of Internet governance and privacy at the French National Centre for Scientific Research (CNRS), and deputy director of the Centre for Internet and Society. Twitter: @franmusiani.
Paris, France – For a lot of French people, the two words "Covid-19" and "technology" have become closely associated with a third: "resistance". Indeed, in the past few months, several attempts by the government to deploy digital technologies to monitor aspects of the population's activities – their movements, contacts, habits – has met anger from both citizens and French institutions tasked with protecting citizens' rights, worried about the potential of excessive surveillance and the associated privacy risks. 
A central point of debate continues to be the StopCovid application – the contact-tracing smartphone app that works in the same way as Singapore's TraceTogether and Italy's Immuni. The StopCovid project has been controversial since it was first announced in late March, especially concerning threats to privacy. 
Debates concerned, for example, whether the app would be able to access and collect individual data or anonymised and aggregated data  – thus, not directly identifying a person, even if total anonymisation on the internet is known to be very difficult to achieve. Other issues included whether eventual follow-ups to alerts by caregivers or any authorities would be based on voluntary action of the concerned person, or from a third party. 
There's since been a very limited number of downloads and notifications sent via the app – which the press view as a predictable fiasco for the government.
France has a long history of NGOs and other civil society organisations working as 'guardians' of digital freedoms
Another point of controversy was the use of drones by French police to monitor public activity during the pandemic. Following a complaint by the French Human Rights League to the country's highest-level court, the State Council ruled that drones would be banned until a proper legal basis for drone deployment was established, or until they could be adapted so individuals who were filmed by cameras mounted on the drones could not be identified. As with the StopCovid app, the main question for activists was: if specific surveillance and data processing initiatives are authorised in a state of urgency, when and how will France revert back to the rights citizens enjoyed pre-pandemic? 
Why has resistance to Covid-related technologies been so vocal in France? The answer may lie in a number of factors. First of all, the Covid-19 pandemic happened in a particular historical moment that has arguably marked a new low for citizens' trust in politics – notably following a year's unrest spurred by the Yellow Vests movement, and a two-month strike among public transport workers.
Secondly, France has a long history of NGOs and other civil society organisations working as "guardians" of digital freedoms, from the free-software inspired April to La Quadrature du Net, or the French chapter of the Internet Society. And finally, the French Privacy and Data Protection Commission (CNIL) is one of the most established agencies of its kind. Since reactions to the controversial Safari project (an attempt by the government to create a centralised database of citizens' personal data) led to its creation in 1978, the CNIL has proved to be an attentive observer of the potential misuses or abuses of digital tools, which has also been the case during the Covid-19 pandemic.
This mix of citizen- and institution-led vigilance, coupled with a high level of mistrust in politics and its solutions, is likely to be responsible for the variety of forms of resistance to Covid-related digital technologies in France, more widespread and organised than in other parts of the world.
Dig deeper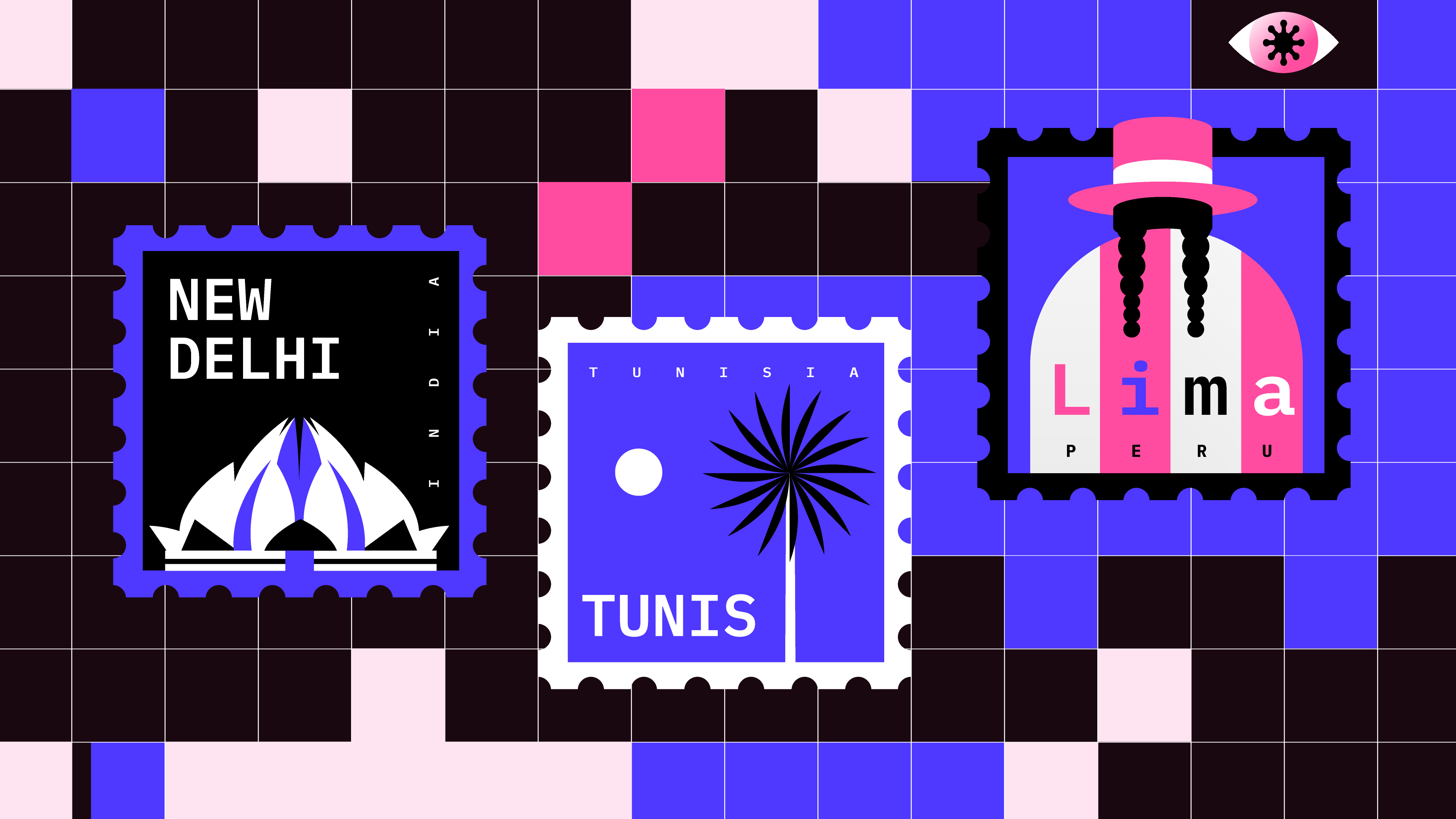 The pandemic will end. But in India, Tunisia and Peru, there are signs the surveillance will not
In India, judges make downloading a coronavirus app mandatory for suspects released on bail, Tunisia has a long history of government surveillance and in Peru, a survey system slurps personal data. In all three countries, writers fear Covid-19 surveillance could outlive the virus.