A reader recently asked me how I am able to work as a journalist in Western Burma. She had just been there on vacation herself and had the feeling she was under constant surveillance.
The truth is, I'm never certain I'll succeed in getting a story. But this time, we had two reasons to venture the trip to Burma:
We hoped that in the run-up to the elections on November 8, 2015, the authorities wouldn't arrest any journalists (that would be bad publicity for the regime).
We had found someone who said that for 80 dollars, he could arrange a document that would allow us to visit both the ghetto of Aung Mingalar in Sittwe and the nearby refugee camps.
We weren't certain the document would do the trick, but we decided to take the chance.
Two signed letters
Yangon. Three weeks later, 6 o'clock in the morning. If we manage to write the article, we'll have some income; if not, we'll lose money. Assuming the worst, we decide to travel from Yangon to Sittwe not by plane (one and a half hours, 120 dollars), but by bus (35 hours, 15 dollars). The speakers blare constantly and we're both too tall for our seats.
Three days later we wake from a sleep that borders on coma and call our contact. We meet him at a busy intersection in the middle of the city, where he gives us two signed letters. The letters are written in Burmese, but he tells us they say we work for a non-existent NGO that has sent us to visit the Aung Mingalar ghetto and the Dar Paing refugee camp.
We have no idea who signed the letters or why, but they're exactly what we need.
It feels like we've leveled up in a video game. Now the real work begins: gathering information
It's October 26. The plan to get this story was born three months ago; we're now a month into our travels. We haven't gotten much further than a few conversations with Rohingya refugees in Malaysia, but if we're able to do our work during the next four days, it will all have been worth it.
The next morning, we grab a motorcycle taxi to Dar Paing. After about six miles we arrive at a checkpoint guarded by two soldiers. I get off, hand them one of the ten copies of the letter, and am waved inside. It feels like we've leveled up in a video game. Now the real work begins: gathering information.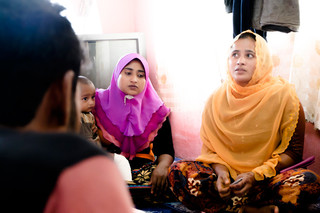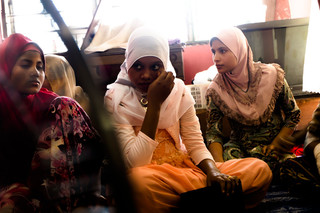 What's the situation on the ground?
We arrive in a village where mainly Muslims live. There we meet the contact who will help us today. He speaks just enough English to serve as our interpreter. The motorcycle taxi turns around. A few hundred yards further, and only Rohingyas are allowed.
Once in the camp, we know we have very little time and opportunity to gather information – you never know how long you'll be allowed to stay. That means you have to cut right to the chase.
It's a pretty chaotic process. You scan the group of desperate people and try to understand the situation as quickly as you can. At the same time, you're trying to find a common thread among the chaos, or things that stand out that you can build a story around.
At a tea house I ask our contact, who will be working as our fixer today, a barrage of questions to get a clear sense of the situation as quickly as possible. (That takes an hour and a half.) Next come the Rohingyas' personal stories, and we go looking for scenes that will help us put a human face on the story.
We decide to visit the beach from which Rohingyas flee to Thailand, Indonesia, and Malaysia. We also want to speak with human rights activist and former lawyer U Kyaw Hla Aung, who knows a great deal about the complex political situation (recommended to us by Nourdeen Wildeman, who helped with this trip), and someone who has family in Malaysia. That will help us link the situation here with what's going on across the ocean, to portray the entirety of the story.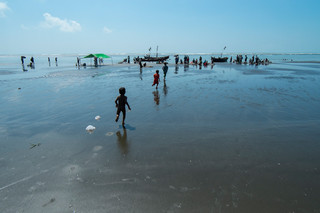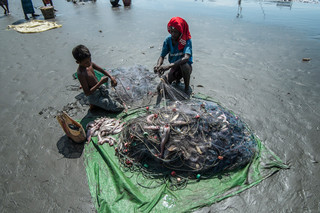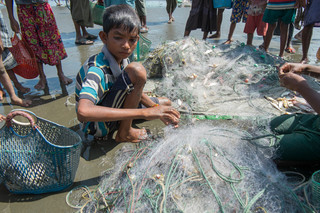 The interviews are difficult. People throng around us, shouting out things at the same time. Sometimes a long story is translated with the very brief, "It's terrible." We beg our fixer to translate everything as literally as he can and not to wait until everyone has finished talking.
When we ride home that evening, exhausted, we're infinitely wiser, but we're not yet satisfied
We hear that day about murders in hospitals, in isolated fields, in cities, and at sea. People tell us that soldiers confiscate telephones and kitchenware to disarm the Rohingyas. It's hard to check these stories, but they are certainly vivid. I write it all down, just in case there will be a way to include these kinds of rumors in our report. (There was.)
When we ride home that evening, exhausted, we're infinitely wiser, but we're not yet satisfied: Dar Paing isn't all that different from other refugee camps in the world. And the rumors are difficult to confirm.
How can we find unique stories that will help us tell the tale of what is happening here?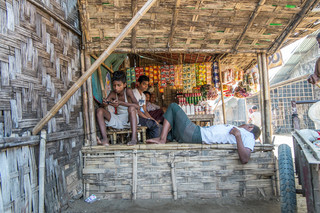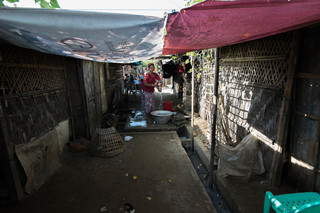 And is what they're telling us true?
Aung Mingalar turns out to provide us with the stories we're looking for. The district is a modern-day ghetto just a quarter mile from the city's touristy center. Also striking: journalists rarely come here, while Dar Paing has been covered before.
The next day, a five-minute walk brings us to a roadblock surrounded by police in the middle of the street. We hand them the letter and wait as nonchalantly as we can. Taken off guard, the captain starts to read.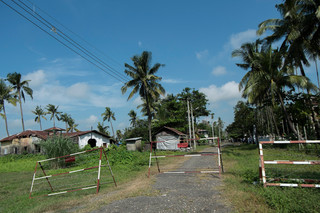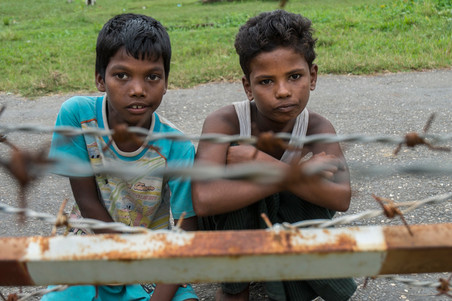 A subordinate offers us tea. We smile and do our best to seem innocent yet determined: our attitude has to indicate that we aren't interested in wasting time because some policeman doesn't understand the rules of his own country.
They let us in. Once we pass the barbed-wire barrier, dozens of children run up the street to meet us. While I try to get a clear sense of the situation from our contact in a tea house, Andreas takes photos.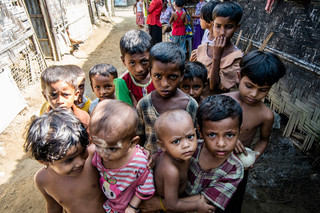 Once again, we have to figure out what's going on in a flash
But halfway through our conversation, our contact gets a call. A monk from a nearby monastery has seen Andreas at work and called the police. The police have stopped him and tried to take his camera. Not much later, we see him walking toward us. He has managed to break loose and go deeper into the neighborhood. The police didn't follow him. Within the gates of the ghetto we're safe – but for how much longer?
Once again, we have to figure out what's going on in a flash. And once again, it's a chaotic endeavor.
There is little recent information about Aung Mingalar online or in books. As a result, we have to check many things on the ground. Nothing's as bad as a gap in your story, or a question you can't answer. Where does the food at the market come from, if the neighborhood is closed off? Are the people really not allowed to leave? In short: is what they're telling us true?
But there's more – much more – that demands our attention. Some people don't dare to speak with us; others are, conversely, eager to speak openly. Why is that? Would it be safer to conduct our interviews where others can't see us? (That's what we decide to do.) Am I endangering the neighborhood's residents if I write down their names? And what if someone sees them talking to journalists?
Near the district's perimeter we notice the police are watching us, but they don't do anything. That also concerns us a little. What will happen when we exit Aung Mingalar?
When we leave at the end of the afternoon, countless children follow us to the barrier. That's as far as they'll come, we know. They really aren't allowed to leave.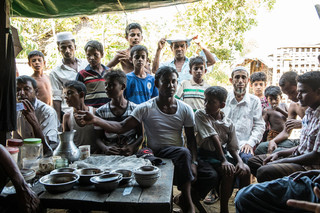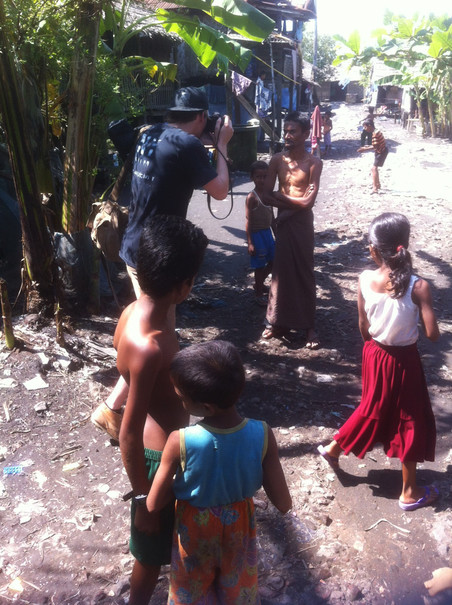 The next day, Andreas wagers another attempt to visit the quarter, while I interview a Buddhist in the city. Though the paper he has with him is still valid for the rest of the week, Andreas is denied entry this time. The police are visibly annoyed that they let him in the first day.
Then another strange thing happens. U Shwe Hla, the leader of the quarter who's come to see what the commotion is, suddenly crumples to the ground. He doesn't have the medicine he needs for his heart condition and begs for help. The police laugh and force him to go home sans medication. Andreas calls out that they should help him, but he is sent away by Rohingyas who are afraid the situation will escalate.
For us, these kinds of events – aside from being shocking – are a confirmation that the stories Aung Mingalar's residents have told us are true. The police look down on them, abandon them to their fate, and don't even care when one of them collapses in front of their eyes.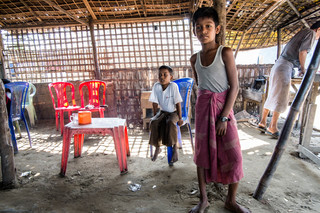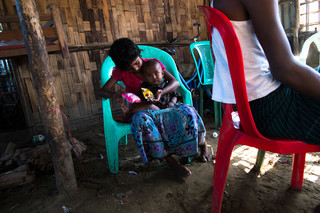 How did we manage to do it?
We still don't know. Maybe the authorities were afraid to arrest a journalist so close to the elections. Maybe the police captain assigned to Aung Mingalar wasn't prepared to handle journalists.
And we still don't know exactly who signed the letter that gave us permission to visit the quarter, or why they did it.
A week later, we hop on a plane. We've got our story. We're flush again – no need to take the bus. At the airport, the customs official raises an eyebrow. "How is it that you two aren't registered?" he asks. Everyone who comes here has to register at the airport, especially journalists.
We look at each other in surprise. Maybe that bus trip saved us, we realize. Because no one expects journalists to arrive by such a down-and-out method, we may have slipped through the net of Burmese security.
Or maybe not. We just don't know.
And then it's time to write it all up
Armed with a notebook full of impressions, hundreds of photos, and hours of recorded interviews, we arrive a few weeks later in Cambodia, where we write out the full story.
In early November, our first reports on the Rohingya appear in Swedish and Norwegian papers. And soon after, we published our full report in De Correspondent.
English translation by Grayson Morris and Erica Moore
More from De Correspondent: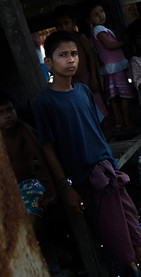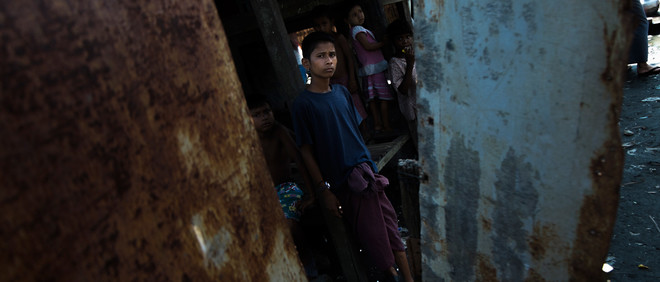 Meet the most persecuted people in the world They survived ghettos, pogroms, slave ships, and torture camps. There's a reason the UN calls them the most persecuted group in the world. And no, those causing the misery aren't radical Muslims, but nationalist Buddhists. Photographer Andreas Stahl and I traveled to three countries to record the Rohingyas' story – a story that can only be described as the chronicle of a genocide foretold. Read the story here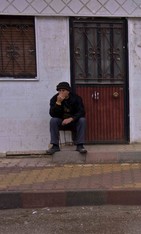 War reporting is mostly a lot of waiting War reporting is mostly waiting, wrote the famous correspondent Robert Fisk. Sometimes it takes forever. In the worst case, all your waiting ends up being for nothing. War correspondent Lennart Hofman experienced it firsthand in 2014, when he tried to enter Syria. Read about our failed attempt to enter Syria (in Dutch only)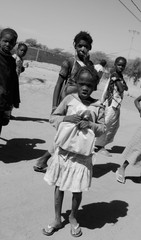 How do you report on a country as perilous as Mali? Many readers ask me how I write my reports on war zones. To give you an impression: here is the story of our search for Mohamed, whose house the Malian army was said to have destroyed. But it turns out that truth is difficult to pin down in a war zone. Read the story of our search for Mohamed and his neighbor (in Dutch only)