Hi,
Just over two years ago, I gave a Ted talk about forced evictions in my home city of Lagos, Nigeria,
that were carried out by the state government and some ultra-wealthy property developers. I focused on Otodo-Gbame, a lagoon-front settlement with a population of about 30,000, which was completely destroyed in 2017.
This talk was connected to the communications work I was doing at the time, with an organisation called Justice & Empowerment Initiatives (JEI)
that works directly with people living in informal settlements. In Lagos, informal settlements receive little attention from the government except during elections, and they are the neighbourhoods most likely to experience forced eviction. After I resigned from JEI, my advocacy focus slowly shifted away from hands-on support of the fight against illegal evictions my city.
Then on Tuesday, I saw the news: Tarkwa Bay,
a small island with a very popular beach, was being cleared out by the Nigerian navy.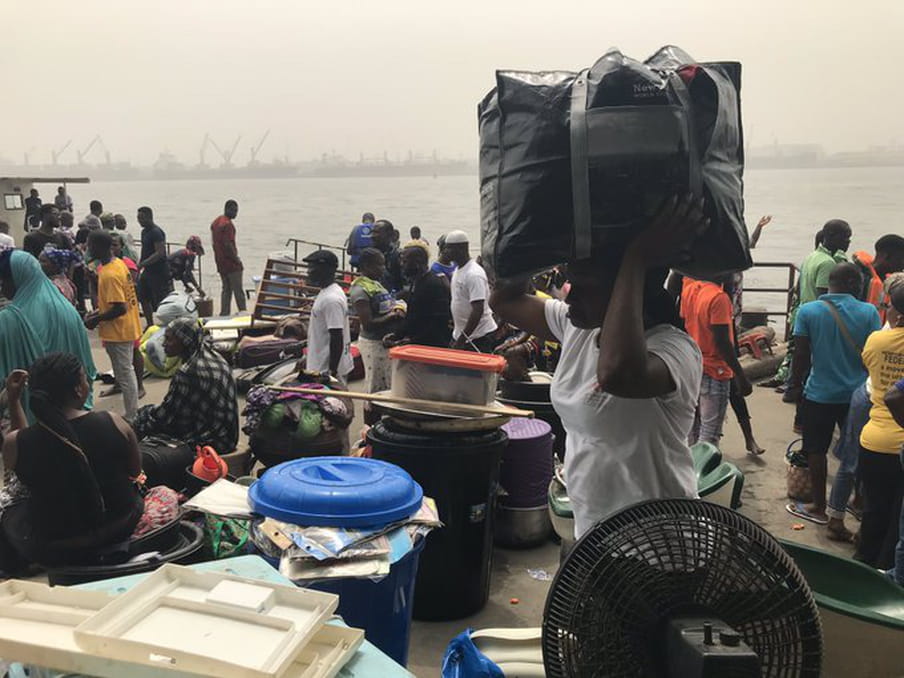 Until the eviction began, Tarkwa Bay had a resident population of about 10,000 and was a hugely popular destination for beach-goers in Lagos. All year long, surfers, swimmers and day-trippers regularly made the 30-minute boat trip to the island, where they would be met by members of the Tarkwa Bay Youth Association and other residents who worked on the beach.
There, mainlanders and tourists would often listen to two- or three-person guitar bands performing Bob Marley hits while they lounged in beach huts and pored over kitschy keepsakes made by residents. I once bought a few waist beads and some coconut oil from a teenaged girl who lived there. The last time we went, a wiry man with laughing eyes sold my friend a gorgeous coffee table made from driftwood. That same day, two young residents dived into the ocean to help my friends who had capsized while attempting a stunt on a jet-ski.
Tarkwa Bay was underserved,
with no access to public services like electricity or piped water. Despite the presence of an NNPC facility on the island, formal employment was almost impossible to come by for the residents. Yet, the islanders found ways to provide for themselves and their families, creating a tourism economy that made visitors feel welcome on their island home.
Last Tuesday, however, with only one hour's notice,
Nigerian security forces began to force people off the island. According to various reports, the navy decided that since oil pipelines in the area had been vandalised, the appropriate response was to bulldoze and clear out Tarkwa Bay and other nearby settlements.
In a phone conversation on Wednesday, Elsa Rousett, a team member at JEI, revealed that many of the island's former residents had slept at the CMS jetty on the Lagos marina, with some selling off their fridges, generators and television sets to raise money for temporary shelter. There were several pregnant women and children among them. Mere weeks into a new year, an already economically and socially vulnerable population has been pushed deeper into instability and poverty.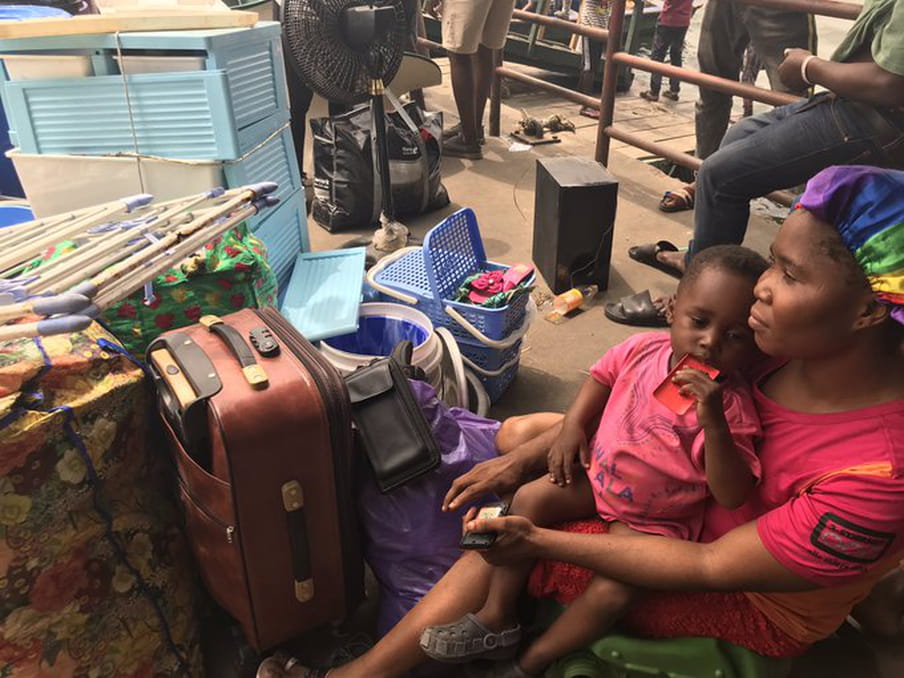 According to JEI,
Tarkwa Bay is the 24th island community to have been forcefully evicted since Christmas Eve. That amounts to one demolished community almost every day. For a city with staggering inefficiencies in service provision, transportation infrastructure and even electoral processes, that's a very impressive rate of destruction.
While the number of communities that endured eviction in the past month is unusually high, forced evictions and demolitions are unfortunately quite routine in Lagos. The most devastating instance took place in July 1990 when more than 300,000 people were evicted from Maroko, which was a bustling urban enclave that occupied most of the lagoon-front lands to the east of the Lagos marina. Today, that area is prime real estate,
playing host to luxury developments in the now-highbrow areas renamed Victoria Island extension, Oniru, and Lekki Phase 1.
In the 30 years since Maroko, there have been scores more state-led demolitions in Lagos, rendering people homeless in places such as Badia East,
Ilubirin and now Tarkwa Bay. This is in spite of court rulings stipulating that adequate notice and resettlement be provided before any demolitions are carried out. In the case of Otodo Gbame, the government promised resettlement in April 2017, then was ordered by the Lagos State High Court in June of the same year to compensate the residents for their unconstitutional eviction. Two and a half years after this ruling, on the same Tuesday that Tarkwa Bay was cleared out, the people of Otodo Gbame were told by the Lagos State Court of Appeal that their case had been adjourned until June 2021.
It is disheartening, and in many ways disempowering, to live in a city whose landscape is literally shaped by relentless violence. When I started volunteering with JEI in 2016, it was simply because I felt powerless. I didn't know what to do about what was happening to my fellow Lagosians, so I reached out to those who I saw doing something.
JEI has been working for almost a decade to provide paralegal training and policy advocacy on behalf of the people who are most at risk of forced evictions and other forms of state violence in Lagos. They provide much-needed legal support to the Nigerian Slum/Informal Settlement Federation (Naija Federation),
which is "a grassroots movement of the urban poor, that organises around community-level savings groups and community-led profiling and enumeration to generate data for policy advocacy and planning for community development and slum upgrading".
Their work is painstaking and often unrewarding, but it is desperately needed in the face of a huge problem that tends to immobilise those who are unaffected. As you read this, you are probably unsure what, if anything, you can do about the situation I've just described. After all, these injustices against people living in poverty in Lagos have been going for a long time, and very likely will continue for some time more. But the fact that a problem is intractable does not make it unsolvable. With enough time and force, water can – and does – chip away at rock.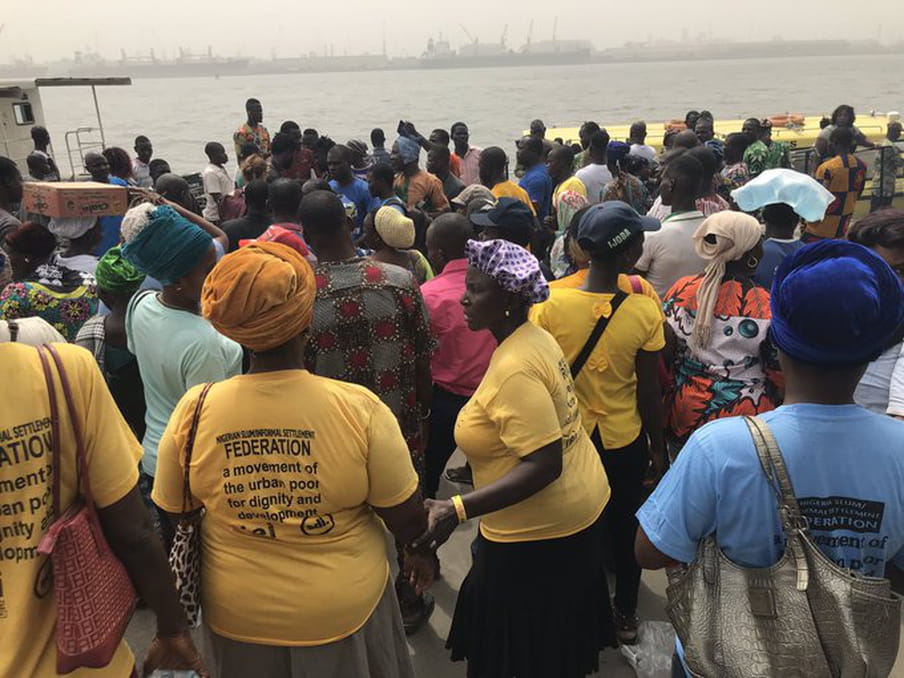 Throughout this week, JEI
and Naija Federation will be disseminating information on their social media accounts about the newly evicted residents and the strategies they expect to use to support them. The two organisations will also be trying to direct media and civic attention to the general situation of evictions in Lagos, as well as all of the developments in the past two or three years. Following their social media pages is a good first step that will allow you to learn about the situation as you try to figure out what you might be able to do to help.
It is very likely that before long, opportunities for impactful solidarity with the people of Tarkwa Bay will arise. Whether by amplifying evictees' voices, directly funding JEI's anti-eviction work via donations,
or any other means that emerge in the coming weeks, we can all contribute something to this long-term effort to end forced evictions in Lagos. I hope you will take this chance to stand in solidarity with Lagosians, who really need it right now.
Till happier times,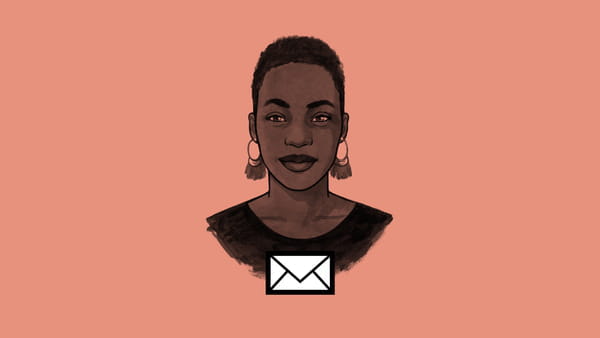 Want to receive my newsletter in your inbox?
Follow my weekly newsletter to receive notes, thoughts, and questions on the topic of Othering and our shared humanity.