When introducing her mother at the Democratic National Convention, Chelsea Clinton referenced A Wrinkle in Time (1963). It was a small moment in a speech meant to highlight the elder Clinton's professional achievements as well as their mother-daughter bond. But the reference was revealing.
her own favorite book, the science fiction classic
The young adult novel tells the story of Meg Murray, an unconventional teenage girl triumphing over an evil, fascist power, represented in human form by The Man with the Red Eyes. The Man with the Red Eyes possesses the ability to convince anyone that he speaks the truth, even Meg's brilliant brother Charles Wallace, who becomes brainwashed by the Man's power because of his failure to take the threat seriously. Backed by a diverse team of largely female advisors, Meg manages to rescue Charles and her scientist father from imprisonment in a totalitarian regime. Meg, though gifted in math, realizes logic is not what defeats The Man with the Red Eyes. Love does
The parallels between Donald Trump and The Man are uncanny. A Wrinkle in Time reflects the message Democrats tried to get across at their convention: that for America to survive, it must firmly reject the cruelty of Trump and embrace compassion and inclusivity instead. Supporters held signs in the audience reading "Love trumps hate," echoing the essential lesson of L'Engle's novel.
Moreover, the message of
There is another important aspect of Chelsea's reference to A Wrinkle in Time. Because for all Meg's triumphs, she is never portrayed as likeable. She is not feminine or demure. She is complex, stubborn, and disliked by her peers. Meg questions and criticizes everything and everybody. She is intelligent but impatient, and gets frustrated when she knows she can solve a problem easily, but society requires that she conform to its conventions.
But, in the end, she does win.
Meg Murray is a character who has long resonated with any smart girl who does not fit in. The parallels Chelsea was implicitly drawing to her mother are clear. (There is no such thing, in the calculated Clinton world, as an off-hand reference.) A woman should not need to be likeable to win. A woman can win by being herself, flawed like any other human being, but also exhibiting unusual intelligence and bravery.
Which brings us to the oft-asked question: Why does everyone hate Hillary Clinton? Why is Hillary's "likeability" a point of national obsession?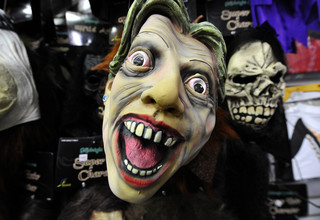 1. Hillary Clinton has been around for a long time
Along with "What the hell happened to your country?," foreigners ask me more than almost anything else why she is disliked so vehemently. The answer is complicated, in part because Hillary Clinton has inspired a national neurosis for 25 years, exhibited in this compilation of decades of interviewers asking her, why, exactly, she is so mistrusted and hated.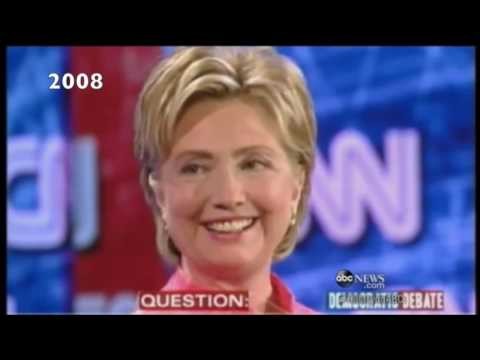 This question, in turn, stokes feelings of hatred and distrust in the viewer, making Clinton's own answers seem suspicious, and predisposing any discussion viewers may have with each other about Clinton to be fraught with irrational suppositions. To answer "How do you feel about Hillary Clinton?" is a political Rorschach test,
particularly if you are a woman. No matter her answer, some will say it provides hidden insight into her character – a thought that rhymes with the general assumption that all of Hillary Clinton's own statements have a secret, darker meaning.
She lacks both the novelty and the charisma of her Democratic presidential predecessors, like Barack Obama and Bill Clinton
I will attempt to answer the question of why we allegedly hate Hillary Clinton here, aware of the troll brigade that will inevitably follow. (There is a reason Hillary Clinton's fans set up secret Facebook groups.)
Not everyone hates Hillary Clinton. She has enthusiastic supporters, although their enthusiasm is tempered both by the harassment Hillary supporters sometimes receive, and by the fact that Clinton has been around so long that she is no longer exciting. She lacks both the novelty and the charisma of her Democratic presidential predecessors, like Barack Obama and Bill Clinton, and has admitted that she is a lackluster campaigner who would prefer to simply do her work.
2. Much of the country suffers from Clinton Derangement Syndrome
Second, the answer is often axiomatic. People hate Hillary Clinton because people hate Hillary Clinton. This instinctive, matter-of-fact hatred is known in America as Clinton Derangement Syndrome. When possessed, the victim sees Hillary Clinton as a woman of unimaginable power. Her most amazing trick is the ability to eliminate men from American history. For example:
Did the US go to war in Iraq because of George W. Bush and his team of neoconservative advisors? No, it was because Senator Hillary Clinton

voted for it.

Do we have mass incarceration for black Americans because Bill Clinton, backed by bipartisan leadership and widespread public support, instated a crime bill in 1994 that had horrific

repercussions

? No, it was

because

Hillary was

First Lady,

and gave a speech supporting it (as did Bernie Sanders and many other liberal politicians).
Is the recent rise of authoritarianism and terrorism the result of complex worldwide geopolitical problems that now fall to John Kerry, current Secretary of State – along with many others – to solve? No.

Hillary Clinton,

who left her office as Secretary of State in 2013, and

only Hillary,

is causing these problems.
These allegations, echoed widely as Clinton campaigned against Trump and Sanders, are the Clinton Derangement Syndrome in action.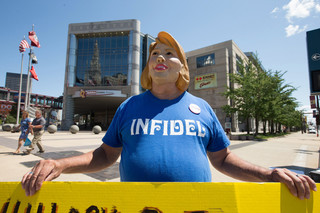 3. Hillary Clinton cannot please every voter
How Americans understand Hillary Clinton is inextricably linked with their age and gender. When Hillary emerged on the scene in 1992 advocating for universal healthcare and making flip comments about refusing to stay home and bake cookies,
she was subject to intense hostility from the media. Eventually she was even forced to supply a cookie recipe. Lacking the slickness and swagger of her husband, Hillary was visibly uncomfortable in a subservient role.
In 1992, the American sitcom A Different World parodied Clinton's unease. The show's protagonist, a student at a historically black college, falls asleep and dreams he is Hillary, forced to talk about kids as "cute" but not as impoverished. He is advised to practice "his gazing" at the Bill Clinton stand-in character, to look more "adoring."
This was one of few sympathetic characterizations of Clinton at the time.
Eventually she was even forced to supply a cookie recipe
After Bill Clinton won, the next eight years devolved into full-fledged war between the Democrats and the Republicans, culminating in the impeachment of Bill for lying about his affair to Monica Lewinsky – a scandal which further humiliated Hillary.
This Republican victory came after years of unsuccessfully trying to nail the Clintons on something unlawful
and promoting Clinton conspiracy theories through right-wing and mainstream media. It is bizarre, in 2016, to see these conspiracy theories and insults – which anyone older than 35 remembers as the products of Republican strategists – now spread by young, left-leaning Americans unaware of their origin. Although non-white young Americans overwhelmingly voted for her, Hillary has struggled to obtain the support of young white Americans, many of whom seem to have blindly accepted these theories from long ago.
Older women tend to express more sympathy herself"), tend to be more reserved than Trump's or Sanders's. They are less likely to show up en masse to chant and cheer at rallies, and are less assertive online. But their support is real, as real as the hatred they push back against.
for Hillary – an indication that support for Hillary rises as years of sexist mistreatment accrue over time. Unfortunately, a good way to prompt sexist mistreatment is to publicly proclaim support for Hillary. Her supporters, like the candidate herself (and I have to interrupt myself to say it is a jarring feeling, as an American, to write "the candidate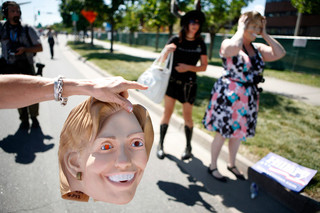 What now?
Hillary Clinton's approval ratings are currently the second-lowest of any major presidential candidate in history – second only to Donald Trump, who during the time I wrote this article feuded with a baby
and insulted the parents of a deceased Muslim military veteran , among many other controversies. (By the time you read this, there will undoubtedly be more.) It is bizarre that Hillary's ratings should be anywhere close to Trump's, but here we are. That is the product of 25 years of hatred for Hillary Clinton.
Note I said "hatred for Hillary Clinton," not "criticism of Hillary Clinton", because criticism is not really what it is. Criticizing Hillary is good. It is necessary for our democracy, particularly as the likelihood that she will win increases. Clinton's record as Secretary of State and Senator should be scrutinized. Her public statements should be parsed. Her financial dealings with the Clinton Foundation should be examined and the public should get an answer on what she learned from her mistakes – as she has undoubtedly erred in her carelessness over her email security
and in some of her policy decisions while Senator and Secretary of State – and why her mistakes will not be repeated.
The feeling that Hillary, who receives up to $250,000 for one speech
to corporate bankers, is out of touch with ordinary Americans and beholden to special interests does not come out of nowhere: the Clintons have received donations from large corporations ever since Bill entered politics decades ago. The discomfort that Americans feel at dynastic politics – excluding Obama, a Hillary victory will ensure that every president since 1988 will be a Bush or a Clinton – is something that should make all Americans contemplate the role of elitism and money in politics.
Still, Hillary's willingness to shift her economic policies on issues like the minimum wage – partially in response to advice from leftist politicians like Bernie Sanders and Elizabeth Warren – is commendable. It is upon others to constructively critique her policies, and upon Hillary to listen to them. This is standard procedure for any presidential candidate. It is how any presidential nominee should be treated.
This is not how Hillary Clinton is treated. It is impossible to equate constructive criticism with the seething hate she has inspired for the past quarter century. You do not need to like Hillary Clinton to admit she is treated differently than other candidates. You do not, in fact, need to like Hillary Clinton at all. If you are an American voter, you need to evaluate her record, the evolution of her ideas over time, and her extremely detailed policy prescriptions
and decide whether she is more capable of leading the US than Donald Trump.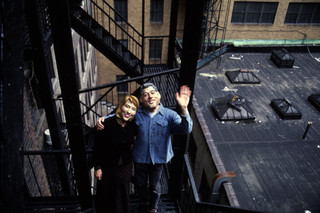 More from The Correspondent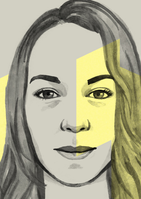 On the ground in Flyover Country Much of our news comes from the East or the West Coast. But what about that vast space in between, the 'Flyover Country'? Home to more than half the nation's people, it is here in the American heartland that presidents are made. Join me in the run-up to the November election, as I report on the U.S. from Middle America. Read my mission piece here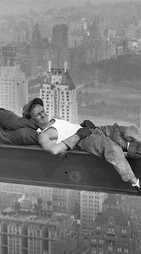 How nostalgia blinds Trump to the reality of working class America The American middle class has been shrinking for decades. It's one reason for the success of Donald Trump's presidential campaign, in which he claims to represent American workers. But the irony is that Trump has no idea who today's workers are or what kind of work they do. Read Sarah's story here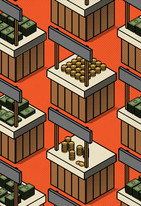 The bizarre tale of President Nixon and his basic income bill In 1969 President Richard Nixon was on the verge of implementing a basic income for poor families in America. It promised to be a revolutionary step – had the President not changed his mind at the last minute. This is the incredible and largely forgotten tale of just how close the U.S. came to stamping out poverty altogether. Read the story here