Filmmaker Reber Dosky trekked through Kurdistan in February and March 2015. In Syria, he stayed in the border town of Kobani, where Kurdish forces had been engaged in heavy fighting with ISIS occupiers for months. ISIS attacked the city in October 2014, and the civilian population fled.
The city seemed on the verge of falling to ISIS when the defending Kurdish forces faced an ammunition shortage and the Turkish President Recep Tayyip Erdogan remained adamant in his refusal to help the Kurdish military. American bombers carried out at least eight attacks on ISIS in the city, giving Kurdish forces the opportunity to gradually recapture the town, one block at a time.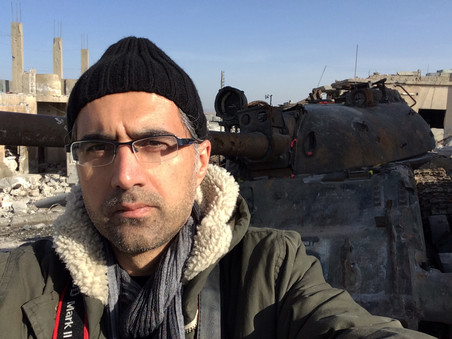 Seeing Kobani today, it is hard to shake off the associations with Dresden in 1945 or Grozny in 2000. The destruction is immense. And it is amid the rubble that Reber finds the main character for the short film he made for The Correspondent: Meet Haron, the sniper.
Haron's story is an extraordinary one. He is a Kurdish freedom fighter who came to Kobani to help put a stop to the horrors inflicted by ISIS. Haron speaks about what it takes to be a sniper, his dreams for the future, and his nightmares.
Kobani today calls up associations with Dresden in 1945 or Grozny in 2000. The destruction is immense.
Given the location and the subject, The Story of a Sniper is of course an intense film that contains shocking images. But Reber Dosky has managed to give the film and his portrait of Haron a human face. We see the sniper go to the barbershop, and the film answers the questions the barber asks him – questions to which Haron himself only replies with silence there in the barber's chair. We catch a glimpse of things through Haron's eyes and witness his very personal fight against ISIS.
Reber Dosky is a Dutch-Kurdish filmmaker, who as he puts it, "hocked his heart somewhere in Kobani." And this project in particular faced its fair share of setbacks. Dosky arranged to use a drone fitted with a camera, for instance, to fly over the city in an attempt to capture the sheer vastness of the devastation. Once he had shot this and all the other footage – at considerable risk to life and limb – he returned home to start editing. But the disks with all the footage didn't survive the trip. So he made the trek a second time, to shoot the film all over again.
Watch this documentary short (12 min.) from a filmmaker who put his life on the line for a unique story – not once, but two times.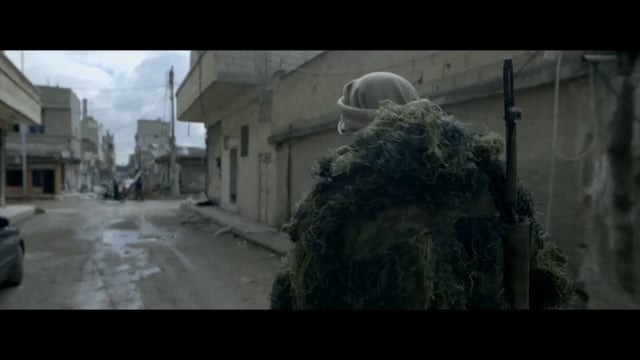 English translation by Erica Moore and Maria Sherwood-Smith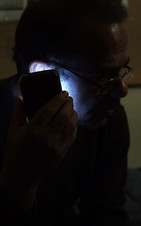 Message from Hassan Filmmaker Jiska Rickels was curious and concerned about the plight of the refugees housed in a church in her hometown in Holland. There she met Hassan from Syria. Her short film Message from Hassen is an intriguing portrait of a man, a family, and the circumstances they are caught up in. Watch the documentary short (15 min.) here
From this hill, you can see the Kurdish forces fighting ISIS For the Kurds, the fight against ISIS centers around Kobani. In this Syrian city near the Turkish border, the ill-equipped Syrian Kurdish forces are holding out against ISIS, awaiting help from their Iraqi neighbors, while the world watches from the sidelines in Turkey. Correspondent Lennart Hofman visited the Turkish "Hill of Shame" with photographer Andreas Stahl. Read our story here (in Dutch only, but with photographs by Andreas Stahl)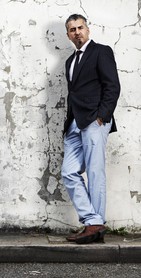 The fight against extremism starts with the fight for human rights, says this former jihadist For thirteen years, Maajid Nawaz recruited Islamic youth to establish a worldwide caliphate. He now runs a think tank against extremism. What's the most important thing he's learned? Give angry young Muslims a true alternative, by consistently upholding human rights. Even at Guantánamo Bay. An interview by contributing correspondent Robin de Wever. Read the interview with Maajid Nawaz here (in Dutch only)